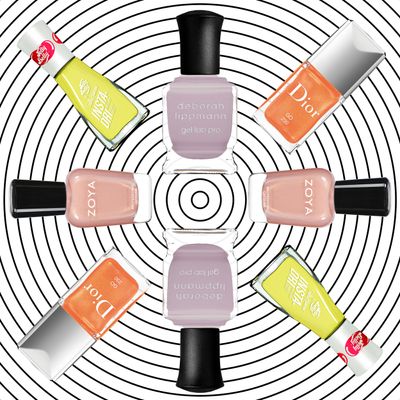 Photo: Courtesy of the vendors
Is a trend still a trend if people are doing it in isolation? When it comes to nail polish, I think the answer is yes. Plenty of people are painting their nails as a form of self-distraction while social distancing, and beauty companies are still releasing new colors. That means there are still lots of fresh ideas to choose from, even if you'll only ever see them on Instagram or Zoom.
You could say that this spring's colors are all over the map, but if you squint, you can make out two disparate camps: the bold brights and the muted shades. Don't feel like you have to choose between them, though! With the gradient manicure still going strong, why not try a few to play around with? Read on for the best nail polish trends for spring.
The One That Looks Like a Jelly Bean
Sally Hansen created a collection based on several of Jelly Belly's beloved flavors. Our favorite is this cheerful yellow, a color that also popped up at a few spring 2020 runway shows, including Pyer Moss, where celebrity nail artist Lisa Logan paired it with striped nails, and 3.1 Philip Lim, where Jinsoon Choi opted for a lemon-lime version.
The Happy Poppy
Celebrity nail artist Mei Kawajiri — a.k.a. Nails by Mei — has been creating the best sheltering-at-home inspired looks, including Purell logos, gloved nail extensions, and even a style that replicates handwashing soap bubbles. After "Page Six" featured her work, she created a "Stay Home" look in the New York Post font using a bold, warm red base similar to this one.
The One Inspired by Athletes
"Color has a strong effect on our mood," says Los Angeles-based nail artist Ashlie Johnson. "A bright pop of pink or orange brightens my mood and makes me feel like I'm getting ready for a vacation, even if I'm stuck inside." This Orange Crush shade is part of a trio (along with "Ready" and "Set") which Creative and Image Director for Dior Makeup Peter Philips designed as an ode to the sports world and "to the active women who make summer their playground."
The One That Reminds Us of an M&M
"I'm all about candy-coated colors lately," says Miss Pop Nails, known for creating nail looks as cheerful as her Instagram handle. She recommends trying something like this shimmery, crisp apple shade, which is giving us candy-coated vibes of the green M&M variety.
The One Created for a Jewelry Designer
Olive & June's latest collection contains vibrant floral colors and soft neutrals. Founder Sarah Gibson Tuttle says she inspired by California's gorgeous gardens and wildflower fields. She named this shade after jewelry designer Jennifer Meyer, adding, "a pinky lavender shade felt like the perfect choice to make JM pieces pop."
The One That's Inspired by the Desert
Photo: contact@jacquesgiral.com
Chanel references a trip to "the heart of the desert" as the inspiration behind their spring/summer collection. It includes this violet mauve, which looks like it could play a supporting role in a spectacular desert sunset.
The One Lupito Nyong'o Wore
"I'm loving the trend of different shades on different nails," says celebrity manicurist and nail polish empress Deborah Lippmann. "Mixing it up, and not necessarily matching color families." She included this milky lavender on Lupita Nyong'o for her appearance on Two Dope Queens.
The One That Makes Copper a Pastel
Photo: ART OF BEAUTY
"Pastel colors with a pearl-y finish stand out to me for spring," says Tracy Lee Percival, who does the nails of Michelle Williams and Nicole Kidman. Does copper really fall under the pastel umbrella? It does when undertones of peach and coral get involved.
The One That Resembles a Thunder Cloud
Gray is one of those colors that never seems to go out of style, but there are always unique takes on the shade, like this creamy pale steel-blue version, which reminds us of the sky right after a summer rainstorm. We like to imagine it imparting a similar sense of calm and serenity if it was painted on all ten nails.
A Pale Green Putty
Clean nail brand Cote took two of its popular shades, a buttery yellow and a minty green, and softened them down to milkier, more muted versions this year. This pale celadon feels seasonal but still unexpected.
The Greige That Proenza Schouler Used
Nail pro Jinsoon Choi likes her brights as much as the rest of us, but when she does greige, she does it so well. Case in point: this shade, which she describes as "a cool nude." It graced the nails at Proenza Schouler's recent fall 2020 show in February.
The One That Looks Like a Chocolate Milkshake
One of life's true axioms is that a neutral nail polish never goes out of style — so long as the shade is not too frosty, too chalky, or too flat. We imagine this creamy milkshake shade pairing nicely with a white sundress — but it would look good with sweatpants, too.
If you buy something through our links, New York may earn an affiliate commission.