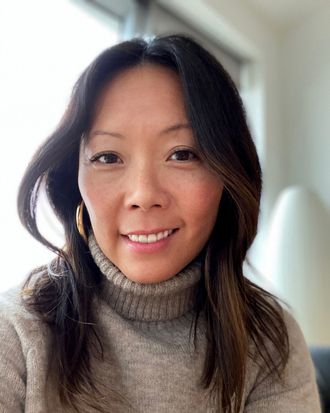 Photo: Courtesy of Sandra Nam
Want more skin care? Join the Beauty Group.
"I've never liked the feeling of makeup on my skin, so the French-girl philosophy toward beauty immediately resonated with me: Invest more into your skin looking amazing, then you'll need less makeup," says Sandra Nam. The Creative Production Director at Squarespace traces her love for skin care to her mother, who wore minimal makeup and washed her face religiously. To this day, the two still trade skin-care tips.
Nam's routine borrows principles from Korean beauty, which she says has always been a topic of conversation among her family. She calls double cleansing, a tenant of K-beauty, a "revelation" and relies on her mom as her "dealer for loads of Korean face-mask contraband."
"The proof is in the pudding: Korean women look at least ten years younger than whatever age they are," Nam says. "Twelve steps may be too much to keep up every day, but you can learn about the principles behind K-beauty, then adjust them to your skin type and only use products that work for you."
Nam developed the routine below to help her dry, delicate skin retain moisture. She depends on muslin cloths for gentle exfoliation but uses her hands to massage the products in. "The cleansing balm I use has a whole technique on how to massage it into your face to clear your lymph nodes — spend the time to do it." For serums, she likes to pat them in; with lotions and creams, she'll warm them in her hands first, then apply them in an upward direction. Read on for her favorite products.
The Cleanser
"This has been my cleanser for the last decade. At first, the process of putting on the balm and warming up water to use the muslin cloth seemed like a lot of work, but now I've realized using it every day is the key to great skin. In one cleansing step, it will remove your makeup, cleanse, tone, and exfoliate your skin, so although it sounds high maintenance, it's actually a shortcut to beautiful skin.
"It smells amazing, and the massage technique improves the circulation in your skin and clears out the toxins; it's like treating yourself to a spa experience at the start and the end of the day. I've been seeing more and more cleansing balms on the market, and I think this one was ahead of its time! They have a morning cleanser that doesn't involve the cloth, but I don't love that one. This is the one I swear by."
The Wipes
"This shouldn't be your everyday cleanser, but let's be realistic: There are nights I just don't want to go into the bathroom and do the whole routine. I keep these by my bed for just those occasions. These wipes come in convenient pocket-size packets. I grab one, rub down my face using both sides of the wipe, and then swipe on some lotion I keep next to my bed as well. Although not ideal, my skin thanks me in the morning. Another all-in-one solution, these wipes remove makeup, exfoliate, cleanse, and tone. They don't dry my skin out at all, which most wipes do, and you can also use them after yoga or working out."
The Mist
"I used the Evian face spray on flights and knew it felt good but never understood what the product was doing. After doing research and trying different sprays, I realized the Caudalíe is called a 'beauty elixir' for a reason! I've noticed that products with rose hip or rose extract do wonders for my skin, and this one is no exception. Rose hip is great for fighting inflammation and is loaded with antioxidants.
"I recently started to use this product as a toner after cleansing and before serums. I have the big one in my cabinet and buy smaller ones to have at work and on the go. I pretty much use it all the time. I'll spray it on before going out or when I'm feeling tired at work or on flights. It's a real game changer."
The Vitamin C
"This is the newest product in my current lineup. The first time I used it, I immediately felt it working. It tingles, and my skin looked immediately brighter and felt tighter. I like vitamin C serums because they are preventive; it helps my skin repair from the pollution, UV, and dirt it encounters all day. Whenever I've stopped using vitamin C serums, I can see a difference. I also like Ole Henriksen's Truth Serum — it has collagen in addition to vitamin C."
The Eye Cream
"I bought this cream when I was in Cannes last year, and it's lasted a long time. I thought maybe I could use face lotion as eye cream to save some money. Eye creams are always so expensive and it's one of those things where it's hard to know if it's working, so I tried taking a break for six months and just used lotion around my eyes. It was too thick, so I started to get little bumps around my eyes and it didn't absorb as well. Also I noticed little wrinkles showing up on the outside corners of my eyes because I really wasn't putting anything on the sides or tops of my eyelids. So, bottom line: I got eye cream. You gotta do that ring-finger pat around them and give them a little TLC if you want to preventively keep them young! And you have to use it day and night. I dab a small amount of cream onto my ring fingers, then put three dots below and three dots above my eye. I'm still on the search for the BEST eye cream — one that brightens, tightens, and moisturizes. For now, I use Dauphin, and I think it works!"
The Warm-Weather Moisturizer
"This is one of my favorite natural products. I'm a huge fan of the One Love brand. This lotion is a staple in my summer routine; it's really light but really moisturizing, perfect to put on after the vitamin C serum. It's great as a light day cream under tinted moisturizer or sunscreen but also moisturizing and repairing enough to use as a night cream."
The Cold-Weather Moisturizer
"This has been my skin savior for the past two winters, and I'm a huge fan of Naturopathica — another natural brand that's also really effective. It's thick, and a tiny bit goes a long way. The calendula is great for my skin in the winter because it's a calming ingredient, and the moisture lasts all day against the cold and wind. Every time I veer off and try something else, I come back to this. It's tried-and-true, and it just works. I can't imagine living without it."
The Skin Savior for All Seasons
"This is the matching MVP to the cleanser. At first, I thought it was too thick, but now I realize my skin needs it. It is a bit heavier than the Naturopathica so it's not for the high heat of summer, but I use it when my skin needs something extra. The rose-otto ingredient makes it a great healing balm. I'll use it whenever I feel like I need a boost of moisture. In the summer, I'll use it after a day at the beach to repair my skin from the sun. Put a small dollop into your palm, warm it up between your hands, and then press it into your skin. Also, if I do the Eve Lom Rescue Mask [scroll down], I like to use the TLC to 'keep it all in the family.'"
The Face Oil
"Jurlique is an Australian brand that I absolutely love — they've been doing organic for years. This is another rose-hip product I use predominantly at night in the summer and both day and night in the winter. I put a couple of drops into my lotion and breathe in. The scent is so distinctive; when I use it at night, it instantly clears my mind and relaxes me to prepare me for bedtime.
"I had this face oil for a while, actually, and didn't know how to use it. I put it on after serum as a lotion, and it wasn't enough moisture. Then I tried using it at the end of my routine, and I felt like it sat on top of my skin. When I read that you can add a few drops in with your lotion, I noticed that was the winning combo for me. I now always put facial oil in with my moisturizer, especially in the winter. I think it's two times the effectiveness of any lotion (day or night), and I see a real difference on my skin. For me, it's tried-and-true."
The Sunscreen
"I learned this too late, but if you want to know what the single best anti-aging product is, it's SUNSCREEN. I didn't wear it every day like everyone told me to, because all the options for most of my life were so chemical-y. When I put any sunscreen on my face, these tiny red dots would show up, so it was not part of my skin-care routine for a very long time. My workaround was that I used mineral powder with SPF in it, but I wouldn't use that every day. Now it's solidly in my skin-care routine, and that's thanks to EltaMD.
"A dermatologist recommended this sunscreen to me after hearing that I didn't wear sunscreen every day, and I purchased it at her office. Needless to say, I was highly skeptical, but from the very first application, I could tell this was different. It has a great texture, and it's not too thick or gloopy. It quickly absorbs into the skin and has no scent. I can't feel it when it's on, and it has some healing properties, too. I personally think it's the best and is saving my skin from further sun damage (which really shows up when you're older!). Always use SPF 50 minimum on the face.
"For a cheaper alternative that also smells great, try the Sun Bum Mineral SPF 50 Face Stick. I recently used it the last time I was in Hawaii, and I loved it."
The Lip Balm
"This has been the last step in my skin-care routine for years. I've tried to find cheaper lip balms, but this is still the best. It's very addicting because it has a cooling effect on your lips.
"I also like Dior's Dior Addict Lip Sugar Scrub. The first time I used it, I was put off by the sugary smell and thought about returning it. But after a few more uses, it's really grown on me, and now I love using it. It exfoliates your lips, and they feel so soft afterward."
The Face Mask
"I've tried a lot of masks, but I still think this is the best for me. It's a clay mask that really gets into your pores. It's also healing, and I feel like it resets your skin. You wash it off using a muslin cloth, so it's another spalike experience. Sometimes I get the same brightness I get the day after getting a facial. If I'm good, I'll do this once a week, but it's usually once every three weeks. Using it more often will definitely keep your skin looking amazing."
The Eye Mask
"I find that eye patches have great benefits — 20 minutes and your eyes look fuller and brighter. You can just pop these on after doing your whole routine, and it'll give your eyes a boost before you put your makeup on. You can also pop them on before you go out or fall asleep with them on."
The Facial
"I LOVE facials. If I had a choice of a massage or a facial, I'd take a facial any day. I find it so relaxing, luxurious, and visible! You can see the difference for a couple of days afterward, which is so satisfying. After scouring the city, and my wallet, for the best facials, I'm very happy with Heyday. It's not as luxurious an experience as at some other spas, but I love the convenience of their locations and being able to book online. If I were a celebrity, I would get a facial once a week, but since I'm not, I think going once a month would be ideal. Sometimes work gets in the way, and if I'm good with my routine and I do masks, then going once every two months is a good cadence.
"Heyday also introduced me to loads of natural brands that I was searching for when I started going three years ago. They really changed my point of view because they use and sell brands that are organic but still effective. I realized if there are too many ingredients that I don't know how to say or recognize, I shouldn't put it on my skin. In some cultures, they don't put any products on their skin that they can't eat. That makes so much sense to me because everything you put on your face gets absorbed into your body."
The Pillowcase
"I got this as a gift this year and never knew I needed it! It's immediately become one of the nicest luxuries in my life. It doesn't pull on your skin, leave lines on your face, or absorb products like other pillowcase fabrics might. Treat yourself to a silk pillowcase — it'll change your life."