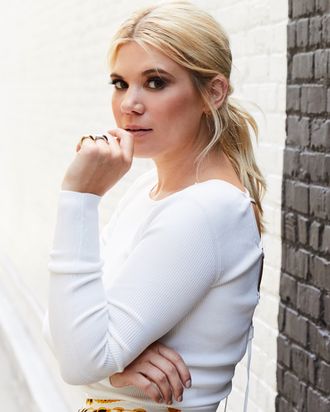 Photo: Matt Sayles/Courtesy of Caroline Arapoglou
Want more skin care? Join The Beauty Group.
If she could give her teen self one piece of advice about beauty, Caroline Arapoglou would make it a warning: "STOCKPILE THE MARY-KATE AND ASHLEY DETANGLER FROM WALMART. They will stop making it someday, and there will never be another like it!" The Stranger Things, Like a Boss, and Outer Banks actress no longer relies on the Olsen twins for her hair care, but the overarching lesson remains: Stick with what works.
It's a lesson Arapoglou has applied to her skin-care routine. After all, why mess with your face — or your wallet? "I think the trial-and-error process is more expensive than the actual maintenance," Arapoglou points out. "Skin care is definitely an investment, but I prioritize my skin because it has really affected my confidence in the past. I struggled with acne for awhile in my early to mid-20s, and I would let it wreck my entire day. I would Google 'actresses with acne' because it made me feel so much better."
Now, she relies on gentle products to treat her reactive skin. "Anything with a lot of fragrance, or any foundations with sunscreen, are a no-go," she says. "I patch test everything because I get irritated so easily." She feels some products are worth every dime. Sunscreen comes first, and SkinCeuticals' Hyaluronic Acid Intensifier and SK-II's Facial Treatment Essence, which are on the higher end of the price scale, follow.
Arapoglou has picked up a few tips from her aesthetician and makeup artist Sonia Lee, like immediately icing a pimple the minute you feel it erupting. It's what she did on the flight to the Stranger Things season-three premiere. "I asked my flight attendant for a cup of ice and iced my zit on and off the entire flight to L.A. I probably looked crazy, but I swear it helps," she promises.
Below, a look at both her morning and night routines, the advice she echoes from L.A. celebrity facialist Shani Darden, and the moment she knew Glossier's Emily Weiss was headed for success.
Her Morning Routine
"I know there are differing opinions on washing your face in the morning, but it definitely works for me. Especially because I'm using serums and acne creams at night, I think it's good to start the day with a blank canvas so you aren't layering everything on top of your nighttime products. Plus, I follow this column, and Shani Darden said cleansing in the morning is important, so if you don't trust me, trust her.
This cleanser is also one of my favorite steps in my nighttime routine. If feels so good to take makeup off at the end of the day, especially if I've been filming. I use a cleanser from my aesthetician in Atlanta. It's sulfate- and fragrance-free, and gets my skin completely clean and prepped for the next steps in my routine. Since I know I am always following up with serums and at night a benzoyl peroxide, it's really important that my cleanser cleans and leaves a blank canvas but doesn't strip my skin or work too hard. I would consider this a gel cleanser rather than a foaming cleanser. It foams slightly when combined with water, but the gel-like consistency makes it great for removing makeup, dirt, and any buildup that can so easily cause acne for me. I like to double cleanse if I've been in full glam, and this never irritates my skin."
"I will use SK-II twice a day when I get a new bottle … but as it starts to get to half or less, I reserve it for nighttime only so I can put off having to buy another bottle so fast. I wish I didn't love it so much, because it's pricey. I got it as a sample and noticed a difference in my skin within a week. My skin was brighter, softer, and very smooth. Some of the acne treatments I use can be a little harsh, and I feel like this helps restore softness and smoothness to my face, especially my cheeks and forehead. It's just like a magic water. I never put it on a cotton pad because it wastes so much of it. Putting a few drops into your hand is the best way to make your bottle last as long as possible."
"I wear sunscreen every single day. No matter what. I'm very very sensitive to sunscreen, especially around my eyes. I can't even handle foundation with built in sunscreen, which is a bummer, because almost everything now has SPF in it. I have woken up with my eyes almost swollen shut when sunscreen doesn't agree with me. This EltaMD is one of my favorites. I always bring it to set with me, especially working on Outer Banks because we spend so much time outside. This feels so good and is very soothing. I also like the Everyday PSF 30 sunscreen from Atlanta Acne Specialists."
"This is newer to my routine, but I'm loving it. It goes on in the morning, after sunscreen. I don't use it on my entire face, just anywhere I would use highlighter. It makes you look like you just had the best facial. I pretty much love all Glossier products. They really showcase the skin as opposed to covering it up. I'm also a huge Emily Weiss fan. I knew she was destined for boss-ness when she was interning at Teen Vogue and Chanel AND doing 18 hours at NYU (yes, I'm referencing season two of The Hills)."
Her Night Routine
"At night, I follow up my cleanser and essence with the SkinCeuticals HA intensifier. There's a spa in Charleston that the cast of Outer Banks loves. They introduced me to this product, and I fell in love. It's a thick, jelly-like substance. You sort of press it into the skin instead of rubbing. It makes your skin feel so plump. I don't use it on my entire face like the SK-II. I try to use it in small amounts so it lasts a long time. I focus on my forehead and around my mouth."
"The skin around my eyes and eyelids is really temperamental and reacts differently to products depending on what allergens are in the air. In Atlanta, we get really intense allergies, so I never know what's going to trigger my eyes. The one thing I've found that never irritates them is Bio-Oil. I've been using it all over my under eyes and eyelids and it has kept them moisturized. It's noncomedogenic, so if I'm feeling dry, especially in the winter, I'll use it all over my entire face as a moisturizer. I was terrified the first time I tried it on my whole face. I'm so acne-prone that just looking at the wrong oil can make me breakout, I swear. Bio-Oil has never given me issues. Plus the bottle is like eleven dollars and lasts FOREVER. You can use it as a body oil and lotion, too. It's a really effective product, especially when you're traveling, because it does so much."
"I love this brand. Their products are generally gentle and they all smell so good. I will use this as a night cream if my skin feels like its in good shape. If I'm feeing irritated or inflamed, I would skip this in lieu of the Bio-Oil. I try to listen to my skin, and sometimes I think you can feel when it just wants to be left alone. When that happens, I'll take a break from serums and just keep it to face wash, moisturizer, and sunscreen until my skin chills out."
"I also use Mario Badescu drying lotion overnight if I have a zit. It's a holy grail product. You just can't shake it up. You want it to be separated so you can really coat your Q-tip with the thick sediment."