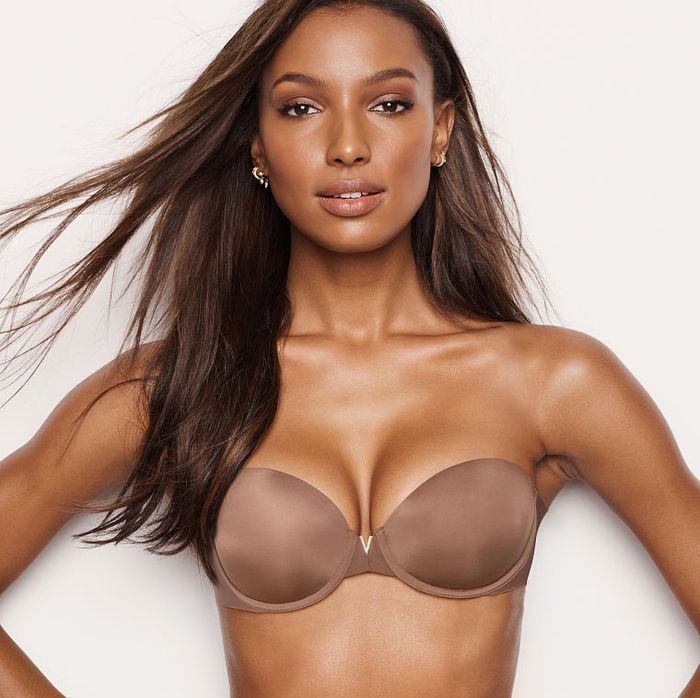 There's nothing worse than spending money on a strapless bra that slides down all day or cuts into your skin. Especially if you have a larger cup size, you can pretty much forget about buying a strapless bra at random — this is a purchase that requires real research.
To find the best strapless bras for all cup sizes, we scoured the internet, reading tons of reviews with an eye toward support and fit. From demi cup to longline to bandeau, scroll ahead for 23 options to buy now.
The Best No-Slip Under $30 Bra
It's hard to find strapless bras that are both highly-recommended and super affordable. But this one has a comfortable lining, a stretchy underwire panel to provide more natural support, and a low-profile shape that clothes glide over smoothly. Plus, the cups come in a range of sizes. No wonder it has so many fans.
Pretty much every review for this bra mentions the lack of padding – in a good way. Instead of over-the-top cushioning, it's lined with soft cotton. It comes in a pretty jacquard pattern and has anti-slip silicone strips at the top and bottom to make it stay put all day.
The Best Full-Coverage Bra
If you wear anything from a 36C to a 44DD, you know how hard it is to find a full-coverage bra that will contour to your skin. So this bra has a lot of grateful fans online, many of whom say they bought it in multiple colors because they loved it so much.
If you're wearing a low-cut top that's also strapless, this handy number will give you a slight lift without any straps. It adheres to the skin with silicone adhesive.
The Best Back Support Bra
Women with larger breasts know all too well about the back pain that can come with them, especially if you're wearing a strapless bra that doesn't offer enough support. This bra was made to solve that problem. The back and side have soft boning, and the cups are molded tightly so it doesn't sag.
The Bra Even Skeptics Love
Nearly every review of this bra starts with someone saying "I bought this with low expectations" or "I'm always supremely skeptical of strapless bras," but even the toughest skeptics wind up converted because it's just. so. comfortable. It comes in sizes 38B–44G, and unlike many strapless options, it has a flirty lace trim.
The Best Slightly Sheer Bra
If you're looking for something that's on the sexier side but still functions well, this DKNY underwire is a favorite. Reviews say it's "comfortable, convertible, and sexy."
The Best Silicone Backless Bra
We've written about this silicone bra before. It's got all the functionality of a push-up bra, without the straps. It's very soft and gives you a natural lift, and the adhesive is incredibly strong.
The Bra That's Like Wearing Nothing
Victoria's Secret's is known for overly padded bras, but this one is made from a super lightweight spandex that's smooth on the skin, comes in 12 colors, and fits up to a DDD.
The Bra We're Crazy About
When we originally wrote about this, we dubbed it "the ultimate strapless bra." It stays put, it feels good, and it's pretty — what more could you need?
The Most Versatile Bra & Bustier
If you want a little more support, consider a bustier. This one has removable straps that you can adjust for any tricky neckline.
For a backless top or dress, you'll want a seamless backless bra that can adhere to your skin. This one has rave reviews because, despite being incredibly light-weight, the padding will keep your nipples in check.
The Best Bra for In-Between Sizing
It's no surprise that this bra is a favorite on Nordstrom, since it comes in almost 30 sizes from C–H and seamlessly contours no matter your chest size.
The Bra That Shapes Your Cleavage
Buyers of this bra from Panache say it's generally pretty good, but the thing that makes it stand out is the way it treats your cleavage. Buy if you want to look notably perky.
I've worked on countless celebrity shoots and red carpets, and I can't tell you the number of times I've seen this in a stylist's prop kit. It also has over 1,000 reviews from buyers on Nordstrom calling it simply "the best strapless bra."
The Bra People Call "The Unicorn"
If you don't like bustiers, stick-on-bras, or thicker padded options, you might find your happy medium here. This Natori bra is relatively lightweight but still keeps the girls in place.
And if you hate underwire but still need something more secure than stick-on seamless, try this one from Hanky Panky. It comes in the brand's signature lace, has lined cups, and costs under $100.
The Bra That's Been Tried and Tested
ThirdLove tested their 24/7 strapless bra for years. Their motto: "When the straps come off, the true test of a bra is whether it stays up." The cups come in half and whole cup sizes for the perfect fit, and the smooth jersey fabric stays durable no matter how many times you wash and dry it.
The Best Bra for Small Cup Sizes
This uses the same elastic you'll find in most Spanx products — the kind that really sucks in everything and keeps it tight. It's best for A and B cup sizes who want support.
The Best Bra To Wear Under Tight Clothes
This bra was made specifically to be worn under tight clothing. It fits super-close to the body and has a practically undetectable finish, while staying firmly in place.
If you prefer a longline bra with boning underneath — which can give you a smooth, flattering fit — this one has the best reviews. It's also really pretty.
The Bra So Comfy You'll Forget You're Wearing It
This bra is a hybrid between a traditional longline and bustier and it's made out of a stretch mesh. Buy it for all of the support but none of the pinching of a regular bustier.
The Prettiest Bra of Them All
Most of the bras on this list are functionally great but only come in bland neutrals. Not this baby. Made of pink satin, it's pricey but luxurious. Think of it as a splurge to buy for those moments when you want to feel like Dita Von Teese.
If you buy something through our links, New York may earn an affiliate commission.