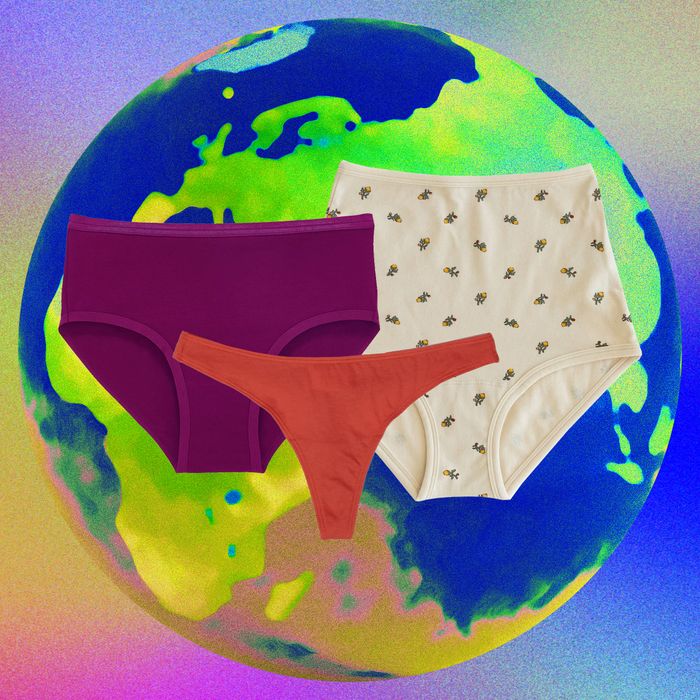 Photo-Illustration: The Cut; Photos: Retailers
In life, many of us experience a moment of undergarment clarity. It happened for me at the age of 24, when I opened my underwear drawer and realized that every pair I owned had been with me for 3 years or longer. Not a single one excited me or sparked joy when I got dressed for the day. With little to look forward to (this was during the pre-vaccine days of the pandemic), I decided to focus all my energy on overhauling my underwear collection. I spent days researching, carefully vetting brands that I would feel good investing in for aesthetic, ecological, and moral reasons.
My personal biggest priorities are fair pay and good working conditions for garment professionals followed by the lowest possible impact on the planet, and that generally translates to more dollar signs. It costs extra money to implement and continually ensure sustainable practices and to keep investing in sustainability improvements. Higher wages for workers in particular are nonnegotiable for me, and I don't mind paying more when I know that more of my money is going toward paying the professionals who make my clothes.
There are a lot of factors to consider when looking for sustainable clothing: longevity, fabric, production process, etc. I shop secondhand for a lot of my clothing, but for underwear, that's not really an option — which also means it's important to purchase underwear I know can biodegrade or be usefully recycled. My search was loosely separated into three categories: everyday basics, for which the priority was affordability since I would be buying a lot of them; house undies, which needed to be cute and offer good coverage for the days when I simply cannot wear pants; and the special occasion underwear, which is for the days when I want to feel very cute.
Considerations
A lot of what I look for when purchasing underwear can apply to all my clothing — but there are also some lingerie-specific things to think about.
Breathable, nontoxic fabric: For people with vulvas, the fabric you choose is extra important when buying underwear. Put simply, your underwear is in direct contact with your vagina, and for me, the possibility of absorbing any toxic compounds in the fabric directly into my body isn't worth risking. Synthetic fabrics made with polyester not only tend to contain toxins from the production process, but they also trap heat and moisture, which can, at the bare minimum, cause irritation — and for those prone to yeast infections, it certainly doesn't help.
Laundry label: All lingerie should be washed on the cold cycle and air-dried, but some of the more expensive pairs I've bought are hand-wash only, which is something I didn't pay as much attention to at the time. Knowing the extra time and energy their laundering will require, I find myself thinking twice before putting on a hand-wash-only pair.
Life cycle: Since there's no way to completely sanitize a used pair of underwear, the life cycle of this particular garment is usually limited to one person's use — so it's especially important to ensure that it's well made enough to last at least a few years, and that, once it does wear out, you can donate it to a textile recycling facility or allow it to biodegrade.
Everyday Basics
When you consider that you can get a six-pack of Fruit of the Loom undies for about $10, give or take, depending on style, $80 for a five-pack of underwear does sound a little bonkers, particularly because this is one of the more affordable brands on the list. But when you consider that Knickey is certified climate neutral, uses responsibly produced organic cotton, ensures fair labor standards from manufacturers, has an underwear recycling program (where you can send any underwear!), and annually releases a detailed impact report that covers sustainability improvements … when you consider all that, the cost, at least in my eyes, seems fair. And I can attest that they are durable; I've been regularly wearing my Knickeys for more than a year, and I find them as comfortable as ever — no holes, snags, or rippling waistbands. I tried out its starter pack, which includes one of each style, and also bought three of my preferred style, the thong, which goes for $17.
While I didn't end up purchasing Pact underwear myself, it's slightly more affordable than Knickey, at $75 for a six-pack of underwear, and offers a larger variety of styles, colors, embellishments, and prints. And while the brand doesn't offer as much detail about its sustainability practices as Knickey does, Pact does work with fair-trade-certified factories and organic cotton, and it partners with the Give Back Box program, so customers can use the boxes their order came in to ship their used clothing to nonprofit organizations. A solid choice for long-lasting undies.
With three-packs that range from $50 to $75, TomboyX is the most expensive brand for everyday wear — but it's also the most inclusive, with sizes that range from 3XS to 6X and nongendered styles. TomboyX is B Corp certified — meaning it meets B Lab's rigorous standards for social and environmental impact as well as continued accountability and transparency about its practices — and while its cotton isn't organic, it has been tested for harmful materials. Some of its underwear styles are made with TENCEL Modal, a biodegradable fiber made from beechwood trees, and it even offers period underwear. Its website's sustainability page comprehensively overviews its current practices as well as where it plans to make improvements, and that kind of transparency is something I'm always looking out for when shopping online.
Boody's bamboo-based underwear is well priced in comparison with many of the other brands even in the everyday category — a pair of underwear ranges from $13.95 to $21.95. Bamboo is well known and well regarded for its regenerative qualities, and Boody offers a breakdown of exactly how its fabrics are created and processed. It also has a code of conduct for any partner facilities it works with that is publicly available. Its styles are comfortable basics, making Boody a solid choice.
Mighty Good Basics is the rare brand that is relatively affordable (underwear is priced between $18.50 and $24.50) and extremely transparent. Every single facility in its supply chain is named on its transparency page, and it only works with certified fair-trade factories. The styles are, as promised, basic and comfortable.
Tentree makes far more than just underwear. The underwear it does make comes in three basic styles: a thong, bikini brief, and boxer brief, all made from a blend of Tencel Lyocell, organic cotton, and elastane. I had to include the brand because it has incredibly comprehensive breakdowns of its ethical manufacturing and sustainability commitments; it has been carbon neutral since 2020 and recently launched a circularity program that allows customers to return used items, which are then recycled or refurbished.
I've saved the best for last. Kent embodies everything I look for when I'm shopping for underwear: cute, versatile styles and colorways; an impressively short and well-vetted supply chain; a regularly visited and local factory that ensures fair pay; carbon neutrality; and best of all, every pair of Kent underwear is fully compostable, made with organic pima cotton and plant-based elastics. The brand, based in Los Angeles, partnered with L.A. Compost to test its briefs and found that, in a composting facility, they decomposed within 90 days (don't worry — with proper care, they will last much longer in your underwear drawer). The underwear is extremely well made and has an impressive amount of stretch when you consider the total lack of synthetics. The brand also makes very cute crop tops that match all the underwear, and it offers a three-pack for $68, a workweek bundle of five pairs for $108, and a full-week bundle of seven pairs for $144.
House Undies
I am deeply — and I mean deeply — obsessed with ARQ underwear. I've got three pairs of the high-rise style (and the matching tank tops). The quality of these is incredible; the organic cotton (plus 8 percent spandex) just molds comfortably to my body, and the seams are sturdily stitched and never irritating. I love to prance around my home in these, and since I've had them, they haven't visibly aged at all, and that's with consistent machine washing. The price for a pair ranges from $24 to $34, so these are more of an investment, but they're worth it, especially since the company works with a small, family-owned sewing factory using sustainably dyed fabrics.
Pansy is one of the most transparent and holistically sustainable underwear brands I've come across in my research. Of the four underwear styles offered, three are entirely compostable. Every aspect of production, from the organic-cotton farms to the small-batch dye factory, takes place in the U.S. — which means no air or freight shipping of materials if you're in the U.S. too. It's also the only brand I found that uses elastic made from rubber and cotton, not a synthetic fiber. I don't have a pair (yet), but the stretch shorts look especially appealing for a day spent hopping between my bed, the fridge, and the couch, and I love the earthy color palette. The brand recommends hand-washing its underwear but says a cold machine cycle is okay too.
When I think of hemp, I think of scratchy burlap-esque fabrics that I wouldn't want anywhere near my vagina. But this is not that. Since it's an immensely sustainable fiber, hemp is being used more and more in softer weaves, and like linen, it continues to soften with age. WAMA's underwear is straightforward and prioritizes comfort, and it's made with a blend of cotton, hemp, and elastane. The brand prioritizes fair wages and good working conditions as much as it does climate impact; because its factories are in China, it has an employee based there whose job is to continually audit factories and ensure every manufacturer it works with follows its supplier code of conduct.
Thunderpants is another small and extremely transparent brand. It names all of the production facilities in its supply chain from the textile mill that makes its organic yarn without the use of any synthetic or harmful materials to the facility where the cotton is knitted to the local factory where the garments are made. Every step of the way, the company looks out for fair pay and sustainable practices and is constantly striving to improve; it just recently started transitioning to a Los Angeles–based mill for its fabrics. And the underwear itself is meant to be seen with comfy styles in gorgeous prints (many designed by local illustrators) and colorways that simply beg to be looked at and admired. I'm partial to the Original style, which hugs the hips in a cozy and aesthetically pleasing way but can still be worn with medium-rise jeans.
Nico underwear is well designed and comes in a pleasing palette of colorways with many different styles — I especially love the Gwen high-waisted brief, which has both good coverage and a lovely high-cut leg. The brand offers some information on the factories it works with as well as all the materials it uses, and it states the safe and fair treatment of workers as one of its top values, including photos that indicate it's visited the factories, but it does not not, as far as I could tell, name the factories publicly.
I'm a sucker for a pointelle fabric, and Cou Cou makes a very cute and comfy one. I love lounging around at home in the matching cami and boxer-style shorts or, if I'm feeling spicy, the very cute thong. The underwear is all GOTS-certified organic cotton, making it biodegradable, but the brand doesn't share information about its supply chain on its website.
Special Occasions
Aside from the removable elastic waistband, all Oddobody's underwear styles are completely compostable: They're made of a buttery-soft organic pima cotton that is truly a joy to wear. I especially love the slightly sheer string bikini style, which feels both sexy and wholesome; whenever I need to feel like a main character, I reach for one of my three pairs. More recently, the brand has introduced a French cut style that I'm equally obsessed with, and a woven boxer that I haven't tried but plan to. After two years of consistent wear, the material has held up beautifully and fits well without any sag or stretch. The company uses a family-run manufacturer in Peru and regularly visits the factories and farms that create the underwear. I also appreciate the brand's focus on sexual & reproductive health; a whole section of its site is devoted to education and resources about everything from anatomy and pleasure to the pelvic floor. When you order, you can choose to receive one of its manuals, printed on a large poster for your wall, at no extra cost.
Against my better judgment, I am obsessed with Botanica Workshop underwear. It's incredibly expensive; a three-pack of its high-waisted briefs goes for $195. However! I was desperate to find truly sexy underwear without any polyester-based lace, and Botanica Workshop achieves that. I love the stretch silk thongs, which are slightly less expensive than the briefs and are made from durable silk georgette with a small amount of spandex; I see them as long-term investment pieces. Botanica's garments are locally produced in small batches by artisans in the Los Angeles area, where the design studio is based. I love the pearly button featured on all its underwear, and I love the fit and comfort — they do feel as expensive as they are. And yes, they're hand-wash only.
I am currently coveting the Moana high-waisted G-string from HARA. A high waist and a thong make for a flattering fit with no possibility of panty lines. Based in Melbourne, Australia, HARA uses organic bamboo-based fabric that is locally dyed and sewn, though I wasn't able to find information on where it sources the fabric from. Its website does state that it supports fair labor practices and supply-chain transparency. Because the garments are naturally dyed, they need to be hand-washed in cold water before the first wear, which isn't ideal. Still, the styles are hot and creative.
Baserange is primarily an apparel brand, but its collection of underwear features creative, simple, and sexy designs — I especially like the Nida pants. The company could certainly stand to improve its size inclusivity as well as its materials (it uses conventional elastane), but the level of transparency it offers is aspirational. The company has a comprehensive breakdown of every material it uses and its impact, a map of its production network, interviews with several of its production facilities, and even a fiber-origin map — all publicly available on its website. For that, I had to include it.
The hardest type of sustainable underwear to find is sustainable lacy underwear. I still have yet to find a pair made entirely of lace that doesn't involve polyester, but I have found U.K.-based Stripe & Stare's lace-lined and completely biodegradable underwear. Not all of its underwear is 100 percent biodegradable (most is 95 percent), but everything in its B-edit and Pointelle collection is, complete with time-lapse-video evidence of a pair of briefs that decomposed in 180 days. The company is extremely transparent, naming the specific factories it works with and stating that every worker involved is paid a living wage or above, and its underwear is made from Tencel Modal by Lenzing — which is important since many modal fabrics, though biodegradable, are created with wasteful production practices. Lenzing uses environmentally responsible production practices.
If you really love luxury and have disposable income aplenty, you'll want Italian-made Herth underwear. Its organic silk panties go from anywhere between $95 to $155 — for a single pair. Absurd? For sure. But silk is one of the longest-lasting fabrics out there, so these should last you for years to come. And when they do reach the end of their life cycle, they are fully biodegradable since they don't contain any elastane whatsoever. And Herth goes the furthest of any brand I've seen when it comes to traceability — its tags and labels all feature QR codes that, when scanned, use blockchain technology to give you a list of every single supplier involved in that particular pair from raw materials to shipping. Personally, I dream of owning the Jude high-leg pair. The company's size inclusivity needs improvement; it only goes from a U.S. size 2 to a 12.
Like Herth, Softandwet underwear is made of silk and produced in Italy, but the price point is slightly more attainable at €60, or about $63 at time of writing. It's also currently sold out, but it has a 2023 collection in the works. The silk does contain elastane, but its production is super-local — everything is sourced and produced within Italy, though the brand doesn't elaborate much on the specifics. It's a small company, which is usually a good indicator of sustainability, and the frilly silkiness of the thong is a treat for the eyes.