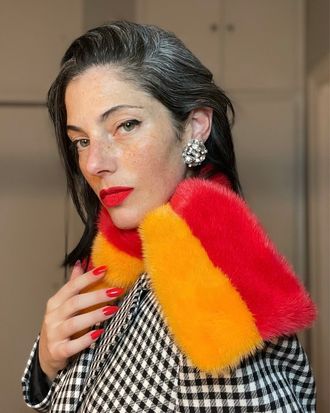 Photo: Courtesy of Maayan Zilberman
Want more skin care? Join the Beauty Group on Facebook.
Most skin-care obsessives will tell you to remove every last trace of makeup from your face before heading off to bed. But like Dolly Parton and Charlotte Tilbury before her, Maayan Zilberman wants you to reconsider. Zilberman is the artist and confectioner behind Sweet Saba, which makes "candy for grown-ups." She knows it's controversial, but every night after she applies her serums and creams, she also applies her "Sleep Make-up."
"I can understand why people would have objections to covering up skin while you sleep. That's clearly a bad idea for so many reasons. But I'll tell you what's a great idea and works for me: Slathering up with your night treatments, then defining your eyes with some beautiful mascara and eyeliner, and painting a bright red lip that will stay on all night until the morning," she explains. "Waking up and seeing yourself with vibrant color, it's something I recommend to everyone. Just try it once, and tell me how you feel — tell me you didn't smile when you greeted that gorgeous face in the mirror."
Zilberman's rituals are in part an ode to her grandmother and her roots. "I first started thinking about beauty and how to treat my skin when we lived in Jerusalem during the Gulf War — my mom and I lived in Jerusalem in 1990, 1991, and 1992 while she was doing a masters program at Hebrew University," she says. "We had to get up in the middle of the night for multiple air raids, then sit in a sealed room together wearing gas masks. I was so young, and I didn't understand the significance of the moment, but I did know I wanted to have some control over how I felt around people."
So she developed a ritual. "I'd go to bed with Vaseline on my face — I'd read Marilyn Monroe had done it — and I snuck my moms L'Oréal lip tint in 'Coca' (I still have the tube, and I used it as a reference for my first round of candy lipsticks with Sweet Saba). At the age of 11, I was conscious of the social anxiety I was developing, and I wanted to look my best even if it was under a mask. It was really my grandmother who first made me aware of this approach, to always be ready and put together, not because I was a girl but because it would force me to take things seriously. I'm sure on some level it helped me cope with some of the trauma during that time, focusing on little things I could control."
After that period, Zilberman stopped sleeping in makeup for a few years, but then, in 1995, she moved to New York City for art school. "Living on my own brought back my desire to look sharp and feel sharp, being ready for anything in the city, kind of the New York way, especially during the height of the supermodel era, bold new female artists topping the charts, and M.A.C. make-up on our wishlists," she explains.
Below, Zilberman walks us through her skin-care essentials, including the eye cream that soothes inflammation, the $17 moisturizer that truly lives up to the hype, and, of course, her "sleep makeup."
The Skin-Care Essentials
The Cleansers
"This cleanser was a gift from a friend, and what a gift! I would never think to get a powder-cleanser-exfoliant, but turns out, it's the best option for travel and cleaning your face on the go. Mess-free in your bag. I love this one because the enzyme exfoliant is super gentle and doesn't hurt my eyes. I just wish they made a mini bottle of it for my purse."
"This new California-made brand is minimal, with only a handful of products, and I personally love that in a brand — it shows me they stand tall with their ingredients and we're on the same page about quality. I'm a long-time lover of oil cleansers — I always used DHC when everyone was saying no to this kind of thing — because you put them on dry skin, and I can stand upright and take my time with rubbing it into my skin to get a super deep, but gentle, deep clean. They don't ravage my skin the way a sudsy one might. I prefer to use them all winter, with lighter cream cleansers all spring and summer so I can spend less time massaging my face. This one has sanoma leaf oil, xanana flower, and leaf oil, which even out skin tone and calm your skin — just what I need after a good scrub."
"This cream cleanser has the brand's TFC-8 complex (which is meant to support skin renewal, brighten tone, and reduce wrinkles, among a list of other benefits), and like my other faves, locks in moisture. It doesn't contain parabens, fragrance, mineral oils, or sulfates so it doesn't have a specific smell. It's very silky if you warm it in your hands before rubbing it upward to activate the ingredients on your face, and feels like a simple product you'd get at the dermatologist. It's the perfect thing to remove 'sleep makeup' each morning!"
The Mist
"This mist smells delicious — like wild lilies — and comes in the most gorgeous box that I saved to store my paint brushes. Great for bummer days when you need a little pick-me-up! A bonus is it tackles hyperpigmentation, which I get in the winter months."
The Essence
"Okay, so this one is a major splurge, I know. I didn't know this kind of product existed until someone used it on me during a facial, and I popped up in my chair. It's like all the things you want in a toner, serum, and lotion, but in one bottle. Super hydrating and keeps your skin supple all day. I've sometimes been in a rush and only used this item, and I was good. Tip: If you put this on before your 'sleep makeup,' you'll wake up with super soft skin. My only complaint is it's in a big heavy glass bottle, which means no traveling with it. One bottle will last me two years or so. I keep thinking someone is refilling it, I swear it's magic."
The Serum
"I love a superfocused brand just as much as I like a minimal line. This brand specializes in night (Nacht) products, my total dream. But since we're all in a time and space vortex these days, what is daytime? I like to use their serum for the day, too. This one has a combination of eight different hyaluronic acids: high and low molecular, medium-chain, liposomal, and cross-linked types make for intense hydration of all skin layers. I don't use it every night because it's so expensive (let's be real), but applying it three times a week makes a difference on my face.
After only a few days, I saw major changes in my skin texture, like it was almost 'glass-like,' which must be how they got the name. A bottle will last me three to four months if I use it a few nights a week instead of everyday as directed. I first heard about the brand from my friend Jessica Richards, who owns Shen in NYC, and I'm so glad because I'm now a full devotee of all their products!"
The Eye Cream
"Firstly, this eye cream comes in a pump so my toddler can't put her playground fingers in it — a savior these days for my sensitive eyes. The pure vitamin C brightens and lightens the eye area, firms, lifts and repairs. CBD, hyaluronic acid, and EGCG all calm, soothe, and brighten my under eyes without burning my eyes (like a lot of other eye creams do). Make sure to wash your hands between applying this one and doing 'other stuff,' if you know what I mean.
I first heard about the line from a friend who mentioned it and its founder, Ron Robinson. I was intrigued and tried a bunch of it but stuck with the eye cream cause it soothes my puffiness and inflammation around my eyes. You can probably do that without eye cream, but these days, we need to treat ourselves with extra care, so why the heck not?"
The Moisturizers
"This is my go-to cream in dry climates like the desert, where I'm living these days. It has argan, avocado, and evening primrose oil, and it goes on like a comfy blanket hug on your face. I recommend warming it in your palms a bit first, then do a gentle pat or two on the cheeks, or (like a pro) sweep it from your nose to your ears and across your forehead and massage the cream over the cheeks to your temples. It's an 'investment' cream so I alternate it with other creams like Weleda Skin Food [below] every other day."
"This is one of those things that you hear make-up artists swear by, then you go and buy it to 'recreate the look they gave you on set,' and it's real. It's sexy and great for winter with viola tricolor, calendula, and chamomile in a rich, thick base of oils and beeswax that acts as a gorgeous base for 'sleep makeup.' Don't put it around your eyes or mouth or your make-up will melt into it as you sleep. Joker vibes, trust me."
The Face Oil
"This is one of those products I use when I don't have time for all of the above. My two-year-old is begging me to do our routine together, and I have to do a one-and-done. It's truly an 'Absolute Balm' in that I can use it as a face cream, hand cream, hair pomade, or lip balm. With citrus notes of bergamot and grapefruit, it's a gorgeous go-to if you want to only have one thing before or after your 'sleep makeup' routine. Oh, and its a local (very focused) female-owned brand!"
The Hand Treatment
"After a year of sanitizing our hands, we all need a hand cream to make up for all the skin stripping. This one has all the stuff my favorite night cream has but for hands, and it comes in a manageable tube that I can put in my purse. Fancy-schmancy hands are my vibe so this is a must. It goes superfast for me if I use it all day, so I save it for nighttime with my 'sleep makeup' routine and then it lasts a month or so. The lotion is intensely hydrating and doesn't feel greasy, which is great for my sheets."
The Sleep Makeup Essentials
The Mascara
"My mom gave me one of these about ten years ago. She bought it at the Bay so she could have the gift pack with the Red Door mirror. She didn't want the mascara, just the mirror. Lucky for me, the mascara is insanely good. It has a great wand that gives your lashes a natural bend, stays put all night, and come off easily in the morning with a gentle cleanser. Just make sure you buy it at a department store so you can get that free gift!"
The Eyeliner
"My mom introduces me to all my favorite makeup products unintentionally. This eyeliner is a makeup version of the best felt-tip marker you ever used in art school (or stole from your graffiti-writer boyfriend). I always wanted something like this for my eyes, and my mom sent me one thinking it was art supplies, but it was indeed eyeliner. So, dream realized. It goes on smoothly, stays put, and layers well if you want to touch up midday. I love using this one for sleep makeup cause it doesn't feel heavy, it's more of an ink, and it washes off like watercolor."
The Brow Gel
"When I was in seventh grade, my mom got me a tube of this Great Lash mascara in clear so I could wear mascara 'like every other girl does' without her having to feel like a monster. I was hip to this tactic and used it on my brows to tame them — never plucked, to this day — and put on my real mascara when I got to school every morning. As with all things, though, moms know what's up, and she inadvertently introduced me to one of the best brow products I've ever used. Go mom! What's great about this one (for brow use) is that it doesn't get sticky, flake, or spread."
The Lipstick
"This one time I was on my way home from the gym, and I got a call about an event for work, but I had no makeup on. I stopped in quickly at Sephora and grabbed the house-brand lip stain — when I need to 'dress up,' I truly believe that all it takes is a red lip. Turned out, it's the best red I've ever had. Never goes pink or too orange, and it looks truly red in photos. It doesn't dry out my lips, while staying put for days if you had to. Also, it comes in a cutie-patootie mini bottle for evening bags, which is so endearing I might cry. I have other favorite reds, of course, but this is the winner for all-round-goodness."
The Supplements
"I discovered all of these Mindbodygreen supplements through my longtime friend Colleen Wachob, who founded the brand in 2009 with a health blog, which more recently started making the best collagen out there with the highest quality ingredients. Fun fact: She worked with me at my first-ever job out of art school, on a lingerie brand called Zoe. MBG products are made by Thorne, the leading manufacturer of science-backed nutritional supplements.
This one has biotin, curcumin, L-glutamine, sulforaphane glucosinolate, hyaluronic acid, and vitamin C & E. I don't know what all this means, but I know that it promotes elasticity and skin hydration, enhances my hair and nails, and supports hydration. I do two tablespoons in my smoothie five times a week, and it took about a week to start seeing a difference in all the above."
"This one is scientifically proven to beat bloating, which, if you're like me, you see results immediately in the face. Great for cheekbones, not just your gut. I take one pill a day with my smoothie."
"I'm not great at eating all my leafy greens each day, and this one has sea vegetables, dark leafy greens, digestive enzymes, and turmeric, so it kind of has me covered in my smoothie. It helps with hormonal and blood-sugar balance, which keeps me from eating foods that cause breakouts and general bad skin. This mix is a must if you have a hard time digesting rough greens."
"This once-a-day pill contains astaxanthin, rhodiola, phytoceramides, and betaine, which promote cell rejuvenation, and together, reduce the size of wrinkles. They say it takes about 15 days to see results, but I started seeing a new 'glow' within a week — like the kind of glow you see in your tenth grade class picture."