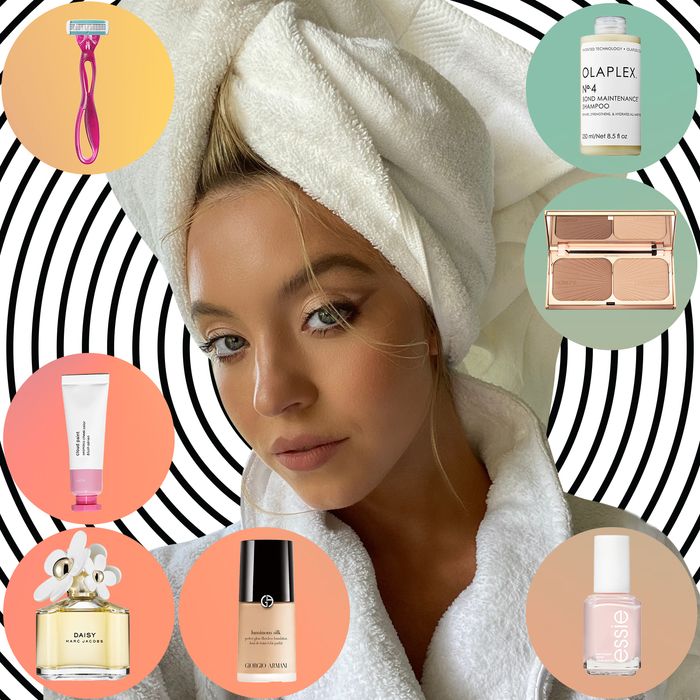 Photo-Illustration: by The Cut; Photos: Retailers, Courtesy of Sydney Sweeney
On the Beauty Group, a Facebook community co-founded by the Cut and the Strategist, people chat all day long about the products they love — the ones so good they'll make you hit that little "auto-refill" box at checkout. Below, we asked one of our favorite beauty pros to share her own selections.
When actress Sydney Sweeney was a teen, she would try to treat her reactive, cystic-acne-prone skin with anything she could find, including "toothpaste and random house-cleaning products, like rubbing alcohol." Luckily, the Euphoria and The White Lotus actress has grown up a lot since then. Over the past two years, she's worked with her dermatologist and makeup artists to figure out what her skin really needs. (She shared her findings with the Cut last fall.)
One holdover from her teenage years is razors from BIC, with whom the actress has recently partnered. She says, "I grew up in a smaller town, and my parents always instilled in me the value of money and stretching a budget and being really responsible. Something that BIC and I align on is having incredible value and appreciating the dollar." Plus, it was one of the first razors that her mom ever let her use, so she has a nostalgic connection to the brand.
Below, Sweeney breaks down more of her essentials, including the blush that doubles as eyeshadow, the $5 mascara she's used her "entire life," and the shampoo that saved her dyed hair.
The Razors
"I used to try to shave standing up, but I never could get it — I would knick my ankles so badly. So I've started to sit down and shave. I have really sensitive skin, so I don't use shaving cream because it used to break me out horribly. Now, I just use water and my BIC Soleil razor. They have a Sensitive Advanced one that works for me as well. It gives me a flawless shave, and you get such a good value for all of them — I'll usually use one for like two weeks before moving on to the next one. And what's so nice, too, is that I can throw it into my bag when I'm traveling, and I know it's gonna last."
The Shampoo
"I dye my hair for Euphoria, which makes it thinner and more brittle. Whenever I color it, it tends to break. I dream of having long, luscious locks, so I started using Olaplex, and my hair isn't breaking off as much anymore. My hair colorist Tracey Cunningham actually uses Olaplex while she's coloring my hair. Right before we started filming season one, I bleached my hair — I had hair that went down to my belly button, and then all of a sudden, when they were done bleaching it, it was up to my shoulders without having cut it. It terrified me. When Tracey did my hair, that never happened. She was using Olaplex, so I was like, I am buying all of it."
The Blush
"I love having a simplified beauty routine because when you're traveling, you want to minimize as much as you can. My concealer or my bronzer, I'll use them for so many different things. And this blush is easy. I like being able to paint it on with my fingers or a beauty blender. It looks natural, too. I also use it on my eyelids quite a bit."
The Perfume
"I like that this perfume is not so strong that when you walk in a room, you leave a cloud behind you. It's very dainty, and it's one of those perfumes that if you want someone to smell it, it means they're close enough to you."
The Moisturizer
"I mentioned this in my Why Is Your Skin So Good. My makeup artist on Voyeurs, Gillian Chandler, introduced me to it, and it truly helps makeup sit better on my face. What's interesting is that it's actually a cream for dry skin or if you want to have a glossy appearance. I have combo skin and I don't like to shine, but I put my Tarte primer on top so it's like two battling products, and I really think that that combination has worked for my skin."
The Mascara
"This is a really cheap mascara. It's $5, and I have used it my entire life. I have sensitive eyes, and they tend to get really red with most mascaras, but not with this one. I go for the brownish-black color."
The Nail Polish
"I heard that Queen Elizabeth actually uses this color — royal. Every single time I do my nails, I do the same color. I actually made it Cassie's go-to color on Euphoria, as well. I like to do two coats so it's not super-sheer."
The Foundation
"I'm a shade 3.5, and depending on if I'm tan or not, I'll mix it with a CoverGirl medium tan color — I tend to mix a lot of my products. This foundation doesn't break me out or split on my face, but I think that also has to do with finding the correct lotions and primer. I've started using the Tarte Poreless Mattifying Primer, and that's helped immensely, too."
The Sunscreen
"This is the first sunscreen I found that doesn't break me out. I don't like the feel or smell of sunscreen — I know that sounds horrible — but I started using this one about a year ago and I really like it."
The Face Massager
"When I was filming the first season of Euphoria, my skin used to break out horribly. We've been filming the second season for a few weeks now, and every morning I've been rolling my face with this giant ice roller. I don't know if it closes my pores or it's just my mind thinking I look great, but I haven't broken out. I also love how it wakes me up in the morning and how it kind of tightens your skin. I keep mine in the freezer."
The Palette
"I have been using this palette for years. I use it as eyeshadow. I use it as contour. I use it to highlight. It's my go-to palette. Also, you know when you're at Sephora, and they have the little stands as you're waiting in line, and the products are like $5? I got all of the little Smashbox eyeshadows. They always get me."