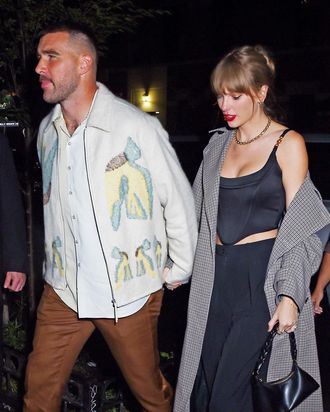 If your media consumption is anything like mine, you are being inundated with information about Taylor Swift and Travis Kelce. It seems like anytime either of them so much as breathes, there is a headline about it. It is, frankly, too much for any one person to keep up with. Luckily for you, it is literally my job to keep up with it. You do not need to go hunting around for what Kelce's mom thought of the Eras Tour movie (she was "enthralled"), because that's what I am for. Everything you need to know about the couple will be here until they break up or I die, whichever comes first. Let's get into it!
Who is involved?
The cast of characters is vast, but we'll keep this to the main players. First up is Taylor Swift, probably the most famous pop star in the world right now. Then there's Travis Kelce, a tight end for the Kansas City Chiefs. His brother is Jason Kelce; he is a center for the Philadelphia Eagles, and the two of them have a podcast together called New Heights. Their mom is Donna Kelce; she seems really nice.
Tree Paine is Swift's publicist. Swifties assume that every exclusive source saying something about Swift's personal life is Paine. For example, a source telling People exclusively that Swift and Kelce's relationship "feels very special"? Ring the Tree alarm.
When did they start dating?
At the outset of their public-facing relationship, we did not know the answer to this question. We knew that Kelce had gone to an Eras tour show in July. He made Taylor a friendship bracelet and later lamented to his brother on their podcast that he was "butt-hurt" that he didn't get to give her one.
It turns out that their love story began shortly after that. In an interview with Time, Swift gave us a fairly complete rundown. "This all started when Travis very adorably put me on blast on his podcast, which I thought was metal as hell," she said. "We started hanging out right after that. So we actually had a significant amount of time that no one knew, which I'm grateful for, because we got to get to know each other."
"By the time I went to that first game, we were a couple," Swift told the magazine. "I think some people think that they saw our first date at that game? We would never be psychotic enough to hard launch a first date."
In a Wall Street Journal profile, Kelce gave us his side of the story. After he went to her show and talked about it on his podcast, someone from Swift's team got to work. "There were definitely people she knew that knew who I was, in her corner [who said]: Yo! Did you know he was coming? I had somebody playing Cupid," Kelce said.
He was apparently unaware that this was happening and only realized once he got a text from Swift. "She told me exactly what was going on and how I got lucky enough to get her to reach out," Kelce told WSJ. She's a woman who knows her worth, that's for sure.
Do they have a couple name?
Yeah, it's Traylor. You might think that sounds bad, but when she was with Joe Alwyn, their couple name was "Toe." Things are looking up.
What do their friends think?
According to Gigi Hadid, Swift's #squad is "over the moon" for their friend. Her statement came on the heels of a report that claimed the model "doesn't agree with the way Taylor has been acting" with Kelce. If that sounds familiar, it's because there was a very similar report in "Page Six" claiming that Selena Gomez was "concerned" about the way the relationship was "being navigated." Don't worry, though; a different source told Entertainment Tonight, "Selena and Gigi see how respectful Travis is of Taylor and that he treats her like a queen. They are happy for both of them."
Note: You should hear a little Tree alarm any time you see exclusive Taylor Swift reporting in Entertainment Tonight. That woman loves that outlet; it's where Swift and Alwyn's breakup was first reported, and where it was first reported that Swift and Kelce's parents would be meeting for the first time at a Chiefs game.
As for Kelce's friends? Jason Kelce has said that he is "really, really happy" for his brother, while also admitting that the media circus around the couple is "weird." Chiefs quarterback and Kelce bestie Patrick Mahomes kept his comments brief, saying that Swift was "cool, good people" but that he was going "to let them have their privacy." In Kelce's WSJ profile, an unnamed friend of his recalled an evening in Kelce's backyard when the couple looked like two "peas in a pod" and duetted "Teenage Dirtbag."
Is Taylor a WAG now?
Yeah. Not just in the literal sense — WAG stands for "wives and girlfriends" of athletes — but she's leaning into the culture as well. She's invited Brittany Mahomes (wife of Chiefs QB Patrick Mahomes) into her New York City dinner crew, and the two even have a secret handshake.
Is Travis going to introduce Taylor to Chris Farley's oeuvre?
"I told Taylor that I have that world, I've got to introduce it to her. I let her know: This is my jam right here," he told WSJ. So yes. Finally we'll know for sure that Swift has seen Black Sheep; Kelce loves it.
What's the deal with Travis's podcast?
As previously mentioned, it's called New Heights, and Travis co-hosts it with his brother/duet partner Jason. It was popular before Traylor for the brothers' behind-the-scenes chats about life in the NFL, but has exploded in popularity since the relationship started. For our purposes, it is notable because for almost two hours every week, we get to hear Taylor Swift's boyfriend talk. This is unprecedented. You might assume that he is keeping mum on their relationship to protect their privacy. To an extent, sure, but this man is still talking up a storm. If you have read anything about Travis talking about their relationship, it probably came from the podcast. No longer are Swifties cobbling together narratives by cross-referencing lyrics with paparazzi shots and weather records. Now we have boots-on-the-ground reporting from the man himself. It's an exciting time to be alive.
Seemingly ranch?
Swift was photographed next to a plate of chicken tenders at a Chiefs game in September. On the plate were two sauces, one obviously ketchup and the other, well, seemingly ranch. It's a funny turn of phrase that quickly became a meme. Moving on!
What's this I'm hearing about Argentina?
Oh my God, okay. Swift got back to work in November, mounting the Eras tour in Buenos Aires. The dates lined up with a Chiefs bye week, so Kelce flew down to Argentina on a Friday to see her perform. Swift's Friday-night show was canceled due to dangerous weather, so instead the couple went for a romantic date with Swift's dad Scott. Kelce revealed on his podcast that in Argentina, they are "big on all the different cuts of meat." He had steak.
At the Saturday-night show, Kelce had the time of his dang life. Swifties were quick to point out that when Joe Alwyn attended the Reputation tour, he did not seem to have as good of a time. But I digress. Kelce was singing, dancing, and hanging out some more with Swift's dad.
Onstage, Swift was also having a ball. As part of the surprise-song portion of the show, she sang "End Game" from Reputation. If you buy into the idea of the surprise songs having special meanings, then you'll understand why Traylor stans were excited that she sang a song about finding the one while Kelce was there. According to one TikTok, the crowd's light-up bracelets started glowing in Chiefs colors (red and gold) while she sang. If she really did do that for him, this girlie is down b-a-d.
Later in the show, while singing "Karma," Swift changed the lyric from "Karma is the guy on the screen / Coming straight home to me" to "Karma is the guy on the Chiefs / Coming straight home to me." Kelce's reaction to the lyric change was very cute:
But, oh, it wasn't over yet. After her show ended, Swift ran to Kelce backstage and gave him a kiss.
I have to give it up to these two for being very hot.
And we're loving Travis's tweets, yes?
Yes! Well, for the most part. Kelce has had an account on the website formerly known as Twitter since 2009, which means that every thought he had in college is thoroughly documented. Most of them reveal Kelce to be something of a sweet idiot, like this one:
But once we started to have our fun, people did begin to find some tweets that were less than savory. "As a man, You have something wrong with you if your going for girls that weigh more then you!!" one read (spelling his). Kelce has since deleted the most offensive ones, including one that read, "@RegRun11 they slow as hell cuz there parents have been talkin to them like they were retarded since they were babies." Yikes.
Sadly, in his purge, Kelce also got rid of one of his greatest works:
Okay, but this whole thing is mostly smooth sailing?
Considering the fact that Taylor's last fling was with a guy who did a Chinese accent to mock Ice Spice and allegedly threw up a Nazi salute at his own concert, yeah, this relationship is going really well. That said, there have been a few hiccups along the way. One of Kelce's ex-girlfriends, Maya Benberry, got a speck of media attention for telling the Daily Mail, "once a cheater, always a cheater." The two dated for a few months in 2016 after she won his E! dating reality show, Catching Kelce. Oh, yeah — Travis once had an E! show centered around him finding love that produced exactly one really good clip:
I hope that girl is doing well.
Another of Kelce's exes, Kayla Nicole, was more tactful in her approach to navigating the attention she received. She and Kelce dated on and off for five years, and she recently unfollowed Patrick Mahomes and his wife Brittany. In an interview with People, she gave this incredible quote:
"I do think it's important to publicly address this because I did publicly unfollow people … The reality is I know these people in real life. And so, in real life, I've communicated to these people why I've had to publicly make the decisions that I made."
Publicly. That word came up again later in the interview when she explained that she still loves the Mahomeses even in the face of Kelce's whirlwind relationship, saying, "But publicly, because things are happening so quickly and so publicly, I have to protect myself. That's really all that is. The love is still there."
None of Swift's exes have commented on her new relationship, presumably out of fear.
Do you think they're going to get married?
Maybe? All that I know for sure is that if these two had a baby, it would be the biggest W for white people since … I don't know, when was mayonnaise invented?
This post has been updated.