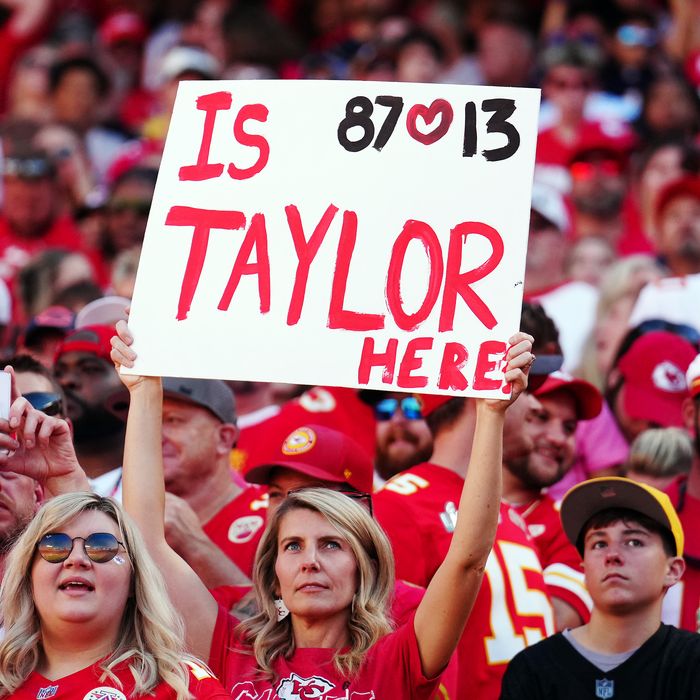 Photo: Jason Hanna/Getty Images
I don't mean to brag, but I saw the "seemingly ranch" photo before you did. I was sitting in the stands at Arrowhead Stadium watching my hometown Kansas City Chiefs play the Chicago Bears — the first time that both Taylor Swift and I got to see Travis Kelce, on whom we had different but equally strong crushes, play football in person. The picture of Swift in a luxury suite with several Chiefs fans and a glob of unidentifiable white sauce on a paper plate was taken early in the game; sometime in the first quarter, hours before it became a viral tweet, the photo came to me via a text from a friend, who got it from his friend, who got it from his sister, who said that one of the women in the photo was her "best friend's husband's best friend's ex-girlfriend." Elsewhere in town, a friend told me she was watching the game with a group from high school when "all of us started getting that picture from different people — someone's sister, or a college friend, or a co-worker. It was like you could see a map of it going around the different social circles of Kansas City." In one of my group texts, filled with men in their 30s who mostly yak about sports, someone wrote he looked at the woman standing next to Taylor Swift and realized, "Hey, I know her."
Going into the game, the city was already riding high from two Super Bowl wins in four years and didn't exactly need another reason to be excited about the team. The game itself was, in certain respects, my Eras Tour. I moved from Brooklyn back to Kansas City shortly after COVID hit but had never seen the Chiefs in person during their recent stretch of NFL dominance, which has now spanned four Swift eras, from Lover to Midnights. But the world's biggest pop star showing up because she might be dating the team's star tight end was world-warping news in a town where celebrities don't usually spend their free time.
"If Taylor Swift is out in New York, whatever, okay — but if Taylor Swift is in Kansas City, you suddenly feel like you're about two degrees removed from her," said Rustin Dodd, a Kansas City native and the author of Kingdom Quarterback, which connects the dual revitalizations of the team and the city. Morgan Wenger, who owns a home-goods store in town, told me that a friend in her all-female fantasy football league — a New Yorker and, even worse, a Denver Broncos fan — had scoffed at Wenger's excitement when the relationship rumors started. "She was giving us so much shit for believing she might actually come to Kansas City," Wenger said.
And yet here she was. Inside the stadium, it was hard to spot Swift; the Chiefs played it cool, unlike the TV broadcast, and didn't show her on the Jumbotron. But there was pandemonium throughout Section 121, directly in front of the suite where Swift was sitting. These were some of the most devoted football fans in America, but anytime something exciting happened on the field, they whipped their heads away from the action in order to catch a glimpse of how Swift was reacting. By the time the game was over, TikTok users had decided Swift snuck out of the stadium in a storage cart owned by Topsy's, a locally famous popcorn company, and the "seemingly ranch" photo was everywhere.
A local story was now global, if it had ever been ours to begin with. By the time Swift showed up to a second game in Kansas City earlier this month, the gossip had overrun an unsuspecting city. Swifties were trying to map out where to spot her. Small businesses were figuring out how to capitalize on the mania. And pretty much everyone else in town, whether they cared about the relationship or not, was trying to figure out what it meant to play third wheel to the biggest love story of the year.
For all the hoopla, the only confirmed Traylor Swelce sighting at an establishment here took place at Prime Social, the rooftop bar where Kelce took Swift after that first game. It's a nice bar with a great view, but it isn't exactly Nobu. It's on the top floor of a 14-story office building; the entrance is through the same lobby used by the bankers, lawyers, and accountants who work there. "You don't really get special treatment because we don't offer it," a friend who owns a restaurant in Kansas City told me. "If you had a bar that was for famous people, you would go out of business, because there would be nobody there."
When I visited Prime Social last Wednesday night, half the room seemed to be made up of co-workers at different company-sanctioned happy hours. A bartender told me she had been there the night Kelce and Swift showed up — in fact, you could spot her ponytail at the edge of one of the photos on TMZ. "Aren't we lucky?" she said of the city finding itself in the middle of all this excitement. In the weeks since Swift's appearance, a new clientele had discovered the place. At a table by the window were three young girls. One of them, Zoe, was celebrating her 11th birthday where her idol had just been. She had gone to the Eras Tour and saw the movie. "Me and my friends kept looking at the exit to see if she would come, but she didn't come," she said. Her father, who wore a friendship bracelet that spelled out "SPEAK NOW," had just ordered her a No. 87 jersey with Swift's name on the back.
"Do you want to ask if we can take that bar stool home because she sat in it?" he asked.
"No, because other gross people have probably sat in it," Zoe said. When I asked where else Kelce should take Swift in Kansas City, she said, "My house, so she could sign everything."
An unlikely dream, perhaps, but suddenly anything felt possible. A day after Swift's first Chiefs game, a rumor started circulating that she and Kelce had driven 45 minutes west to Lawrence, home to the University of Kansas. Like proper Swifties reading the tea leaves — Zoe is convinced that Swift, whose lucky number is 13, is going to marry Kelce, whom Swifties have identified as boyfriend No. 13 — locals were finding ways to explain the previously implausible. The trip to Lawrence, for instance, made sense if you knew the lore. "My perfect day off would be going to visit my best friend, Abigail, in Lawrence, Kansas," Swift said in an interview on Oprah's talk show in 2009, when she was 19. That year, Swift had visited her childhood friend, a student at the university, tagging along with her to a course called Media and Society. "You always kind of wonder about the path you didn't take," Swift said at the time. "The path I didn't take was to go to college."
As texts about Kelce and Swift's arrival flew around campus, Brian Donovan, a sociology professor at KU, was walking into a seminar room to teach a 13-part course he started offering this semester: the Sociology of Taylor Swift. Donovan told me that for his students who were both Chiefs fans and Swifties, the reported coupling marked "the collision of their two most intense fandoms, and that's thrilling." Students were bounding out of dorm rooms and racing toward a brewery where the couple was supposedly having lunch. But the frenzy was for naught. Swift and Kelce were never in Lawrence at all. A group text I'm on, made up partly of KU graduates, let out a collective sigh. "I just feel humiliated I was so enthused about it all," one person wrote.
But some enthusiasm was warranted. Why not? There had never been anything quite like this. Local boy Jason Sudeikis brought Olivia Wilde to a few Royals baseball games, but neither of them were living here. The closest historical analogue to Swift's arrival might have been Paul Newman and Joanne Woodward spending ten weeks in Kansas City filming a movie — in 1989, fittingly enough. People saw them at Baskin-Robbins, or the bookstore, or caught a glimpse of Newman grilling in the backyard of the home they were renting, but no one really bothered them. The most famous pre-Traylor couple who live here is probably Kevin Morby, the singer-songwriter who grew up here, and his partner, Katie Crutchfield, who performs as Waxahatchee. "I don't feel threatened," Morby told me. "The next time Katie and I are playing Knuckleheads" — the music venue — "Taylor is more than welcome to come and sing a song. And Travis would make great security."
Morby sometimes gets recognized in town, but no paparazzi follow him around. Now, a crew of photographers was patrolling Kelce's neighborhood in an unremarkable suburb north of downtown, or trailing him to a gas station where he bought cigars for his birthday, or catching him walking into the Golden Ox steakhouse for dinner. "The idea of Taylor Swift hopping in a convertible with Travis Kelce in the River Market where there are pretty much permanent orange barrels from road construction, and that becoming this romantic image, is like a fever dream," Dodd said.
The story hit at a complex the city had struggled with at least since I was a child. Kansas Citians are simultaneously proud of their city and self-conscious about its relative shortcomings. Ernest Hemingway had his first writing job in Kansas City, and Walt Disney started animating cartoons here, but they both had to go elsewhere to become stars. One person I spoke to brought up their disdain for the Swift-Kelce relationship's leading nickname, Traylor, because they were worried that snobs would think of the city as one big mobile-home park.
But Kelce had stayed in Kansas City and become a celebrity here in the way that only athletes can do outside New York and Los Angeles. It's impossible to separate the city's conception of itself with the fortunes of the Chiefs, and the city had been on something of a hot streak. Its downtown had been revitalized, after years of neglect, and FIFA chose Kansas City as the only midwestern venue for the 2026 World Cup taking place across North America. Take that, Chicago! And, of course, Swift would fall for a member of the Chiefs, we told ourselves. They weren't just winners; they were the NFL's most innovative, stylish — dare we say musical — team with a maestro quarterback in Patrick Mahomes and Kelce as his dependable first violinist. Swift, who is from Pennsylvania, has long identified as an Eagles fan, but was she really going to root for a team whose brutish signature play is the Tush Push?
In reality, the saga would likely play out similarly if Swift was linked to a Cincinnati Bengal or an Indianapolis Colt. But was there anything specific to the location of this romance? I reached out to author Curtis Sittenfeld, whose most recent novel centers on a Kansas City native stumbling into a relationship with one of the biggest musicians in the world. Sittenfeld has lived in several midwestern cities and has spent time in Kansas City, where she has family. (In a typically midwestern way, we are distant cousins.) She pointed me to an aphorism she had deployed in one of her novels: It was possible to think of Missouri as the northernmost southern state, the southernmost northern state, the westernmost eastern state, and the easternmost western state. In short, it was whatever you wanted it to be — a blank space.
On September 21, Patrick Klima was tending to the streetwear and vintage-clothing store he owns on Broadway Boulevard when his phone started to blow up. Kelce had just addressed the relationship for the first time on ESPN while wearing a T-shirt from WyCo Vintage, Klima's store. Kelce was a longtime customer; Klima told me that he once sold Kelce a rug from Virgil Abloh's collaboration with Ikea. "He just picked it up and walked out of the store with it on his shoulder," Klima said. After Kelce's ESPN appearance, traffic to the WyCo Vintage website tripled, but Klima was unprepared: He only had two XXLs left in stock. Klima quickly put a preorder option on the site, but it was too late. Dozens of online bootleggers had ripped off the design and won the SEO battle for "Travis Kelce WyCo Vintage T-Shirt." (They weren't the only opportunists: One man called Klima to ask if he could get his line of barbecue seasoning into Kelce's hands.) Klima took solace from Abloh, who once declared, "You haven't made it until you're getting bootlegged."
Klima wasn't rushing to produce any Swift-Kelce merch, but the race to make a buck was on. Throughout the summer, Swift's Eras Tour had boosted economies across the country, and every business owner I encountered spoke with reverence about how Swift's shows this summer had balanced their books for the year. The city estimated a $48.7 million bump from the weekend.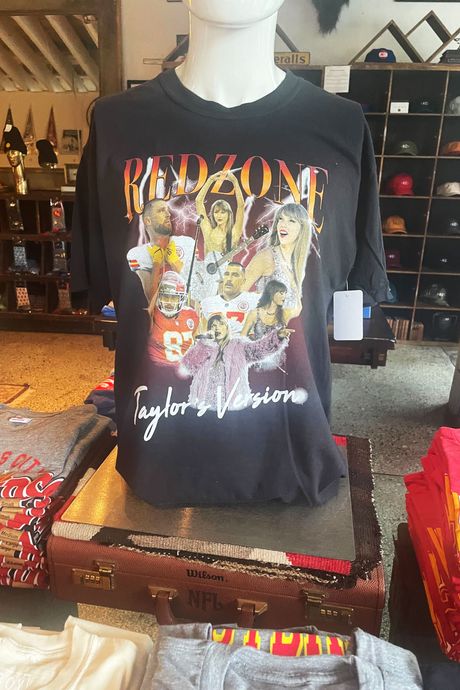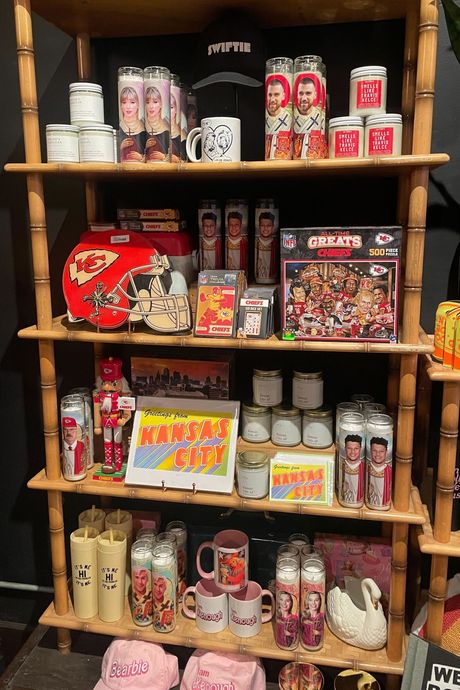 The Swift-Kelce courtship presented new opportunities, especially in Kansas City, which has a particular way of expressing civic pride. If San Francisco launched 10,000 start-ups and Brooklyn launched 10,000 podcasts, then Kansas City has launched 10,000 clothing companies that all but exclusively sell merchandise with a "KC" on it. Almost instantly, Traylor merch started popping up alongside shirts celebrating the Chiefs' Super Bowl win. The Pink Dinosaur Boutique offered an entire "Taylor Collection" with 33 different items: T-shirts, sweatshirts, scrunchies, bracelets, bows, and headbands, including a collaboration with Topsy's, the popcorn company. (The shirt reads "Getaway Cart.")
Elsewhere, the Pink Charming Boutique was selling a "Go Taylor's Boyfriend" sweatshirt and a rather hopeful "Taylor Swift Loves Kansas City" tee. Morgan Wenger, whose store is called Pink Antlers — there's a theme here — told me she has sold nearly a thousand coffee mugs, beer koozies, and seltzer koozies with an illustration of Swift in a Kelce jersey. Wenger said that by this time in the year, she would typically be turning over the store for the holidays, but the Swelce koozies were selling so well that she kept them as the featured item on the site above a plush pumpkin. She also said that a couple had come in and purchased one of the mugs to give as a gift to their friends: Travis Kelce's aunt and uncle. Wenger says the couple called back to report that a photo of the mug had made its way to Kelce and Swift and that Swift loved them and wanted as many as Wenger had. "She probably won't come in, but she'll send her people," the woman said.
Wenger took her word for it, but so far, no one from Team Swift has placed an order. As the frenzy continued to unfurl, it was hard to tell what was real, like the night at Prime Social, from what was a mirage, like the day in Lawrence. People were starving for any morsel of gossip they could find but also wanted to give Kelce and Swift the chance to lead something approaching the quiet, contented life that makes the city appealing to begin with. Others were less discreet. "I have to say, 'Shout-out to the people of Kansas City,'" DeuxMoi, the anonymous celebrity-gossip Instagrammer, said on her podcast earlier this month. "They give you details."
"Keen eyes," her co-host said.
"I mean, they might be the best sources I have thus far," DeuxMoi said, as she introduced a report that she had "received confirmation" from a local source that Swift had dropped into town for Kelce's birthday. The story, as it had been relayed to her, was that someone tried to order pizza from Fortunati, a pizzeria, only for the shop to claim it was "out of crust." The source claimed that Swift and Kelce had either rented the place or bought out every pie for the night.
When DeuxMoi posted the report, Justin Norcross, who owns Fortunati, was several hours into tailgating before the Chiefs game against the Denver Broncos — Swift's second in Kansas City. "My wife called and was like, 'Why didn't you tell me Taylor was in the restaurant?'" Norcross said. He was a Chiefs season-ticket-holder and had never heard of DeuxMoi. "I was already very tailgated, if you know what I mean," Norcross told me. "And I was like, 'Here's how we're playing this one, babe: We can neither confirm nor deny.'"
Fortunati isn't exactly a place you would expect Taylor Swift to rent out. It opened this summer and has just a few tables, all of which were empty when I visited for lunch recently. Norcross was wearing a bandanna tied around his head, khaki overalls, and bushy facial hair more akin to Jason Kelce's than Travis Kelce's. An employee working the cash register was wearing a hat that read "Anti-Hero," but he had never heard Swift's hit single. The hat was from a skateboard company.
Norcross was sticking to his story — he could neither confirm nor deny — and said that even if he wasn't a Swiftie, he was happy for the city to benefit from the frenzy. "If this is the stimulation that Taylor Swift brings to Kansas City's economy, then I'm for it," Norcross said. "Two of my employees work in film and production, and they told me that Travis and Patrick basically are their economy with all the commercials they do." Between the two of them, Kelce and Mahomes currently appear in commercials for State Farm, Lowe's, Campbell's Soup, T-Mobile, Subway, Experian, Pfizer, and a local grocery-store chain. (DirectTV just released a new ad in which Saturday Night Live cast member and Kansas City native Heidi Gardner embraces a body pillow with Kelce's face on it.) But Norcross hadn't created any special menu items or marketing plan to capitalize on the rumor. "I should do that," he said. "Call it 'the Buy Out,' and it's just 60 pizzas, and we close for the fucking night."
A few blocks away, Patrick Froman and Stephanie Miller, who co-own a shop called Fetch, were more excited to be the subject of a different DeuxMoi post:
"Travis called our store last Friday, Fetch (also in the west bottoms, right down the street from Fortunati Pizza and golden ox — Kansas City) where he was on both Friday and Saturday night for his birthday. We closed the store down, for him to personally shop for Taylor — he pursued a vintage KC Chiefs Starter jacket & a Taylor Swift prayer candle, which we wrapped for him."
When I stopped by, Froman and Miller told me they didn't submit the tip themselves. Neither identifies as a Swiftie. "I could name more Travis Kelce outfits than I could Taylor Swift songs," Miller told me. "I don't know if you looked at our social media, but we kind of started this whole 'Travis is daddy' thing." Long before Swift showed up, they had made Kelce a feature of their Valentine's Day window display. They now had an entire shelf dedicated to Kelce and Swift candles, custom-made by a guy in Jacksonville. "We're trying to manifest him," Froman said.
As for the rumor that Kelce shopped there, Froman nodded to the sandwich board outside: "We cannot confirm or deny any internet gossip." They said they weren't working in the store on the day in question anyway. I pointed out that the tipster's text described Fetch as "our store."
"Well, I mean, we don't, it wasn't, I mean, we didn't write it, so …," Froman said.
"We do have employees," Miller said. "One is a big Swiftie."
"Actually, two of them are," Froman said. "It could have been one of them who submitted it." Well, had they asked the employees working that day whether the most famous boyfriend in America had in fact come into their store to buy a prayer candle imprinted with the face of his new girlfriend? "We didn't have a chance to," Froman said. They noted that other celebrities had come around. Heidi Gardner had "probably been" to the store, and A$AP Rocky had recently filmed a music video in the neighborhood. "And Rihanna was with him," Froman said. They didn't see her, but they did see a video of her at a party in the building next door. "We could say this," Froman said. "Travis Kelce's ex-girlfriend, Kayla Nicole, has shopped here before. We can confirm that."
"We were pretty crowded, and she did come with a ton of people," Miller said. "Maybe Travis snuck in?"
Kansas City, like many midsize American cities, has an almost parental relationship to its sports stars. When Patrick Mahomes's wife, Brittany, gave birth to their daughter, Sterling, the train station in town was lit up in pink. When she gave birth to their son, Bronze, the same thing happened in blue. Kelce was just 23 when he arrived, fresh out of college, and the city has watched him become not only a Hall of Famer but a grown-up — albeit the kind who boyishly said he was "a little butt-hurt" when Swift initially rejected his attempt to get in touch. Like proper parents, many Kansas Citians remain cautious about the relationship, worried that our man is being used — one local spooled out a theory related to the release of Swift's movie and the fact that AMC Theaters is headquartered here — or, worse, that he was simply going to get his heart broken. (Or, worst of all, that a breakup might threaten Kelce's focus and the team's Super Bowl prospects.)
Early last week, Kansas City decided things might be getting serious. A friend from high school told me that her brother had a co-worker — a guy in IT, who had a friend who worked for a lawyer selling a big house in a ritzy gated community — who said that Swift was buying the lawyer's mansion. Another friend had a friend whose aunt claimed to have seen security vehicles in the neighborhood. Keen eyes! A different source heard the news from his fourth-grader. "They know all the details," he said. "It has a pool." It seemed crazy, but maybe Taylor Swift was rich enough to impulse buy a $6 million home in order to spend a few cozy weekends with her new man during cuffing season? More importantly, maybe she was ready to commit to our guy Travis? In reality, Kelce was the one reportedly buying the home.
The couple's weekend return to New York and their outings at SNL and the Waverly Inn had released some of the pressure in town — this was the way Kansas City normally engaged with celebrity from afar. But the city's new normal includes an expectation that Swift will be back to watch the team play the Los Angeles Chargers, the last home game before Swift leaves for the South American leg of her tour. Presumably, she'll leave before Wednesday, when her reported recent ex, Matty Healy, will be in town to play a show with his band. If she stays, there are plenty of tickets still available.
For now, everyone in Kansas City was trying to enjoy the ride, whether they were obsessing over every bit of news or rolling their eyes at it. The Pink Dinosaur was planning a party before Sunday's game with a popcorn cart from Topsy's for people to climb into. Justin Norcross was going to the game itself; Fortunati is closed on Sundays, so he doesn't have to miss a Mahomes-to-Kelce touchdown. Patrick Klima, from WyCo Vintage, told me that he didn't carry any of her old concert tees — vintage has to be 20 years old, he said, and Swift's first album came out in 2006 — but he did think that all the Swift-Kelce shirts might be worth something one day. If nothing else, Klima said Kelce's endorsement of his store had led to a friend Klima had stopped talking to because of political differences to reconnect. Traylor 2024? Sure, why not.