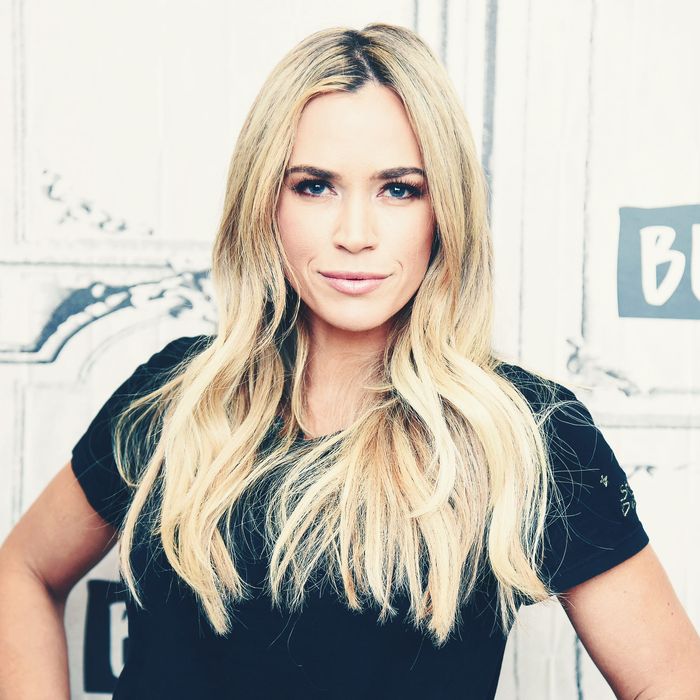 Photo: Gary Gershoff/Getty Images
Fans of The Real Housewives of Beverly Hills know Teddi Mellencamp, a cast member who joined the show in season eight, as both an "accountability coach" and the woman whom newcomer Sutton Stracke called "boring" to her face. It was always a bit unclear what Mellencamp's "accountability" program was really about, though she mentioned several times how much her presence on the show has grown this mysterious business.
But last week, Emily Gellis Lande, an influencer who orchestrated a wave of criticism about the popular F-Factor diet, set her diet-busting sights on Mellencamp's "All In" accountability program, which former customers say entails an NDA-protected, highly restrictive diet (Mellencamp confirmed that she used to require NDAs, though she said she's since stopped using them). Rumors soon surfaced that Mellencamp would be fired from RHOBH, and Mellencamp confirmed her exit via Instagram on Tuesday. "I don't want to bore you," she says, "but I figured I'd give you a little update on what's going on. I recently found out that my contract as a Housewife is not being renewed."
Here's what we know about Mellencamp's controversial program.
How does All In work?
According to its website, the All In program begins with a two-week "detoxification," called Jumpstart, in which users are paired with an accountability coach (typically one of Mellencamp's employees) who will check in and "cheer [them] on." The total cost for this part of the program is $599.
After successfully completing Jumpstart, users can move on to the monthly portion of the program, which has a "slightly more relaxed" menu. Step two costs $399 a month and can be continued indefinitely — though participants can move on to step three after a minimum of six weeks total (Jumpstart plus one month). Aptly titled "Weight and Workout," step three requires users to check in daily on their weight and cardio exercise routines with their accountability coaches. This step costs $5.90 a day, or $165 a month. Step four, "Maintenance," scales check-ins back to a "casual" frequency and costs $3.40 a day, or $95 a month.
It seems fair to assume the program is most expensive in the first two weeks because people are likely to quit sooner rather than later — especially if the All In diet is as punishingly restrictive as former customers have claimed.
What are people saying about All In?
There's a fairly major (and bizarre) caveat here, which is that participants are apparently expected to sign nondisclosure agreements about the program. An anonymous account of someone's negative experience with All In was posted to Reddit last year. Later, that same person published in an essay on Thought Catalog. The self-described former All In customer claims the meal plan consisted of 450 to 500 calories a day, though the NDA prevented them from getting into specifics.
Yesterday, Emily Gellis Lande, a fashion-and-lifestyle influencer, posted screenshots of the Thought Catalog story to her Instagram, which has nearly 200,000 followers. Lande tagged Mellencamp for comment and soon started receiving and posting screenshots from Instagram users claiming they had also suffered through the diet. Lande cropped the screenshots to protect the users' identities, but there appear to be dozens of accounts which cite fairly consistent details. They all mention a restrictive diet of 400 to 500 calories a day, a daily, hour-long cardio workout, and coaches who encourage users to drink water if (and when) they're hungry.
"This isn't an acceptable calorie level for anyone," says Abby Langer, a registered dietitian and the author of the forthcoming Good Food, Bad Diet. "They call it a 'jumpstart,' but you're not jumpstarting anything. All you're doing is starving yourself."
What's in the All In meal plan?
Diet plans appear to vary by customer and individual needs, as determined by accountability coaches. Users in Los Angeles can get All In–compliant meals from Gracefully Fed, an organic, gluten-free, and dairy-free meal-delivery service that All In partners with. (Most of these meals are soups, and no nutritional information is provided.) But the accounts sent to Lande are more meager still: oatmeal for breakfast, quinoa with cauliflower rice and broccoli for lunch, and a cup of tomato soup or chicken broth for dinner, with two half-cup portions of fruit allowed as snacks. Drinking alcohol is reportedly allowed only on "cheat" days," on which users can have protein and green veggies for dinner instead of soup. (One user says her accountability coach chastised her for snacking on carrots, which have too much sugar.)
Users also report being asked to send their coaches daily screenshots of their scale as well as pictures of every meal. "[Mellencamp] proudly advertises that none of her coaches have any medical or nutritional training at all," says Langer. "Nutrition is not just calories in versus out. There's a huge emotional component that these people are unqualified to tackle. They will most definitely end up hurting people."
How has Teddi Mellencamp (et al.) responded?
Yesterday, Mellencamp posted a video to Instagram (above) in which she expresses pride and confidence in both the All In program and her accountability coaches, saying, "I 100 percent feel confident in the fact that we let you know before signing up exactly what the program entails. If it's something that you want to do and you want us to hold you accountable to your goals, we are there to do that for you. If it's not something you want to sign up for, you don't."
Many of the comments appear to have come from Lande's page with questions about the All In diet, and some of these users claim their previous critical comments were deleted. The comments also include several robust defenses of the All In program — though at least a handful of these come from people who appear to be accountability coaches with Mellencamp themselves, per their Instagram bios.
Kyle Richards, a fellow Real Housewives of Beverly Hills Housewife and Mellencamp's friend, has publicly taken Mellencamp's side, sending Lande a snide DM accusing her of wanting to be a Housewife herself and tweeting at Camille Grammer, a former Housewife, who had tweeted that the All In plan is "suspect"): "Camille, you really need to move on and get a life. Teddi has helped so many people and changed their lives. What are you doing everyday? Tweeting about RHOBH?"
In her video defense, Mellencamp claims to have "helped change" more than 15,000 lives with the All In program, but it's unclear where that figure comes from. In response to a question about her credentials, Mellencamp states that she's an American Fitness Professionals & Associates–certified nutrition-and-wellness consultant — a title one can earn through a $699 online course, or, as Langer puts it, "a fucking wackadoodle credential that means absolutely nothing."
This post has been updated.