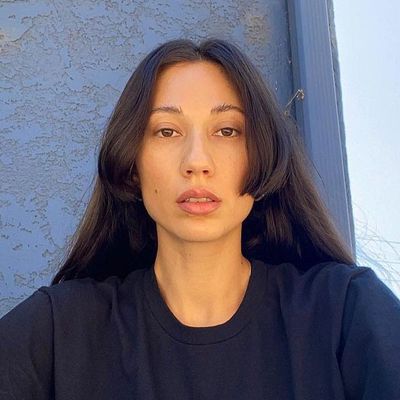 Photo: Courtesy of Valerie Teicher
Before COVID, Valerie Teicher was used to constant travel. The Colombian Canadian singer and Step Bang proponent, better known by her stage name Tei Shi, would spend as much as eight weeks on the road for each tour. She'd have done the same for her July EP Die 4 Ur Love were it not for the pandemic. Instead, she's been quarantined in her adopted home of Los Angeles since March.
Over the past eight months, Teicher's been mainly focused on her music, but being at home has also given her the chance to give her skin some rest after years of intense traveling, shoots, and performances. "I immediately break out when I'm wearing a lot of makeup and sweating in it. Once I started touring, I noticed my skin was just not happy. It looked tired, and I had a lot more acne than ever before," she says. "Now, having to be in one place, I definitely see the difference in my skin. I'll get a zit here and there, but otherwise, it's definitely better."
The singer wants to keep her routine concise, so she resists the temptation to test out product after product. She's thinking ahead to post-pandemic days and knows she won't be able to pack a ton of products once she's touring again. That's why she mainly sticks to items she can find at chains like Sephora — they're easy to locate if she runs out. She's also good at finding gems at drugstores. "There are a lot of products where the pricier ones are pretty much interchangeable with their cheaper, more generic counterparts, and any time I find a pharmacy product that I like, I will stick with it forever."
Below, a look at Teicher's product rotation for combination skin, including the acne cream she's used since her preteen years, a vitamin C serum that doesn't smell like hot-dog water, and a cooling moisturizer that goes a long way.
The Cleanser
"I've tried many different cleansers, and this has consistently been my favorite. I love how gentle it is and how you only need a little for a good wash. My skin always feels really smooth and refreshed after using it. It smells amazing, like a floral-cucumber scent, and comes in a "mini" size that's perfect for traveling."
The Scrub
"I use this scrub about three times a week, mostly during showers. It's great for exfoliating, and I love the little pieces of walnut in there. It smells (and weirdly, tastes) amazing — since I mostly use it in the shower, the water sometimes some will get into my mouth, and it tastes pretty sweet and nutty. It feels like it gives my skin some nice moisture while exfoliating. My skin feels super clean and soft after using it."
The Toner
"In the morning, I like to tone with a spray. I used to tone with a pad, but I found it was too much for my skin. The cooling feeling also helps to wake me up."
The Mist
"This rosewater spray also tones and is super-refreshing and delicious. I use the Herbivore toner solely on my face, but I use this one on my neck and body. I use it throughout the day but always in the mornings to help wake me up and make me smell good. It's great because it's 100 percent pure rose water, while lots of other brands put other ingredients in them. You can find it at pretty much any health-food store."
The Serum
"I like using this vitamin C serum in the morning to brighten my face and give me that morning glow. I do feel like my skin looks more radiant and brighter after using it — a little more dewy. I'm not sure how much of it is psychological, and, honestly, I don't know too much about serums and haven't tried too many, but I love the smell, or non-smell, of this one. It feels nourishing and not oily or sticky at all."
The Moisturizer
"This is probably my favorite product. I've found my skin does best with water-based moisturizers, and this one feels basically like water, but you don't get that dry feeling you get after splashing water on your face. Instead, you feel very moisturized. I can't explain how cooling and amazing this stuff feels on your skin. A little bit of it goes a really long way."
The Sunscreen
"I struggle with sunscreen because I can't stand the smell of it. For a long time, I refused to wear sunscreen on my face (even though I know it's the No. 1 thing recommended for skin care) because of the smell. This one has almost no scent, though, and it also doesn't have that gross oily texture most sunscreens have. I put a couple of drops in with my moisturizer and apply it that way. It's SPF 50 and is also really affordable, so it's a definite keeper for me."
The Spot Treatments
"I've tried other zit stickers that didn't feel that effective, but these really work for me. I think the key is to use it at the right time, at the very beginning of a zit — if it's more advanced than that, it doesn't quite work, in my experience. After a few hours with it on, the pimple basically flattens and 'deflates,' and eventually, it goes away. If I have a more aggressive-looking zit, I normally put one on at night and take it off in the morning, but the instructions say you only need it for a few hours. I like that you just press it on and forget about it, rather a cream that's on your face and that you have to be careful to not rub."
"This cream is my go-to when I need to deal with a zit immediately instead of letting it run its course. I use this only when I have a bad pimple and I need to kill it for a shoot or something like that. I've been using it since my preteen years. It's just reliable in that way, and I know it usually does the trick for me.
It basically dries out the zit so it can't get to that white-head period. You'll get the best results at the beginning stages of the zit. The main ingredient is benzoyl peroxide, which can be pretty harsh on the skin since it's intensely drying. If you already have drier skin or sensitive skin, I wouldn't recommend it. If you have skin that's more on the oily side, I think you can get away with it."