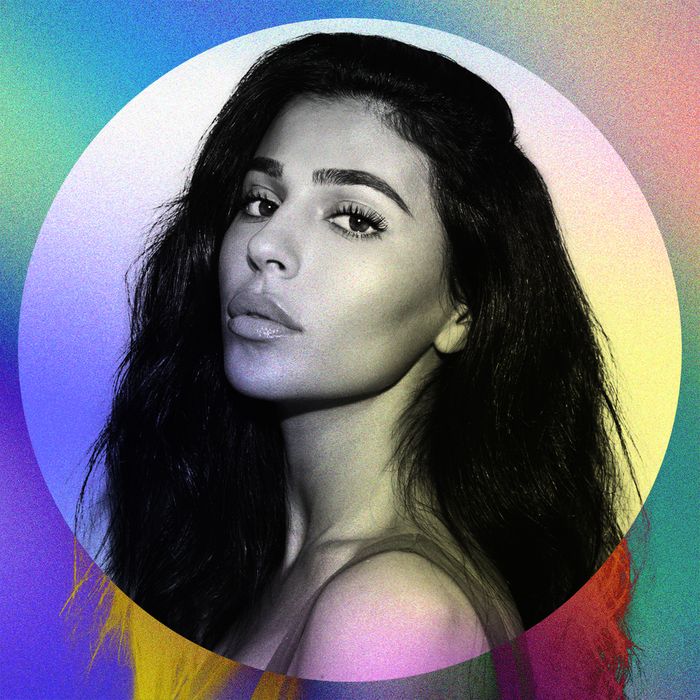 Teni Panosian.
Photo: Courtesy of Monday Born
Multi-hyphenate Teni Panosian — actress, pioneer beauty vlogger, practiced music-video love interest (for boy bands and former boy band boys), capital "M" Master of Communication, and the face of multiple things (YSL Beauty currently, Maybelline, Dior Makeup, and Fekkai, previously) — is expanding her hyphenation with her latest title: founder of the luxury skin-care brand Monday Born.
Panosian not only managed to launch a line during the height of the pandemic (literally mid-March, 2020), but also create one that stands out in an increasingly cluttered space by cutting out the middlemen. Created in partnership with Beaubble, a direct-to-consumer company that co-creates beauty brands with influencers, Monday Born develops every product via the "MB Experience," where a community of beauty enthusiasts and Panosian's followers provide feedback on ingredients, lab samples, and packaging to refine the final product before it drops. When it does, only a limited quantity is available for dibs, helping eliminate waste, reduce the brand's carbon footprint, and ensure those who truly want the product are getting it, in the freshest batches possible.
The line has already launched three products: Rebirth, a gentle resurfacing serum, Source, a reparative hydrating essence, and most recently, The Seven, a well-rounded moisturizer made of a hydrating concoction of sea grape, algae, kelp, ginseng, squalane, ceramides, and glycerin. The Cut talked to Panosian about serendipity, skinimalism, and that infamous Miracle Broth.
How did you come up with the name Monday Born?
I remember we'd gotten off a three-hour long video conference talking through details and toward the end, they were like, "Alright, well, we look forward to hearing the name you come up with!" and I was like uhhh … I can be so indecisive; I didn't know where I was going to start, and my boyfriend was like, alright, let's calm down, and just think of this really basic, like, what does Teni mean? What does your name mean? And I had no idea. If you Google, "What does the name Teni mean?" the most popular result that comes up at the top in bold letters says "Monday born." I was like, This is intriguing, and I like the way this looks and sounds. And then he asked, "Were you born on a Monday?" Again, I didn't know, so I searched July 16, 1984 and it was a Monday. The search stopped right there. I remember we were in the kitchen, he was sitting on the counter, and I was standing there going, "Is this it?" and he's like "This is it." I always said that if I were to do my own product, it needs to happen serendipitously, with everything aligned perfectly. This was serendipity again; it was too perfect to ignore.
Do you think of beauty as self-care? Why or why not?
Absolutely. Whatever your beauty routine is — whether it's really minimalist, or you like a full beat, or it's just skin care — it's really all about how it makes you feel, and that is 100 percent aligned with self care. For me, it's a lot about nourishing skincare and feeling relaxed, which I very much consider part of a beauty routine, because that really radiates from the inside out.
I believe beauty's also head-to-toe, so I have my bath routine. I do a Korean scrub in my bath to get the most supple, soft skin, because I have iguana skin, I'm very dry. I turned my bathroom into an entire spa space with the Opal & Herb, the candles, the aromatherapy, all that. I have a diffuser in the middle of my bedroom and that thing is on every single day. I'm a big fan of Saje Wellness and have the harmonizing and the grounding blend, which are my favorites.
Has the way you think about beauty changed during the pandemic?
Oh, yes, absolutely. I was always a minimalist, but I really cut back after the pandemic. I think the pandemic sort of forced us all to prioritize what's most important for us, and just stick to that. For me, that's that focus on skin and wellness, which is also tied to launching Monday Born during the pandemic. It really forced me to look at, what does skin really need? What are the real skin issues that most people are dealing with? So I zeroed in on texture, pores, fine lines, and hydration, and as little as it takes to target those issues. That's why we came out with Rebirth and Source, and I really want to continue with that — a very selective, highly curated group of core products that I eventually want to call The Essentials. There's so much out there and I can appreciate having fun with skincare if that's what you're into, but I also want to give people the option of sticking to a small, very short routine, and going back to basics.
What do you wish more people understood about what you do?
That being a content creator is a lot more than just taking photos and videos. I think a lot of people aren't aware that I produce literally all of my content. I produce it, I shoot it, and I edit it myself. On a rare occasion, I might be working with a team if I'm working on branded content, but even still, nine times out of ten, it's all me.
I wish more people knew that I was more multifaceted. I have a master's degree, so I do the corporate, and I do the creative. Anytime there's a partnership on the table, I insist on getting on a call with their entire team. My agent is on the calls, and she never says a word, because she knows I can hold my own. I can switch to corporate so quick, talk to them on their level, know their goals, and what they're looking for, and then go back to my studio, where it's just me, myself, and I MacGyver-ing my way through the content and it always turns out pretty spectacular.
Where would you like to see the beauty industry go from here?
I would really like to see more brands kind of do what we're doing: making community a focus, in the sense that we don't want to tell our consumers what they need. We want to hear from them about what they want from us. I really think that's the direction we're sort of sliding toward anyway, but I think that's really where we should be. Community has become so much more important, especially in the last year, but I also think people are just so much more intelligent about products now. I think we need to give them that credit, and listen to them more.
Sustainability is another one; if more brands can think of more sustainable models. With our model, we only produce what we sell, so we'll never have to waste material or have this big warehouse of products that we have to discard just because they've been there too long.
What's one fan experience that stood out to you?
There are a lot and they all involve tears [laughs]. When I see someone cry, immediately, I'm like, don't cry in front of me, I'll cry too! But a really meaningful one for me was Beauty Con 2017, in L.A. I had a meet and greet with a brand, and they set up this really cute setting, that was like the inside of a Winnebago trailer. People would come in, we'd chat for a minute, and take pictures, and someone from Texas, his name is John Scott, came in. That's the first time we met, but we still communicate to this day on Twitter and Instagram. He's the most supportive, bright light I've ever met. He was actually one of our first testers for our products, and he sent me an article he was featured in. That was a really special experience for me because we were able to continue that relationship and continue to support each long after.
Fill in the blank: Unfortunately, _______ is worth it.
Botox. Botox is a great idea. Look, the reason I like it is because it doesn't alter your face at all; it just kind of keeps it from changing too much. I don't know if that's what you want to hear from a brand founder, but I'm very transparent about Botox; I've always talked about it. It's the one service that I do get, and very lightly, you know? My face still moves. I just think it's a nice preventative measure. I understand the hesitancy though. Sometimes people go overboard, and it's scary, but I'm like, 25 units wouldn't hurt … [laughs].
Is eye cream "worth it"? And if so, which one is your favorite?
Debatable. Generally, I tend not to use it unless it's like a really great one that I've discovered, which I have. There's the Peter Thomas Roth retinol one that I really like, and Caudalie just came out with one in their resveratrol line that is really nice. So would I consider it an absolute must? No, but I think if it works for you, absolutely use it.
What, in your opinion, is the best affordable beauty product or products?
I am a big fan of drugstore mascaras. They're always a good bet, and they always work really nicely, especially Maybelline. I've always loved their mascaras. I think we've all used Great Lash; that's always good, but Colossal, in the yellow packaging? That's a really good one.
What's the wildest luxury beauty experience you've ever had?
Oh, man, summer of 2018 I had the opportunity to go to Sonora Island with Le Mer, where I got just the most lavish beauty treatment in the most beautiful resort. It was just woods all around us; if you've been to Vancouver it's just so stunning, and it was a very custom, hour-long, luxury facial that I got with their Miracle Broth. They just put straight Miracle Broth on my face — not even in the product, they just brushed it all over my face, and I was like, um, how expensive is this?! [laughs]. We also got to go on a boat and see how they source their ingredients. But my goodness, the glow in my face afterward. Patrick Ta did a full face of makeup on me a couple hours after that and it's never looked better.