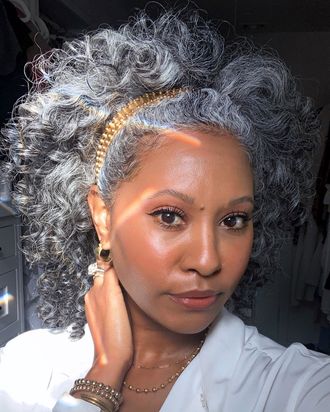 Photo: Courtesy of Tennille Jenkins
Before the coronavirus pandemic, Tennille Jenkins was accustomed to traveling over half of the year as a flight attendant on a celebrity's private plane. (She also works as an interior designer.) She can't disclose the name of the "renowned basketball legend, brilliant businessman, and humanitarian" she's flown with over the past eight years, but promises he's "the most amazing boss." Whether she's at home or on the road, she makes a point to maintain the same beauty routine, taking advantage of the fact that she's flying private to pack full-sized bottles. She drinks wheatgrass water before each flight, layers on nourishing, hydrating products, and always does a full nighttime routine regardless of the time after each flight.
Jenkins has been a devotee of clean beauty ever since the owner of a now-closed herbalist shop in San Fernando Valley asked her why she was willing to put ingredients on her skin and hair that she would never be willing to eat. Jenkins was there to treat a burn, but she remembers being "blown away" by the logic; she was already keeping a plant-based diet, so why not apply the same concept to her skin-care routine? She made an immediate switch to aluminum-free mineral deodorant, the first step into what became a ten-year deep dive into skin care.
Jenkins looks for ingredients like vitamin C to brighten and restore, hyaluronic acid to attract moisture, AHAs and BHAs to exfoliate, blue tansy to soothe, and glycolic acid to help her oily skin. Since she's blemish-prone, she avoids heavy oils and creams, particularly those that contain coconut oil as it tends to clog her pores. Parabens, synthetic fragrances, talc, sulfates (SLS), mineral oil, petroleum, and formaldehydes are also excluded in her routine.
Below, a full look at Jenkins's nighttime routine, including the toner that prevents breakouts and the products she uses to double cleanse.
The Double Cleanse
"I love makeup. I pretty much wear makeup and sunscreen every day. And for me, nothing works better at removing makeup than a double cleanse. Oily skin tends to get clogged pores, so I use this technique to get deeper in there. I feel like double cleansing allows the subsequent skin-care products in my routine to start with a clean surface, and be better absorbed.
First, I use an oil-based cleanser to break down sunscreen, makeup, sweat, and environmental pollutants. I have been using Go-To's nourishing botanical cleansing oil since before it launched back in January. It effectively yet gently melts away sunscreen, makeup, and sebum. I don't have that awful tight feeling after using it, and I love that I get a makeup remover and cleanser in one because it replenishes with vitamins, antioxidants, and essential fatty acids, balancing oil levels and hydrating my skin. It also contains yummy ingredients like sunflower and sweet almond oil."
"The second set in my double-cleansing routine is this water-based gel cleanser, which I use to go deeper into my pores. This incredible cleanser was introduced to me by Tula five months ago. It is an incredibly purifying probiotic, superfood gel cleanser that gently gets down into my pores and helps me avoid blemishes. I love how it leaves my skin bright and fresh. It's rich in natural antioxidants like turmeric root and blueberries. The lactic acid naturally exfoliates my skin, leaving my face feeling silky."
The Toner
"Cocokind is a sustainable beauty brand, and I am always singing its praises. This phenomenal vegan toner is a key step to keeping my blemishes away. I spray it on a reusable cotton round and wipe my entire face, moving from the center of my face in an outward motion. The all-natural, cold-pressed raspberries fermented in vinegar soothe and balance the pH levels of my skin to help control excess oil production, preventing breakouts."
The Serums
"I love K-beauty skin care! I identify with Pyunkang Yul's philosophy of using the most minimal, pure ingredients. I took a chance on the serum last year and have loved it ever since. I use it more as a serum rather than a toner in the a.m. and p.m. I highly recommend it for aging skin — the astragalus root extract is super-hydrating and nutritious. My skin is plumper and smoother when using it.
I did a little experiment a few months ago when I ran out and stopped using it for about three weeks to see what changes, if any, would appear. OMG, there was a noticeable change around my eye area. It was less supple and my eye area appeared 'tight' and rather dehydrated. Within a week of reintroducing this serum back into my routine, my eye area was like, Ahhh, she loves me again!"
"As soon as Cocokind came out with a vitamin C serum, I immediately incorporated it into my a.m. and p.m. skin-care routine. This formulation effectively plumps and smooths my skin. As always, Cocokind is very thoughtful with their sustainable packaging. Their recyclable bottles are powder-coated using a pollution-free, low-energy process.
The key ingredients are vitamin C, hyaluronic acid, and sustainably sourced sea grape caviar, which all work together to leave my skin looking brighter, hydrated, and with that glow I love. The gentle formula is also packed with antioxidants and thoughtfully chosen, organic ingredients like aloe vera."
The Mist
"I've been using May Lindstrom products for a few months now, and I guess you can say I fell in love hard and fast. Each mist releases a gentle jasmine scent that I can only describe as beautiful and feminine. This fine moist layer feels incredibly refreshing, giving me a feeling of renewal. I use the facial mist to prep my skin for humectants and to help my skin effectively absorb my moisturizer. It's filled with restorative antioxidants to soothe skin, and it also contains colloidal silver and witch hazel, both of which are great for oily types."
The Moisturizer
"In a word, OBSESSED! This is the most beautiful, luxurious product that my skin has had the pleasure of experiencing. This thoughtful, multipurpose product is richly concentrated; a little goes a long way. It doubles as a moisturizer and facial oil treatment.
I love how Blue Cocoon melts from the warmth of my hand into a soft balm that melts into my skin. It's made with organic ingredients, including sustainably sourced blue tansy, a powerful anti-inflammatory that hydrates and heals at the same time."
The Eye Creams
"Over the last several years I have been reluctant to add an eye cream into my a.m. and p.m. routine. My thought process was, 'Do I really need to add another product to my skin-care routine?' After all, I use effective products that keep my skin looking hydrated and happy. Well, this one has me thinking a little differently. I have been using this delicate, creamy, fast-absorbing product for about five weeks. Since I started using it, I have noticed that my makeup seems to apply easier around my eye area with less creasing. Coincidence?? Not sure, but at this point I'm enjoying the result. It contains three types of vitamin C, including acerola cherry, which is superrich and hydrating."
"The number one issue I try to address for my eye area is lasting hydration. I fly over half the year, and my eye area can get very dry-looking. For the last two years, MyMatcha has been the perfect solution! I use this holy grail moisture stick morning and night to create a smooth barrier to lock in all the lovely previous layers. After a long day or even through the night, my eye is still super-duper hydrated and supple.
MyMatcha contains three simple, organic ingredients: coconut oil, beeswax, and matcha tea powder. These ingredients create a barrier to protect your skin from environmental stress, providing long-lasting hydration."
The Lip Balm
"Lip balm is low-key my favorite a.m. and p.m. step. I need something on my lips at all times. Naturally, I have several balms (to say the least), and let's not even talk about glosses or lipsticks. For me, balms need to soothe and hydrate without being greasy. The intensive, antioxidant-rich lip treatment contains agave nectar, mangosteen extract, açai, and oat flour to give my lips a little shine while leaving them soft and supple."