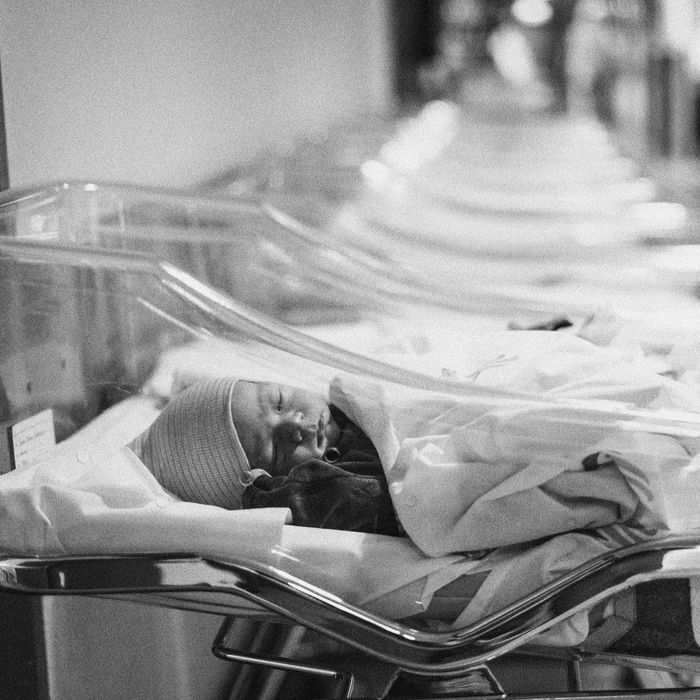 Photo: Jacek_Sopotnicki/Getty Images/iStockphoto
Nine months before the Supreme Court overturned Roe v. Wade, Texas effectively banned abortions through SB8, a six-week ban that empowered residents to sue anyone they suspected of providing an abortion or helping someone get one. It quickly had its intended effect, and abortions in Texas dropped dramatically. Now we have an idea of just how many abortion seekers may have been forced to carry their pregnancies to term: A new study released by Johns Hopkins University found there were 9,800 additional births in the state through 2022.
The research team compiled data from all 50 states and D.C. to model how many live births Texas would have had between April and December 2022 if it didn't implement SB8, and found 9,799 more babies than that estimate were born. Though the researchers don't attribute all the additional births to pregnant people being denied abortion care, Suzanne Bell, one of the study's authors and an associate professor at John Hopkins' Bloomberg School of Public Health, says "these findings suggest that many pregnant people in Texas were unable to overcome barriers to access abortion services and instead were forced to continue an unwanted or unsafe pregnancy to term."
The research doesn't account for the aftermath of Dobbs v. Jackson Women's Health Organization, but Bell expects to see similarly large impacts on the number of live births in states that have banned or severely restricted abortion. She spoke with the Cut about what the study tells us about SB8's impact and the long-lasting negative consequences that being forced to give birth after being denied an abortion has on people.
What sparked your interest in this research?
We have seen that abortion bans and restrictions in recent years have led to reductions in facility-based abortions and an increase in requests for medication abortion pills from online vendors. But we did not know whether, or to what extent, abortion bans would influence the number of live births occurring. Our study is the first to look at this question in relation to Texas's 2021 ban on abortion in early pregnancy, which was the most restrictive abortion policy at the time that it was implemented. That's the motivation: this unanswered question around what the potential impact of these policies might be on births.
Can you walk me through how you went about looking into this, and what were some of the challenges that you faced?
One of the challenges in trying to tease out or isolate the potential impact of an abortion ban on fertility is the fact that there are so many other factors that can influence fertility at any given point in time. In recent months and years, we have been observing a slight increase in fertility. One of the biggest factors is COVID, which led to temporary declines and subsequent increases in fertility — a kind of rebound. All of these factors needed to be accounted for; otherwise, you might attribute some increases in the number of live births in Texas that were just a part of ongoing trends happening in the state and in the country more broadly to this policy.
SB8 went into effect in September 2021, and you still had to account for pregnancies that were potentially exposed to this new policy environment. The first birth cohort that we considered exposed were those births that occurred in April 2022 through the end of the year. We used data from all states and D.C. in order to essentially create a synthetic version of Texas, where we weighted the monthly birth data across the rest of the country. And then what we did, based on that model, was observe the number of live births in the period from April through December 2022. How did that compare to what we observed in Texas? We were looking at the difference between what we expected based on this model and what we actually observed. That's how we came to the conclusion that there were an estimated 9,800 births above expectation in Texas between April and December 2022, which was a 3 percent increase in births during this nine-month period.
What can those 9,800 births tell us about SB8's impact?
These findings suggest that many pregnant people in Texas were unable to overcome barriers to access abortion services and instead were forced to continue an unwanted or unsafe pregnancy to term. Though our research does not look at the consequences of these births for people and their families, there is already a lot of research out of the University of California, San Francisco, through the Turnaway Study, demonstrating that people denied a needed abortion experience a range of negative impacts on their physical and mental health, and are more likely to live in poverty than people who obtained a needed abortion.
It's important to situate these additional births that we observed in Texas in the context of the wealth of data and research out there that shows us these people and their families are likely now struggling in many aspects of their life in the face of an unintended birth. The impact of abortion bans and restrictions is likely not uniformly felt, given existing differences in abortion rates and the ability to overcome barriers to abortion care. Many people seeking abortion care experience intersecting barriers related to poverty, structural racism, migrant status, or their status as a minor, that will make accessing safe abortion incredibly difficult.
We used provisional birth-count data for 2022 that didn't allow us to disaggregate changes in monthly live births by some of these characteristics, but we hypothesized the impact of SB8 fell disproportionately on some demographic groups. We intend to explore that once those data become available.
And what can this research tell us about the impact of Dobbs and the abortion bans that subsequently have been enacted throughout the country?
Dobbs is not reflected in any of these data, and Texas went on to fully ban abortion after Dobbs became the law of the land. People exposed to that subsequent abortion ban would not yet have given birth during the nine-month period that we're looking at.
We may expect to see even larger impacts on the number of live births to Texans, given that now nearly all abortions in the state are prohibited, and most of the neighboring states that provided critical access points following SB8 have since banned abortion as well. What we're seeing nationally in terms of the impacts of Dobbs through other research, such as the #WeCount study, suggests that pregnant people are traveling much more and much farther to obtain abortion services under Dobbs, and it's becoming more difficult for people to overcome barriers to access abortion.
We know that means thousands of fewer facility-based abortions are occurring in the U.S. But many people are going through great means to overcome those barriers. One way that those people are trying to address their situation is through medication abortion pills obtained from online sellers. I think self-managed medication abortion will likely become an increasingly large share of abortions occurring in the U.S. as more people learn about this option and find ways to access those pills. But options for terminating a pregnancy outside of a facility in one's home state are not equally accessible to everyone. There will always be people who cannot travel, who do not have access to online information about medication abortion or the funds to purchase medication abortion pills online. These people will have the greatest consequences and life-course changes as a result of recent abortion bans and restrictions.
The Cut offers an online tool that allows you to search by Zip Code for professional providers, including clinics, hospitals, and independent OB/GYNs, as well as abortion funds, transportation options, and information for remote resources like receiving the abortion pill by mail. For legal guidance, contact Repro Legal Helpline at 844-868-2812 or The Abortion Defense Network.