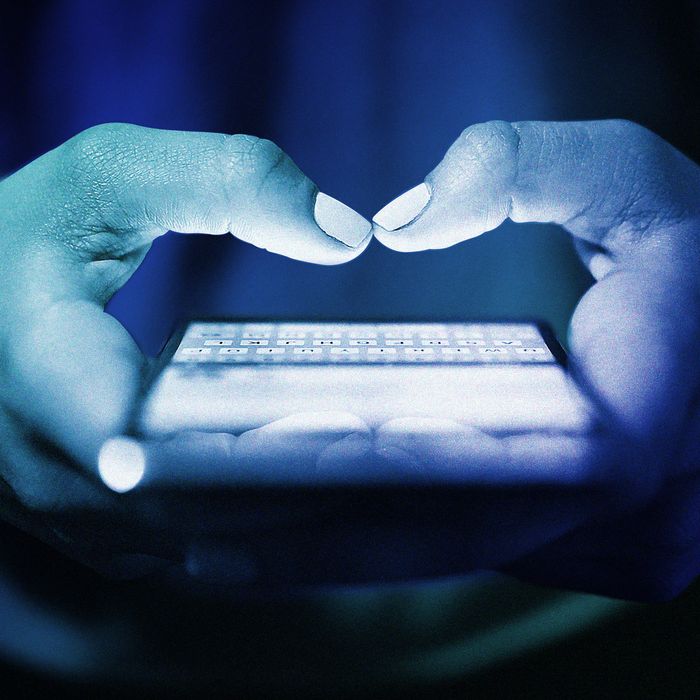 Photo-Illustration: The Cut; Photo: Getty
My best friend and I text all day, every day, and it's been this way for almost ten years. Though she spends half the year in Brooklyn, where I also live, we don't usually see each more than once or twice a month — not because we don't like spending time together, but because we love texting each other. She's so quick to reply, so present in our little text window, that it sort of shocked me to learn that I am not, in fact, the only person she's texting all day, every day. Or, okay, I thought there were maybe two to four others. I know she has other very good friends. What I did not expect was that there were, like, 20-plus others. All day. Every day.
I consider myself a prolific and adept texter, but I only average between three to six active text threads on a daily basis. Desperate to learn if my best friend was a freakish anomaly or if I was underperforming, I went looking for people with super-active text-based social lives to tell me how — and why — they do it.
It makes confrontation (slightly) easier
"I think over text you can be a little bit more thoughtful, a little bit funnier. I've been doing this since I was 13 years old, so it's its own language, essentially. You grow up with it and there's a shorthand. You can also say things that you don't necessarily want to say to someone's face, because you can phrase it in a more delicate way. You have more time with it." — Molly, 28, 10 text threads per day
It leads to highly specific inside jokes
"I have one text conversation that's pretty relentless. There's four of us from grad school — my really close friend from college, her husband, and two other friends. The name of the group chat is three hole emojis. We think we named it that because grad school felt like an abyss, but we're not sure. It's become another inside joke because we'll be driving, and the car will read it to us like, 'Text from HOLE, HOLE, HOLE.' So we call ourselves Holes now." — Julia, 33, 10–15 text threads per day
It flattens geographic distance
"I don't have an office. And most of those people that I hung out with from work don't even live here anymore. I used to do photography for this company based in New York, and became friendly with someone I worked with there, but we never met in person. I text him every day.
I have one close friend that lives in town that I see a lot, but the rest of my really close friends live all across the country. So texting is the only way I can keep in touch with them all the time." — Jordan, 37, 10 text threads per day
It creates otherwise unlikely lasting friendships
"I do ultra marathon running, so I'll run with somebody for like four or five hours straight, and become pretty close friends with them. We're all out there running these stupid things because most of us are the victims of some sort of trauma, so we go deep. So one of my good friends is a guy I've only run with once. Texting allows me to interact with people that I wouldn't normally be able to. I'm probably never going to call this guy. But there's something more informal and less time-bound about texting." — Adam, 39, 12–13 text threads per day
It helps (socially anxious) people get deeper
"As things slowly open up, I find when I am in person, I'm in sensory overload. I'm trying to listen to what the person in front of me is saying, but I'm anxious about my surroundings. I personally find it tends to become more surface-y. It feels more like friendship maintenance. I have a philosophy degree, so I'm more interested in, like, 'What makes you tick?' I can text someone a series of questions, and we'll get deeper." — Grace, 29, 15–20 text threads per day
It makes group PSAs easier
"I've noticed in my friends a higher level of vulnerability over text in the past couple of years. I've had three friends tell us all they're getting sober and wanted us to know. Maybe before you'd wait to just mention in person, but I think it does make it easier. If I have to make a big apology, I'll do a text one first because I like to have the record of how I feel out there. In person, I start talking and I don't know what comes out." — Ali, 33, 10 text threads per day