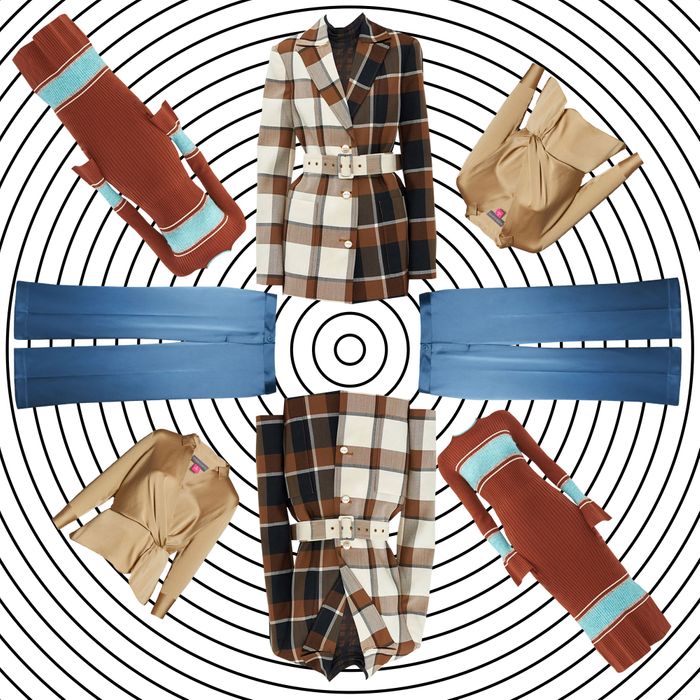 Photo: Courtesy of the Retailers
There's a balancing act involved in picking out the perfect outfit for Thanksgiving — a holiday that's equal-parts splashy dinner party, day drinking event, and Netflix binge. It's also different for everyone: Maybe you need the perfect blazer to convince your siblings to finally treat you like the grown up you are, or maybe you're hosting a first Friendsgiving in your tiny apartment and need something that's comfy but doesn't require a frantic outfit change when the doorbell rings.
Like perfectly timing a turkey, it's a tightrope walk, but we've rounded up some of the best Thanksgiving outfits for whatever the day throws at you. Read on for cool dresses, easy jumpsuits, and, yes, crisp blazers that will keep you comfortable through three hours of eating and drinking.
An Autumnal Sweater
Throw this over a slip dress if you're feeling fancy, or wear it with a simple pair of trousers for a cozy vibe that's practically designed for an easy table-to-couch transition.
Available in sizes S–XL.
For Turtleneck Aficionados
It's a turtleneck, it's a jumpsuit, it's a full body cotton-wool sweater! What more could you want? Give thanks that the 2019 holiday season is coinciding with the resurgence of knitted one-pieces. This one even has pockets.
Available in sizes XS–L.
A Flowy Jumpsuit
This wide leg, peasant-sleeve winner can handle it all while solidifying your place as the family's coolest aunt/cousin/mom. Plus, the nutty shade is extremely autumnal.
Available in sizes 14–20.
For a Subtle Markle Sparkle
This contrast-tipped camel sweater with a touch of metallic thread gives us pulled-together Duchess of Sussex vibes, without veering into formal territory. Throw your hair in a messy bun and call it a day.
Available in sizes XL–XXXL.
A Glen Plaid Blazer
All this menswear-inspired blazer needs is a white tee and your favorite pair of faded jeans to create a cool, slightly dressy look that will definitely make an older relative exclaim over how grown up you are.
Available in sizes XS–XL.
A Classic Horsebit Slide
Breaking out these tawny, soft leather mules is an easy Friendsgiving flex with any kind of outfit — so good, they might even distract from the fact that you forgot to bring that ice you promised. Wear them with cropped trousers and socks.
Available in sizes 5–11.
If You Need a Conversation Pieve
Meeting a significant other's family for the first time? Come from a crew that really dresses for dinner? Heading to two turkey dinners in one day? This color-blocked plaid Staud blazer has you covered. It's both buttoned-up and offbeat, and works just as well over a black dress as it does over denim. Plus, it's a guaranteed ice breaker.
Available in sizes 2–8.
A Sleek Skirt
You can thank nineties nostalgia for the rampant return of slip dresses and skirts this year. This pale gold version is an easy item to build an outfit around, and makes an excellent argument for elastic waistbands and bias cuts.
Available in sizes 14–24.
The Romantic One-and-Done
Lightly drapey linen and an on-trend peasant cut lend a carefree feel to this pale pink top, which is the kind of chill energy you need after you've spent the day elbow-deep inside a turkey. Throw it on after cooking, and tuck it into a flowy skirt or a (not too tight!) pair of jeans.
Available in sizes XXS–XL.
A Sweater to Match the Pumpkin Pie
There's nothing cozier that a chenille sweater, which has a nice thickness that could even do double as a weighted blanket substitute if all that family time gets to be a little too much.
Available in sizes 14–24.
A Fast Way to Make a Stripe Statement
If Sporty Spice is more your flavor, consider this upgraded take on a striped track pant. This flowy pair feels like a statement, but in tonal shades that would look great with a hearty camel sweater (all the better to nap in).
Available in sizes 2–10.
A Detail-Oriented Jumpsuit
Patch pockets and cuffed hem add a little cheekiness to this boxy boilersuit in soft cotton. Cinch the waist for a little definition that won't require under-the-table unbuttoning halfway through dinner.
Available in sizes 00–16.
If You Want to Be Wrapped in Rib Knit
Rib knits are back for a reason — they're a flexible way to get the right fit, and they take a standard cotton staple up a notch. The turtleneck and column cut of this long sleeve dress also have an elegant vibe that you could dress up with a mule, or down with a tennis shoe.
Available in sizes XS–XXL.
Stealth Elastic-Waist Trousers
No one would ever guess these glossy blue satin statement pants have a secret — a stretchy waistband that won't cut or pinch, and also pretty much guarantee a perfect fit.
Available in sizes 12–24.
The Stress-Free Wrap Dress
This crossover style give the shape of a wrap dress, without you having to worry about securing weird ties and whatnot while doing an emergency grocery trip. Crushed velvet is a nice seasonal way to jazz things up.
Available in sizes 14–22.
If You're All Business
This cotton canvas boilersuit feels a little bit vintage. Look like you made an effort without actually, you know, making an effort.
Available in sizes XS–XL.
The Top Shiv Roy Would Wear
We hope your actual holiday has nothing in common with any of the meals enjoyed on Succession, but you've got to admit that Shiv Roy's silky blouses offer inspiration for your own family negotiations over the remote.
Available in sizes XL–XXL.
A Very Versatile Pair of Pants
Not sure how formal the dinner you're going to is? These hybrid, drawstring plaid pants check all the boxes: they're comfy, they're autumnal, and they're just polished enough without being too restrictive in case you're suddenly called upon to play touch football.
Available in sizes XXS–L.
The Throwback Classic
Seventies vibes abound in the bell sleeves and striped pattern of this knit, but it's got a very now rust-and-baby blue color combination and channel knit texture. This is the dress you want to be wearing when you bump into your high school boyfriend during a last-minute wine run.
Available in size XS–M.
A Classic Cable Knit
Substantial and timeless, this chunky turtleneck sweater is a no-brainer for Thanksgiving, whether it's anchoring a midi skirt or paired with tailored pants. We're partial to this soft dove gray shade.
Available in size M–XXXL.
The "I Made a Reservation" Blazer
It might not be ideal if you're going to be pulling pies out of the oven or stirring molten cranberry sauce, but this is wide-lapel Rachel Comey jacket is just the thing if your holiday is more of a dinner-and-a-movie production.
Available in size 14–20.
If you buy something through our links, New York may earn an affiliate commission.