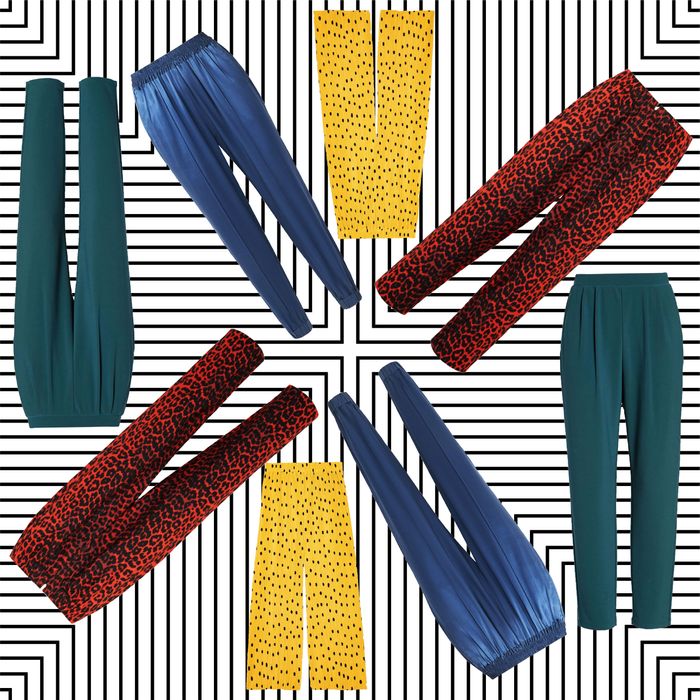 Photo: Courtesy of the Retailers
Thanksgiving is for stretchy pants. Much as you might like a good pair of high-waisted jeans, you don't want something that's going to dig into your belly while you're digging into a delicious feast. Luckily, there are plenty of eating-friendly styles that don't remotely resemble sweats. Whether you're into the fancy pajama trend, want something colorful and festive, or need something that could pass for real trousers, we have you covered. Scroll ahead to shop some of our favorites.
The Picture-Worthy Pair
Add an equally autumnal blouse or sweater and you'll be ready for the annual family portrait.
Available in sizes 16 - 22.
The Office-Friendly Pair
Add a cozy turtleneck and you can wear this to work. Bonus: they also come in extended sizes.
Available in sizes XXS - XL.
The Sophisticated Pair
With a sleek turtleneck and ankle boots, these subtly striped pants are refined enough to garner Grandma's approval.
Available in sizes XS - XL.
The Menswear-Inspired Pair
If you really want to make it a look, add the matching jacket.
Available in sizes 14 - 26.
The Pair to Get If You Really Love Color
It's the holidays, so you might as well have fun.
Available in sizes 2 - 14.
The Arty Japanese-Inspired Pair
For fans of Pleats Please Issey Miyake who are on a budget.
Available in sizes 0 - 10.
The Expensive-Looking Pair
Wear them with a cashmere sweater and tell everyone you found them in Italy.
Available in sizes 2 - 4.
The Sporty Pair (That You Can Wear to Work)
They're a close cousin to track pants, but the tweed pattern makes them feel dressy.
Available in sizes 14 - 26.
The Super-Flattering Pair
Take it from a color-phobe — reddish gold is extremely flattering on a wide array of skin tones.
Available in sizes XXS - XXL.
The Fancy Pajama Pair
We loved these back in the summer so if you didn't get them then, now's the time.
Available in sizes 14 - 28.
The Pair for Pattern Lovers
Make it extra J.Crew-y and wear them with a striped shirt.
Available in sizes 00 - 16.
The Street-Style Pair
Ganni's one of our favorite brands of the moment thanks to their eye-catching but still well-priced clothes. All you need with these leopard-print pants are a white T-shirt and sneakers.
Available in sizes DK34 - DK40.
The Leather-esque Pair
They're actually vegan, so they'll pair nicely with tofurkey.
Available in sizes 14 - 26.
The Date-Night Pair
Wear them to Thanksgiving, and then again with heels come New Year's Eve.
Available in sizes S - M.
The Festive Pair
Crushed velvet can be reworn for upcoming holiday-party season — dress them up with a tucked-in camisole and dangly earrings.
Available in sizes XXS - XL.
The Shiny Pair
Wear these patent leather pants if you want to remind your family that you're a very hip city slicker now.
Available in sizes XS - L.
The Friendsgiving Pair
Nothing is better for lounging on the couch with your closest friends.
Available in sizes XS - L.
The Fashion-Forward Pair
Try them with a bodysuit and heels for an Instagram-worthy outfit.
Available in sizes XL - XXL.
If you buy something through our links, New York may earn an affiliate commission.