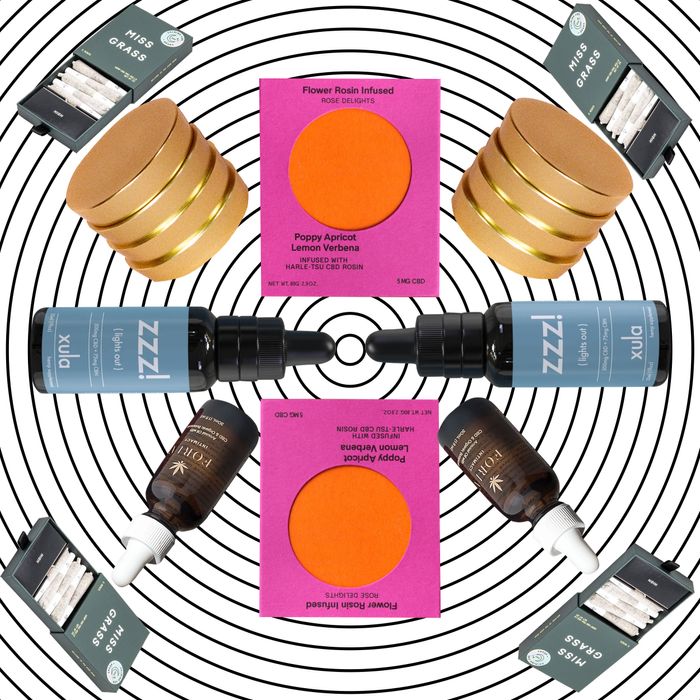 Photo: Courtesy of the Retailers
With states like Oregon decriminalizing small amounts of illegal drugs and legalizing psilocybin, you could say the true winner of the 2020 election was drugs. And nothing won bigger than cannabis. New Jersey, Arizona, South Dakota, and Montana have approved it for recreational use, while Mississippi will be offering it for certain medical conditions. Right now, you're more likely to live in a state that has some form of legalized cannabis than not. And even if you can't get weed, hemp-based CBD is readily available across the country.
But if you're new to all this, it can be confusing. What's the difference between hemp-derived CBD and marijuana-derived CBD? If you live in a state where cannabis is available recreationally like Massachusetts, does that mean your friend in California can ship you some weed? And on a much more basic level: What should you buy to deal with all the stress of this year?
First, hemp-derived CBD is simply much easier to find. It's legal across the country because it contains less than 0.3 percent THC, which is the compound in cannabis that's psychoactive. That's not to say it won't affect you. If you're using it to relax or fall asleep, it's effective — it's just not quite like being high.
As for the second question: No, you can't get a friend to ship across state lines. That's still illegal. Every state grows and produces its own THC-based products, and state laws about what's legal and illegal are complicated. For example, in California, anything goes, while in New York you can only get vapes and tinctures.
With that in mind, we tried to simplify things in our shopping guide. Below are some suggestions for hemp CBD-based gifts that can be shipped anywhere in the country and are great for beginners and advanced users alike. And if you do want to get something for the stoner in your life who really knows their weed, we also included a few items they can use while smoking or making their own edibles.
For the CBD Novice Who Wants Help Sleeping
Introducing someone to CBD? The easiest way is with something edible like this honey. Besides CBD, it also has melatonin and CBN, another compound in cannabis that has shown promise in helping with sleep. Add one spoonful to a cup of herbal tea and you'll be knocked out within the hour.
For the Workout Enthusiast
Made with a blend of beeswax, eucalyptus, lavender, and CBD oil, this balm feels especially soothing when rubbed on sore muscles (or on the temples if you have a headache). The blend of herbal oils masks the smell of hemp — a nice touch, since not everyone loves that scent. Those who live in California or Nevada can buy formulations with other THC concentrations that offer stronger relief.
For the Gummy-Curious
Edibles have a bad reputation for being unpredictable and tasting terrible. But gummies have come a long way in the last few years, and now most taste like they came out of a Haribo factory. Wyld's raspberry CBD gummies are one of the more delicious options, and a good place to start if you want something that'll chill you out. If you live in California, Nevada, Oregon, or Colorado, they have a THC version that people love.
For the Foodie
The brand Rose is known in Los Angeles for partnering with local chefs to make small batches of edibles. This collaboration is with Nicole Rucker, a former pastry chef at Gjelina Group, and features apricot and lemon verbena flavors. They're similar in texture to Turkish delights and are infused with CBD rosin, which is more potent form of CBD.
For the Person Who Wants to Do Good and Feel Good (Part 1)
Social equity in cannabis and CBD has a long way to go — people who are Black or Latinx are still far more likely to be incarcerated for minor possession and less likely to have a stake in the industry. One small step toward equity: making sure your money goes to BIPOC-owned brands. This brand is Black-owned and features an array of tinctures, including the Balance Daily drops, which are great for stress relief. You can place a few drops under your tongue and let them absorb (they'll hit within 15 minutes) or mix them with a smoothie (they'll hit within an hour or so).
For the Person Who Wants to Do Good and Feel Good (Part 2)
Xula is another Black and Latinx-owned brand you can support. Our friends over at Strategist interviewed cannabis writer Brittany Parker, who loves this tincture for sleep. Parker says it gets her drooling on her pillow within the hour, which is honestly something we all need right about now.
For the Person Who Loves a Long, Relaxing Bath
Not everyone is comfortable with edibles or other forms of consuming CBD, but most people love a nice, hot bath. These bath bombs are extremely relaxing and feature a mix of chamomile, lavender, and frankincense.
For the Person Who Wants to Be Discreet
Could they be Altoids? No one will know if you slip the container out and pop one of these mints in a stressful situation.
For the Person Who Has a Sweet Tooth
These fruit-flavored hard candies are a tasty alternative to gummies. NOIREBUD was founded by a Black woman; based in Brooklyn, it offers not just edibles and tinctures but also CBD-infused teas with flavors like mint, vanilla, and strawberry.
For the Person Who Wants to Spice Things Up
Don't write off CBD sex oil as a scam: Foria is a legit brand that offers both THC- and CBD-infused lubricants and suppositories. Fans of this brand say it's extremely effective in the bedroom. And if you have bad cramps, try their suppositories — they offer relief fairly quickly.
For the Person Who Needs Zen During the Day
While most people need help with relaxation at night, some users prefer to consume during the day, especially if it's a particularly stressful one. This vape, which features CBD oil, is ideal for hitting after an annoying Zoom call. It's made with full-spectrum CBD, meaning it has all of the beneficial compounds of the plant. And it also features two terpenes, which are the fragrant compounds you can find in plants: limonene (found in citrus) and pinene (found in pine trees). They offer clarity and alertness so you won't feel groggy.
For the Person Who Loves a Good Joint
Yes, joints are back, though the cannabis world has rebranded them as "pre-rolls." Most people don't know that you can smoke hemp CBD much like you would traditional weed. And just like smoking weed, it'll hit you quicker than if you were to eat an edible. These mini ones are great if you only need a few puffs. They're infused with other calming herbs like lavender and lemon balm.
For the Weed Smoker Who Likes to Smoke Alone
Pack this pipe with the flower of your choice, light it up, and inhale. It's just enough for one person to enjoy and will smell a lot less than if you were to spark up a joint or bong.
For the Fancy Weed Smoker
The reason this vape costs as much as it does is that you can actually pack the insides with ground cannabis. It'll heat and vaporize the weed so you can inhale without making your entire apartment smell.
For the Nostalgic Weed Smoker
Much like joints, the bong is also back. But the new ones are ceramic designs that are elegant enough to be left in the living room — nothing like the random ones you find in smoke shops on St. Mark's.
For the Person Who Likes Cutesy Things
Stash jars will keep your weed fresh without making your apartment smell. You can find them at a variety of prices, but if you know someone who's particular about the way things look in their space, this is a charming one.
For the Person Who Likes Shiny Things
These elegant gold grinders not only look nice sitting out, but will also get your weed to the perfect consistency for consumption.
For the Person Who Loves to Cook
This is marketed as "an appliance that dries, activates and infuses botanical ingredients into the carrier of your choice," which is really just a fancy way of saying it'll make weed oil that you can then use for baking or cooking.
For the Person Who Loves Merch (Part 1)
What? You have to stay hydrated somehow.
For the Person Who Loves Merch (Part 2)
Pure Beauty is a cool-kid California-based cannabis brand. They're known for their strong weed, but they also offer up extremely cute merch like this tie-dye face mask.
For the Person Who Loves Merch (Part 3)
Founded by Dae Lim and Mia Park, Sundae School is a clever fashion-meets-cannabis brand. They make joints, which are only available in California, but they also offer up funny merch like this sweatshirt.