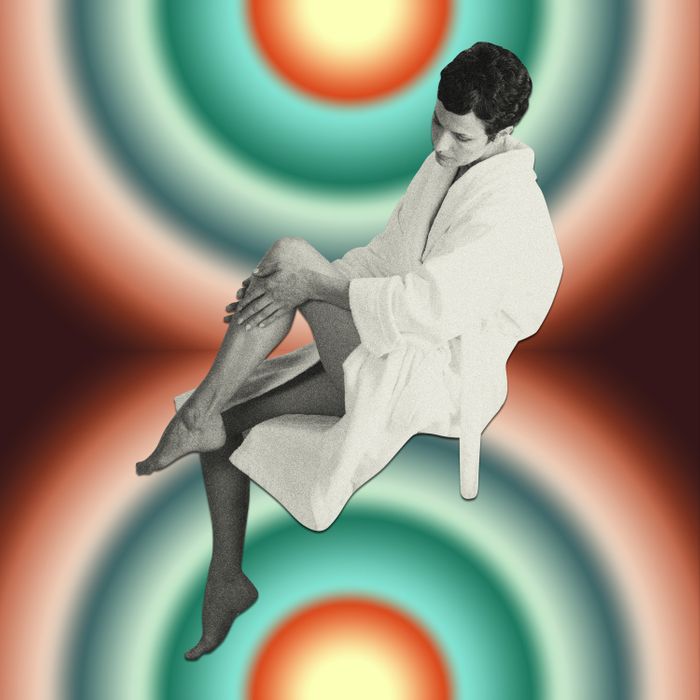 Photo-Illustration: by The Cut; Photo: Getty Images
It's no coincidence that a bunch of new retinol body lotions (from Nécessaire and Naturium, for example) appeared in your feed just as the weather warmed enough for miniskirts to be back in wardrobe rotation. Retinol smooths and plumps your facial skin, so it must do the same for your body, right? I'm sure that's what the makers of all of these lotions would like you to believe. But your body is different from your face, so a retinol lotion only makes sense if you have one of the skin issues it can theoretically improve — such as body acne, keratosis pilaris, or rough, crepey texture.
And please note that I wrote theoretically. That's because "there is much less data out there about the effects of retinol in cosmetics on body skin versus on facial skin," says Angelo Landriscina, a board-certified dermatologist in Brooklyn. So you don't get a green light to slather your entire body in retinol. But I'm willing to give you a yellow, proceed-with-caution light if you have one of the issues below.
First up: body acne. Pimples occur when dead skin cells stick together, clogging up the openings of your hair follicles (the airless mix of cells and sebum is basically an all-day buffet for anaerobic acne bacteria). Retinol loosens the clog, which shuts down the buffet. Plus if you keep using the lotion, it may normalize your skin's turnover process, so the dead cells slough off the way they should, preventing future clogs. That's why "body retinols can be beneficial for those who have acne breakouts on their chest, back, or buttocks," says DiAnne Davis, a board-certified dermatologist in Dallas.
Those with keratosis pilaris — a common condition that causes rough, bumpy patches (typically on the backs of your arms or legs) — may benefit from retinol too. "Keratosis pilaris is the result of retained keratin at the hair-follicle openings on the skin," explains Davis. Applying a body lotion with retinol, which can get your skin's natural exfoliation process back on track, may help to prevent that keratin buildup. But a side effect of retinol is that it can dry out your skin, and dry skin is more prone to keratosis pilaris. So if this is an issue, be sure to use a retinol body lotion that's hydrating. (Topicals Slather is good for KP because it has retinol as well as exfoliating AHA and squalane, a hydrator.)
Finally, Davis says retinol body lotion can help with crepey skin. As we age, skin gets thinner, drier, and rougher. Since retinol stimulates collagen production, it can plump the skin layer where collagen is located. And because of its cell-turnover benefits, it can make skin feel smoother. Personally, I've noticed the smoothing but not the thickening effect. I've been using Naturium Skin-Renewing Retinol Body Lotion for three months, and the crepey skin above my knees is just as flimsy as ever — though, I'll concede, smoother and more hydrated. "Body skin is, overall, structurally different from facial skin," says Landriscina. That, coupled with the fact that most body products tend to have lower percentages of retinol than face products do, means "the results may be more subtle or may take longer to achieve than when using standard retinol products on facial skin."
As you consider adding a retinol body lotion to your cart, there's one more thing I want to mention: Cosmetic companies aren't just making these lotions for people with body acne, keratosis pilaris, or crepey skin. They're making them because people love the idea of retinol. In group texts, in my DMs, and at parties, people always want to talk about it. If they don't use retinol, they admit it sheepishly, as if I were going to admonish them. If they do use it, they want reassurance that it's a miracle antiager (it's not). Or they want to ask which retinol they should use, at what age to start using it, or how to deal with the side effects. My reminder to all of them — and to you — is that retinol is not a panacea.
If you have one of the issues above, a retinol body lotion could be great. Just remember that there's no guarantee it'll work. "Retinol body products may be helpful, but we have a lot left to learn about them," says Landriscina. Although, he admits, "I use retinoids in my body-care routine, so I'm a believer."
The Best Retinol Body Lotions
This rich lotion smooths and hydrates without making you all greasy.
Treat keratosis pilaris with this serumlike lotion that has exfoliating AHA and squalene in addition to retinol.
"This absorbs quickly into the skin with no smell or irritation," says DiAnne Davis, a board-certified dermatologist in Dallas.
Davis likes that this retinol lotion is unscented. And, she notes, "it didn't cause any irritation on my skin."
Jennifer Sullivan answers all your beauty-related questions with practical advice and zero judgment. Send your questions to AskABeautyEditor@nymag.com. (By emailing, you agree to the terms here.)