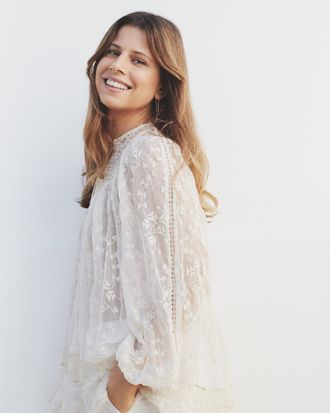 Photo: Courtesy of Carla Oates
Long before people were talking about the microbiome and searching for the perfect bowel movement in the name of beauty, Carla Oates was aware of the link between the gut and skin. "I had eczema as a child and a teenager, and at about 13, my mom eliminated certain foods from my diet and introduced other foods," she says. "So from a very young age, I saw the connection between what we put into our body and our skin." But it especially hit home when her own daughter experienced eczema at the age of 10 and she stumbled across research that looked at the connection between certain types of bacteria and eczema allergies.
"As I explored that link further, I decided to put my family on a gut-healing protocol. That includes taking some of the digestive irritants and foods that cause a lot of problems for people, like dairy, gluten, corn, and soy, completely out of our diet. We became kind of staunch on it and started introducing more probiotic-rich, lacto-fermented foods. I would make coconut kefir and put it in my daughter's smoothies. I was making her buckwheat porridge in the morning. I tried to incorporate sauerkraut where I could with the kids, which was a little bit challenging because I didn't always love the taste of it," Oates remembers. "And I saw such a huge difference in not only my daughter's skin but her focus — she had some issues with focusing at school." Oates's own skin healed, too.
Then came the deluge of questions asking what she was doing differently. "All I was doing was eating fermented foods," she says. But she received enough inquiries that in 2009, she founded the Beauty Chef, where she creates bio-fermented, probiotic whole-food powders, elixirs, and supplements meant to support gut health, and yes, glowing skin. In the years since, Oates has shared some of her favorite gut-supporting recipes in her books, The Beauty Chef Gut Guide: With 90+ Delicious Recipes and Weekly Meal Plans and The Beauty Chef: Delicious Food for Radiant Skin, Gut Health, and Wellbeing.
Oates recognizes that eating "clean" and incorporating supplements into your diet can be a luxury, but at its core, she says, it's all about going back to the basics. "Don't take supplements if you can't afford to get them. Just go back to trying to really embrace a healthy diet. Your microbiome loves fiber, leafy greens, nuts, legumes — a Mediterranean diet, basically. Take processed foods out. Incorporate bone broths that are rich in connective tissue. Grow a little garden in your yard, put some spices and herbs in it, and make big batches of stews — it can be that simple."
The same goes for your skin-care routine. "I have customers saying, 'I'm using this, this, this, this, this, that supplement, and that supplement, and I'm not seeing any differences. What can I do? What else can I take?'" she says. "But the people that have the best results, they pare it back." After all, she points out, the skin has its own microbiome. "So you've got an ecosystem on your skin, and if you're suffocating it, and confusing your skin with too many ingredients, that causes so many imbalances. Let your skin breathe."
Below, Oates walks us through her go-tos, including the toner that smells like apple-cider vinegar but really works, the face oil that made her skin brighter, and the mineral sunscreen she has been using for years.
The Supplement
The DIY Oil Cleanser
I love concocting things. I wrote a book in 2002 called Feeding Your Skin. It's basically a recipe book for skin care — I've made cleansers, moisturizers, and fresh food masks for years. Now oil cleansers are very in vogue.
I use lots of different oils depending on what I've got in my cupboard, but often, I make a combination of jojoba, apricot, and almond oils — I generally don't put more active oils like rosehip in there because you're taking it off anyway. And if I run out of oils, I even just use the olive oil that's in my kitchen.
The type of oil you should use on your skin really depends on your skin type. So, for example, if I had really oily skin, I would not use olive oil to cleanse. But my skin is kind of combination and gets dry in areas, so olive oil will be completely fine for me. I will say that I'm such a big believer in people that have really oily skin doing oil cleansing. Lighter oils like jojoba are really effective because when you strip your skin of oil, it sends a message to the brain to produce more oil, which then sends your oil glands into overdrive because they're like, Oh my God, I need to go into production. So cleansing with oil tricks your brain into thinking you've produced enough oil — you just need to make sure that, if you've got really oily skin that's congested and prone to breakouts, you remove it with a warm muslin cloth.
The Exfoliating Toner
The Moisturizer
The Face Oils
The Sunscreen