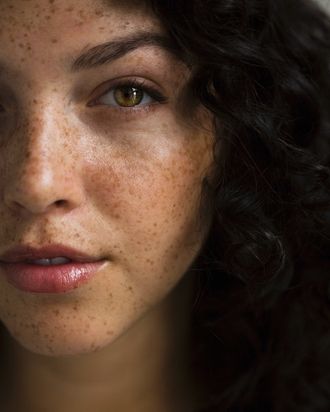 Photo: Hero Images Inc./Getty Images
Navigating the beauty world can be tricky, but we're here to help. Starter Pack is your guide to the essential products in every category of beauty.
The upside to oily skin: You'll always look young. The downside: Who wants to have the skin of a gawky teenager forever? I've been contending with my oily skin since I was an actual adolescent, and I've learned a thing or two about how to keep it in check. Here are the five types of products you should be using if you're trying to keep your skin shine-free.
Contrary to popular belief, super-sudsy, drying cleansers are not beneficial for oily skin. In fact, studies link high-pH cleansers to the proliferation of acne bacteria. Not all foaming cleansers have a high pH, but most do.
The best cleansers are gentle and create almost no suds. Glossier's Milky Jelly is one of my favorites. It's pretty, inexpensive, and the substitution of water for rosewater gives it a subtle but pleasing scent. On the pricier end lies Phace Bioactive's Detoxifying Gel Cleanser, which is formulated to remain within the sweet-spot pH of 3.0 to 3.5. Neutrogena's Pore-Refining Cleanser is more affordable and has a creamy formula that makes my skin glow. CeraVe's SA Renewing Cleanser is another cheapie that balances skin — it's ideal if your face is both oily and sensitive.
While those are all great cleansers, they are not great makeup removers. Your face's natural oil combines with makeup to create a thin, filmy barrier on skin, which is why people with oily skin should always double cleanse — that is, remove makeup with an oil cleanser first, then wash it all off with a face wash. There's no reason to splurge for something high-end; this cleansing oil from Burt's Bees is just fine.
A good moisturizer for oily skin is hard to find. It has to hydrate skin without drowning it in grease or, worse, triggering a breakout. The last thing you want to do to oily skin is pile on extra product, so it should also be outfitted with SPF.
My favorite moisturizer is absurdly pricey, but man is it worth it. Lightweight to the point of fluffiness and injected with an SPF of 30, ReVive's Sensitif Renewal Cream can't be topped. It absorbs evenly, rather than sitting on my skin like some sort of glycerin exoskeleton. And the glow!
There are a few other moisturizers that are slightly less phenomenal but significantly more affordable and still pretty great. Philosophy's Renewed Hope in a Jar contains a small amount of glycolic acid to make your skin look and feel smooth. RoC's Multi-Correxion 5-in-1 Daily Moisturizer is loaded with SPF 30 and wrinkle-reducing ingredients, while Aveeno's Positively Radiant Daily Moisturizer casts a dewy complexion.
Clay absorbs oil, but it's also drying, so you'll need a mask that removes oil without draining your skin of necessary moisture. GlamGlow's YouthMud is popular for its widespread celebrity appeal, but it also tingles. Call me old-fashioned, but I don't think a mask should deliver that sort of sensorial experience. That's why I prefer the brand's SuperMud Clearing Treatment. It removes oil and also exfoliates, thanks to an infusion of glycolic, mandelic, and lactic acid. It keeps your skin moist with aloe and glycerin. And it does not tingle.
The sulfur masks from Peter Thomas Roth and Proactiv really stink, but that's sulfur for you. And marinating in the funk for 15 minutes is actually time well-spent, because in addition to clearing oil, sulfur also clears acne. A helpful amount of vitamin E, glycerin, and aloe insures that neither of those masks are drying. Finally, consider Yes To's Charcoal Mud Mask, which won't break your wallet or your face.
Despite your best efforts, you'll never be able to stave off shine for an entire day. You will need to remove that oil with a blotting paper. I could tell you to grab something fancy like Tatcha's blotting papers for the pleasure of having something beautiful in your bag, but I'm a realist. Blotting papers needn't be complicated or expensive: try NYX's. Each pack contains 50 papers, and it costs $4! Or use the free toilet seat covers in public restrooms. Seriously. They're made from the same thin tissue material as the blotting papers sold in stores. Paper towels and napkins are too thick. Rip off a piece of a toilet seat cover and thank me later.
Blotting papers remove oil, but powders make it slower to emerge in the first place. I'm partial to tinted ones, which are easier to use and more reliable than white powders that claim to appear translucent on skin. Loose powders also leave a more natural and less makeup-y finish. With its wide selection of shades, Tarte's Amazonian Clay is the best. It's technically a foundation, but it will only look like one if you apply a lot. Instead, take a dime-size amount and fluff it all over your face with a powder brush. It will retard oil production and give a slight smoothing effect to your skin. NARS Soft Velvet Loose Powder is another great option if you want a more matte finish.
If you buy something through our links, New York may earn an affiliate commission.