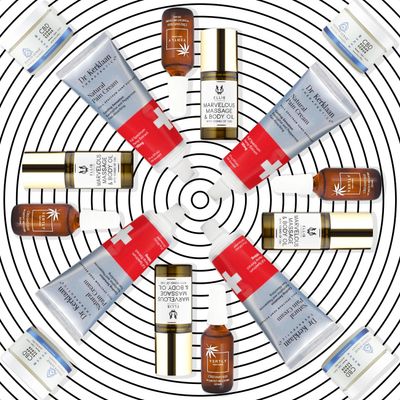 Photo: Courtesy of the Retailers
Of all the injustices in the world, you can cross one off the list because CBD has received its own national day. And that day is today!
As you likely know by now, CBD, which stands for cannabidiol, is a chemical compound derived from the cannabis plant. It contains no psychotropic properties, so it can't get you high (those come from another compound, THC, aka tetrahydrocannabinol), but it has been widely touted for its anti-inflammatory and calming effects. Both compounds are found in marijuana and hemp plants, but until the recreational use of marijuana is approved on a federal level, only hemp-derived CBD can legally be used in states like New York.
And, boy, has it ever. The beauty industry has jumped especially hard on the CBD bandwagon, and the lack of strict regulations means anyone can slap those three letters on a product's name whether it contains legit levels or not. But there are some gems that actually make a difference. Here, some of our favorite CBD-infused products that are sure to chill you out.
If Your Skin Looks Red and Blotchy
Two types of clay (French Green and Bentonite) and two kinds of oil (sunflower and hemp seed) are blended with calming matcha (my personal redness emergency savior) in this soothing and velvety smooth mask that helps calm a complexion down.
If Your Skin Looks Blotchy and Saggy
Top New York facialist Pekar has tapped the inflammation reducing properties of the compound in several of her products, including this one that uses aloe vera, vitamins B and C and hyaluronic acid help hydrate and plump skin.
If You Haven't Looked Away From the Screen All Day
This balm doesn't relieve the eyes themselves, but the under-eye area deserves love, too. Initially cool upon application, it warms into a blanket of oil-and-honey infused, de-puffing silkiness.
If Your Hair Is Out of Control
Created for facial hair, it can also be used on "any hair that needs taming." Oils of jojoba, macadamia seed, calendula, almond, and bergamot are in this rich formula, which can be used as both a pre-shampoo scalp treatment or to soften hair post shampoo.
If You Just Finished Hot Yoga
A few bursts of this light, refreshing mist helps bring an overheated body back to a normal temperature thanks to detoxifying sulfur, magnesium, peppermint menthol and comfrey leaves and root. Scented with essential oils of lavender and lemon grass, it's also a marvelous respite for tired feet or even a post-sunburn situation.
If You Want Your Body to Glow
There are 28 botanical oils in this serum, which might explain why it looks like an oil. Whatever you call it, it truly does feel like a luxury to rub this smooth and softening formula into your arms. It absorbs quickly, leaving the faintest hint of shine in its wake.
If Your Head Is Aching
A dollop massaged into each temple does wonders to alleviate an aching head or a stiff neck, and the cooling wintergreen aroma just makes it more soothing.
If You Need a Nice Relaxing Bath
This powdery cube addresses both sore muscles and a stressed mind, thanks to epsom salt, magnesium, and an all-star calming herbal lineup of rosemary, camphor, eucalyptus and lavender.
If You Want to Slough Off Your Worries (and Dry Skin)
This fluffy sugar scrub leaves skin feeling supremely soft and remarkably moisturized. Chamomile and green tea may have top billing, but when I use it all I smell is an outdoor shower at the beach.
If Your Heels Are Cracked and Scaly
Summer isn't exactly the worst season for dry skin, but areas like elbows, knees and especially feet never really experience a reprieve. A little goes a long way with this super rich balm made of olive oil, shea butter and beeswax.
If You'd Rather Not Smell Like Your Freshman Dorm
Founder Bee Chang Shapiro scented this body oil with maritime pine bark extract, so those not into "weed" scents need not be concerned. I rub a drop or two into the back of my neck and can almost immediately feel the tension dissipate.
If You Miss the Action of Smoking
Despite containing no THC, a couple of hits from this citrus and grapefruit turpene blend should slow the wheels of your mind down, and may very well lull you to sleep.
If You Prefer Ingesting Your CBD
Feals subscription service is designed to take the guesswork out of dosage. Their starter sample, the Feals Flight, contains 40, 80 and 160 mg of hemp-derived ingestible CBD oil that you can drop under your tongue or mix with water. Feals, of course, recommends starting slow then working your way up, milligram-wise, but should first-timers be daunted, the company has a hotline to answer all questions.
If You Hate the Way CBD Products Taste
Devotees love how this blend of NY-grown hemp-derived CBD isolate and coconut-oil-derived MCT oil helps with sleep, stress and improves focus, but another reason it's beloved is because of what it doesn't have: any smell or flavor.
If You Believe Breakfast Is the Most Important Meal of the Day
The tastiest way to be soothed. Since anxiety can strike any time, try mixing a dollop into yogurt or spreading some on toast when you know the day's gonna be a doozy.
If You Just Left a Stressful Meeting
Maybe it's the Colorado hemp-derived CBD that makes this taste so refreshing. Or maybe it's the cucumber-and-mint flavor — those two are favorites in spa water pitchers for a reason.
If You're Hoping for a Good Night's Sleep
The herbs in this tasty caffeine-free tea blend include ginger, rosehip, ginkgo, lavender, peppermint and — yes — hemp. Together, they slow down a restless mind as well as a restless body.
If you buy something through our links, New York may earn an affiliate commission.