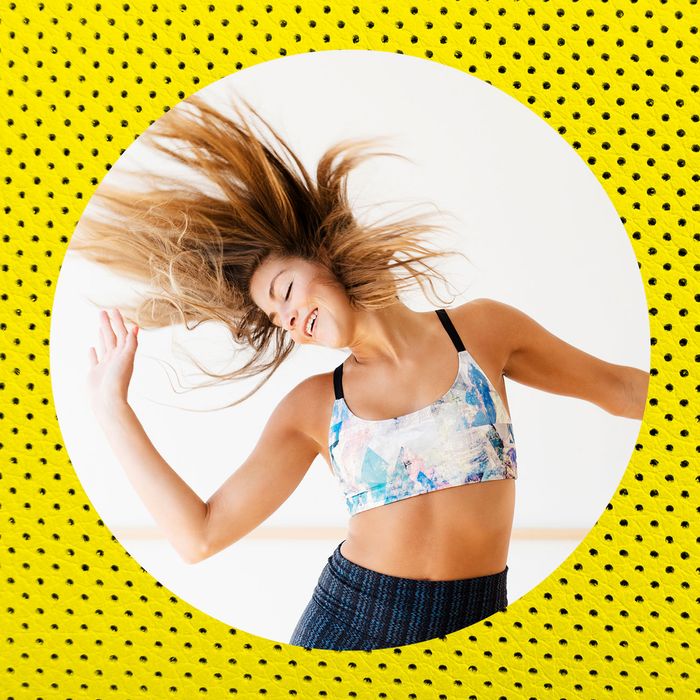 Photo-Illustration: by Stevie Remsberg; Photos: Getty Images
Hot Bod is a weekly exploration of fitness culture and its adjacent oddities.
The flip side of summer's warm sunshine bounty is that it gets way too hot to even exist outside and way, way too hot to do any vigorous activity that might make you even sweatier. And so, in order to move at all, it becomes necessary to aim yourself at your window unit and peruse the best dance-workout videos that YouTube has to offer.
The free YouTube dance-fitness class is a chaotic breed. As with many free alternatives, your patience is often taxed. They can be frenetic, cheesy, weirdly angled, and sometimes silent if the instructors used music that they didn't license. All told, they're kind of a mess. But I feel affectionate toward them! They're trying their best — a cringey, human quality that can be endearing until it's insufferable. And when it's insufferable, just ditch! There are nothing but options on this platform. My YouTube account is a bastion of two-thirds completed dance workouts. There are so many that it's practically required to jump around during your AC worship. Several channels worthy of toggling between:
The Thigh-Burner Classic
305, named after the illustrious Miami area code, is a thriving YouTube channel with live classes (glitchy in a charming way) and slick videos that feature a devoted DJ. The music leans toward crowd-pleaser pop, the dances are squat-heavy, interrupted with Drag Race-informed strutting. Your tolerance for cheeky encouragement must be high. Still, no one in this world is more interested in toning my "peach booty" than the 305 instructors and their demonstrators. Sometimes the choreography feels a bit like preparation for the pan-sorority talent show, but I mean that as a compliment.
The Quick Dance Break
Mylee's Dance Workouts aren't exactly extreme; they're more like a music video that you have some chance of following along to. Like a music video, these are only worth watching if you're into the song; also like a music video, they often last just a few minutes, which make them an ideal tiny workout break when you're feeling restless and weird, but don't feel like putting on spandex and committing. I recommend Ariana Grande's "7 Rings" or, as always, Ciara's "Level Up." Mylee often repeats the choreography two or three times in a row, if you're devoted to doing it perfectly.
The Full-Body Exuberant Mood Booster
During a mutual-doldrums period during quarantine, my childhood best friend Natalie sent me a link to one of Kukuwa's dance classes. Kukuwa Fitness, which offers classes on their website, posts the occasional exuberant live class on their YouTube page under titles like LET'S SHINE and MOOD BOOST. They mean it! The dances feel so great — tons of full, extended stretches and fast, fun shaking. These classes are a total tonic, a splash of sunshine. And unlike other live streaming classes, the sound quality tends to be fairly good.
The Dance Class Designed with the Jock in Mind
The 25 MIN. DANCE WORKOUT with Tanju is like a master class in non-verbal communication. FitSevenEleven's classes occupy the perfect middle of the Venn Diagram between Exercise and Dance: grapevines ending in jumping jacks, squats that also ask you to roll your hips. These classes also have a very well-organized beginning (warm-up), middle (cardio), and end (slow stretching).
The Apartment-Friendly Routine
If I could compliment Maddie Lymburner, the proprietress of MadFit on one thing it would be her exceedingly precise physical punctuation. She! Hits! Those! Beats! Even her dance videos seem less like dancing and more like exercise moves set to music, but I don't know, categories are expansive, and maybe that's dancing. She's also very clever about giving the people what they want, like One Direction and "apartment-friendly" sets with no jumping (to be nice to your downstairs neighbors). Sometimes it can feel a bit like watching a hashtag happen.
The One for Everyone Missing Karaoke


If you want a strong, bold instructor with personality flying out of their kneecaps, allow me to introduce you to Caleb Marshall and his dance workouts. Caleb, flanked by two loyal demonstrators, structures his workouts by song, so you can queue up a playlist of some Now That's What I Call Music!–quality pop and gyrate your way through. The hip swings are sassy, and the imaginative video effects (explosions in the middle of "Womanizer"!) are priceless. Also he often records in a park and sometimes people walk by on the trail and it killlllls me.
The Channel With Everything
PopSugar has a prolific fitness channel. It's Dance & … Everything over there. Dance & Kickboxing. Dance & Barre. Dance & Tabata. Dance & HIIT Drills. Dance & Sculpting. Like a restaurant menu that goes wide, it's likely that your selection is going to be a little flavorless. These videos often are prey to the annoying pitfall of online dance workouts: music licensing issues. So rather than get into that mess by accidentally queuing up a Rihanna song, they use some beats that approximate Rihanna songs. It's a little melon-in-the-fruit-salad, but they're reliable.
And Finally, the Pelvic Thrusts of Yore
Have you had enough of this era? Yes, me too. YouTube is also a time machine — with some interesting videos from fitness classes of eras past. Just because something is older does not mean it's easier! In my limited experience, videos made before 2015 tend to have less cardio, but they will often make you squat-thrust for hours. They also love a "ribcage isolation," as do I.
Of course there is One Hour with Jane Fonda, wiggling it out to some jazzy cowboy music, but you can also find a class from 2004 called "Pump It Up The Ultimate Dance Workout" — 50 minutes of dancing and 20 minutes of "bums and tums" exercises on the floor. Do you want to swing your hips around to "Satisfaction"? Oh, you hadn't thought about it until now? Well you might! (Skip to 11:51 if you're not sure.)