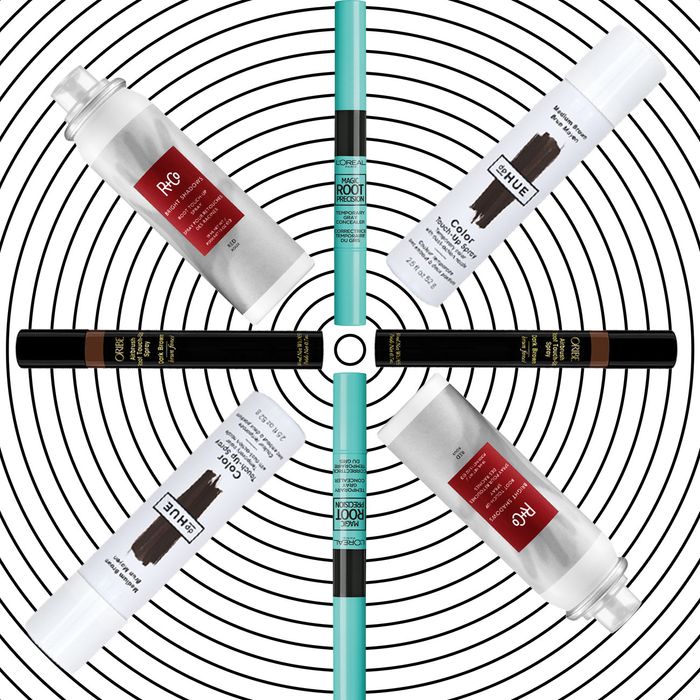 Photo: Courtesy of the Retailers
If the pandemic taught us anything, it's how to handle our beauty issues on our own. We cut our own bangs, did our own trims, and also learned how to quickly camouflage our natural hair color. While experimenting with at-home box color can be tricky, temporary root color products are goof-proof and easily wash out. Even though salons may be open once again and you're now able to visit your beloved colorist, it never hurts to have an option in-between appointments.
We spoke with hair colorists and individuals that dye their hair frequently to learn about how they keep up with their root color between appointments. Whether they stick with having their professional colorists work their magic and manage the in-between with certain shampoos and masks, or use at-home root-touch-up products to color themselves, they dished on everything you need to know about root care.
How long should you go without a root touch-up?
The "grown out roots look" can work for some people. However, if that's not a beauty trend you want to willingly partake in NYC-based colorist Olivia Casanova recommends you reach out for an at-home kit that best suits your needs and retouch your roots every 3 to 10 weeks. If your colorist uses a demi-permanent on your hair though, Casanova suggests waiting it out until your next salon appointment since most at-home root touch-ups are permanent color and can mess up your desired color. Patience is key people!
What products should you use to take care of your roots?
An important step between touch-ups is maintaining your scalp and hair healthy. One of the best products for doing so? A color-safe shampoo and conditioner that won't strip it from your hair. Casanova swears by Davines' Minu shampoo and conditioner. "Depending on your hair type and texture, I tell my clients not to wash more then 1-3 times a week. Avoiding hot water when washing your hair also makes the world of a difference," she says.
Creative Director and writer Mi-Anne Chan, who has dyed her hair for over four years, swears by the Hairstory's New Wash. "This is the only shampoo I use," says Chan. "I like it because actually makes my hair feel clean while not pulling out any of my color."
Stylist and Cofounder & Press Director of Peter Do, Jessica Wu, sticks with Clairol Shimmer Lights shampoo and conditioner and swears by the NatureLab Tokyo Perfect Repair Treatment Mask. "It's a holy grail product for sure," she says. "It gives instant moisture and completely hydrates your hair."
Masks & Scalp Care Products
What are the best products for at-home touch-up?
Florist Ryan Norville has been dying her hair for over 10 years and has been using the Pravana Vivids pastel shade rang to touch up her roots for the last 5 years. "This doesn't cover up growth in new roots but it helps tint and refresh the rest of your hair without using bleach," she explains.
If you want a quick fix, Casanova also recommends opting for powder and spray products, like Oribe's Airbrush Root Touch-Up Spray and Color Wow's powder.
Other root touch-up products to try
At about the size of a compact, this touch-up powder is a great on-the-go option. Along with the near perfect color match, reviewers love how long-lasting and natural the powder looks. But those with sensitive noses beware — it does have fragrance.
For quick, easy, and affordable touch-ups this is your best bet. The temporary color sprays on and stays put until your next wash. Some reviewers refer to the affordable spray as a "salon in a bottle".
L'Oréal's Magic Root Concealer now comes in a clickable pen, but for the moment it's only available in Brown and Black. Don't pull the rookie move of impatiently over-clicking to activate this — a little goes a long way, and users have noted that too much can result in hardened hair. Users do appreciate how its compact size fits perfectly in a purse's side pocket.
The nozzle attachment of this spray helps with aim precision and dries quickly. Staying put between shampoos, but easily washing out.
Photo: Paul Tillinghast 2127413764
With a lineup that includes a shade for redheads (often overlooked), this formula is made of mineral-derived pigments and moisturizing amino acids. Its texture is lightweight without being sticky and a little goes a long way.
This spray has a dual-action nozzle for the most targeted coverage, so you can get right into those roots. Coming in up to six shades for your ideal match, this is a favorite for darker hair colors and thinner hair.
Kind of like Clinique's Chubby Stick, this easy-to-hold tapered-tip pencil, which comes in five shades, gets a lot of praise from reviewers for its covering ability. It makes covering your roots as easy as coloring inside the lines.
This flat, wide marker might not be the most high-tech of cover-ups, but all eight of its shades are available on Amazon. It includes a little comb for more precise application along the hairline, where you'd rather not get any ink on your skin.
This article was originally published August 8, 2020. It has been updated throughout. If you buy something through our links, New York may earn an affiliate commission.