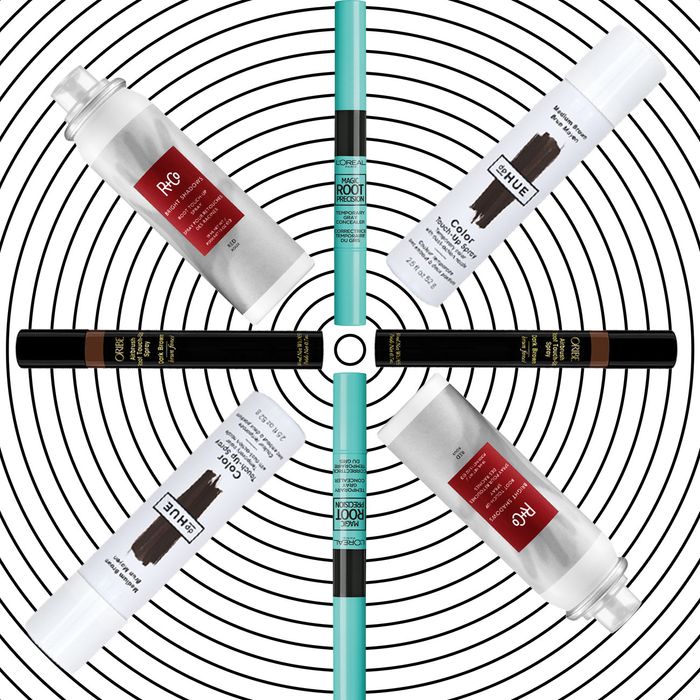 Photo: Courtesy of the Retailers
If there's anything we learned last year, it's how to handle our beauty issues on our own. We cut our own bangs, did our own trims, and also learned how to quickly camouflage our natural hair color. While experimenting with at-home box color can be tricky, temporary root color products are goof-proof and easily wash out. Even though salons may be open once again and you're now able to visit your beloved colorist, it never hurts to have an option in-between appointments. Below, we've rounded up the ten best root touch-up products you can buy online.
The One You Can Take With You
At about the size of a compact, this touch-up powder is a great on-the-go option. Amazon reviewers love its ease, the diversity of shades (there are eight total), and its staying power. Along with the near perfect color match, reviewers love how long-lasting and natural the powder looks, adding that it leaves hair soft without making a mess. But those with sensitive noses beware — it does have fragrance. Some have noted a perfumed scent.
The Affordable Option
For quick, easy, and affordable touch-ups this is your best bet. The temporary color sprays on and stays put until your next wash. According to reviewers and almost 2,000 five-star reviews, the results are natural color and even, thicker-looking hair. Some refer to the affordable spray as a "salon in a bottle" and at this price point, it's a great option.
The Best Root Touch-Up Product for Darker Shades
L'Oréal's Magic Root Concealer now comes in a clickable pen, but for the moment it's only available in Brown and Black. Don't pull the rookie move of impatiently over-clicking to activate this — a little goes a long way, and users have noted that too much can result in hardened hair. Users do appreciate how its compact size fits perfectly in a purse's side pocket.
The Best Root Touch-Up Product for Blondes
Photo: Courtesy the vendor
Fans love how user-friendly this aerosol spray is. A few quick blasts to the area covers roots naturally and leaves no sticky residue on hair. That said, darker-toned users say imprecise application can result in dark scalps, so this is best for lighter tones.
The One You Brush On
You apply this one like eye shadow, making it very easy to use. It might require a few extra strokes to make sure everything's concealed, but this formula, which comes in eight shades, doesn't run or rub off, and it lasts until you shampoo it out.
The One That Can Also be Used on Thinning Areas
Users love how the nozzle attachment of this spray helps with aim precision and dries quickly. They also appreciate that it stays put between shampoos, but easily washes out. It's also popular for concealing thinned-out sections.
The One That Doesn't Forget About Redheads
Photo: Paul Tillinghast 2127413764
With a lineup that includes a shade for redheads (often overlooked), this formula is made of mineral-derived pigments and moisturizing amino acids. Reviewers describe the texture as lightweight and not sticky, with thickening dry shampoo-like results. Despite the smaller bottle, reviewers assure that a little goes a very long way.
The Easiest to Use
This spray has a dual-action nozzle for the most targeted coverage, so you can get right into those roots. Coming in up to six shades for your ideal match, this is a favorite for darker hair colors and thinner hair. One happy reviewer said, "It matches perfect and covers all my grays plus makes my hairline fuller looking. Highly recommend. I think I can go longer between salon visits now even after the salons open back up."
The One You Draw In
Kind of like Clinique's Chubby Stick, this easy-to-hold tapered-tip pencil, which comes in five shades, gets a lot of praise from reviewers for its covering ability. Racking up nearly 200 five-star reviews and coming in two shades, the crayon makes covering your roots as easy as coloring inside the lines.
The One People Have Been Using Forever
This flat, wide marker might not be the most high-tech of cover-ups, but all seven of its shades are still available on Amazon, and that is currently a big plus! It also includes a little comb for more precise application along the hairline where you'd rather not get any ink on your skin. The quick and easy coverage has made this a fan favorite for years.
This article was originally published August 8, 2020. It has been updated throughout. If you buy something through our links, New York may earn an affiliate commission.