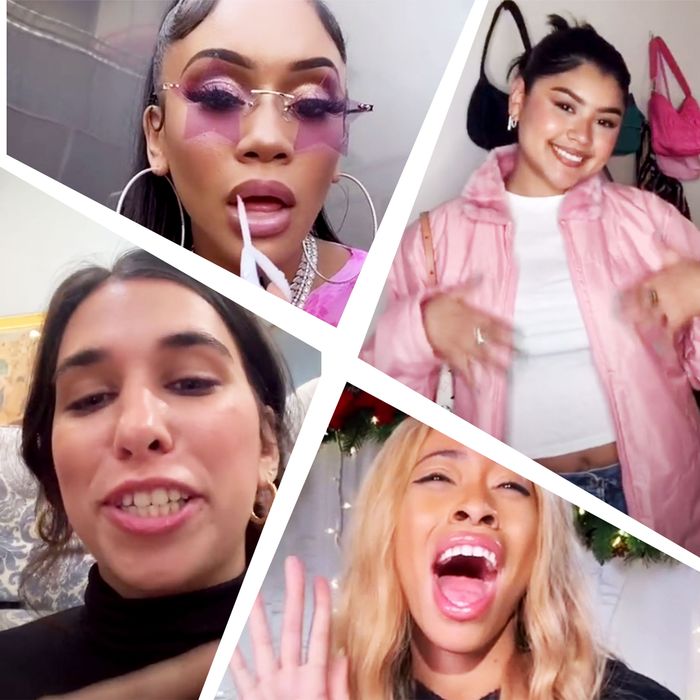 Some of the most iconic moments from @officialsaweetie (TikTok), @asapabes (TikTok), @dreaknowsbest (TikTok), and @ladyefron (TikTok).
Photo-Illustration: by TheCut; Photos: @officialsaweetie, @asapabes, @dreaknowsbest, @ladyefron/TikTok
TikTok can be overwhelming at the best of times, let alone when you first join and your "For You" page is clogged with a bunch of 16-year-olds all doing the same dance. But be assured, the world of Tiktok content creators is much larger than Charli D'Amelio and the Hype House (though if that's your speed, enjoy!), and you can curate the exact type of FYP you wish to see by following and liking the videos you enjoy. The TikTok algorithm is so sensitive, just watching a video twice through will alter what you see on your feed. Below we have compiled the ultimate list of must-follow TikTok creators, all of them female and most of them above the legal drinking age. You can trust my judgment — I'm Gen Z.
@asapabes
Abelyn's fashion TikToks revolve around the leopard-print-pastels-and-baby-tees aesthetic. She is the daily inspiration of wearable Y2k fashion trends you are missing on your feed. If you like what you see, you can also buy right from her Depop account @abelyn.
@choyce.brown
Daughter of social-media personality and actress Tabitha Bonita Brown, Choyce is following in her mom's footsteps with hilarious and relatable videos. Oh, and she's a model.
@corporatenatalie
Her bio, "Corporate America by day, aspiring TikTok star by night," says it all. Natalie pokes fun at the cringey business-Zoom scenarios we have all dealt with. From that one co-worker who won't let the call end to virtual team happy hours, @corporatenatalie understands our work-from-home pain.
@devdogmoney
Co-founder of the popular phone-case company Wildflower Cases, Devon Lee Carlson uses her TikTok to show off her adorable puppy, incredible outfits, and less-than-professional dance moves. Keep your eyes peeled for the occasional Bella Hadid cameo.
@dreaknowsbest
You are probably already following @dreaknowsbest, but just in case you are not, you need to. Drea's comedic timing and character work are truly unmatched. Just ask Mariah Carey, who was recently featured.
@fridacashflow


Not only will Gabrielle's TikTok make you want to travel the world and redo your entire wardrobe, but you might even consider getting a nose ring. @fridacashflow is a living, breathing Pinterest board in the best way possible.
@glamdemon2004
This 21-year-old Fashion Institute of Technology student makes you feel like she is talking directly to you when she asks, "Does he not believe in gender roles, or does he not believe in doing things for women?" @glamdemon2004 does not sugarcoat anything, and if you become as obsessed with her voice as we are, you can also subscribe to her podcast Let Me Ruin Your Life.
@itsmetinx
Christina Najjar has quickly become a queen of TikTok thanks to inside looks at her love life and pop-culture commentary. We promise that after spending five minutes on her page you will be trying to decide which "Rich Mom Starter Pack" you most relate to.
@jeenie.weenie
Sandra Jeenie Kwon will have you chuckling at your phone while she acts out absurd scenarios she has experienced as a flight attendant. Watching her TikToks almost fills the void of the crazy airport culture we have been deprived of these past few months.
@ladyefron
Known for her love of, you guessed it, Zac Efron, Brooke Averick has a way of turning every uncomfortable and awkward thing that happens to her into a minute-long video of comedic genius. Like when she and her brother were suggested to be "Most Compatible" on Hinge.
@yoleendadong
Honorable mention to any video she films in her mirror, as you never know if it's going to be an insightful piece of life advice or a funny anecdote (usually it's both).
@michaelaboutrosghali
Michaela's page is dedicated to the fictional relationship between Sky, a free spirit from Los Angeles, and Alexa, a New York City hustler. Whether they are ordering breakfast or talking to their therapist, as you can imagine, the two don't see eye to eye on most things.
@nabela
The only way to describe Nabela's videos is perfection. From her cleaning montages to her cooking videos, you will get lost in a trance of pristine interior design and seamless editing.
@notlei
Her TikToks are casual, funny, and occasionally make you regret not trying harder in your fifth-grade basketball tournament.
@remibader
Known for her "realistic " try-on hauls, Remi Jo offers the comedic relief we all need every time we order clothes online and they look nothing like they did on the model. Remi will keep you in the loop on where to shop and where to not.
@Salemmitchell
"Saturday's with Salem" may become the highlight of your weekend as Salem takes you through her incredibly curated days filled with good food and even better fashion. She also pole dances. She is basically just supercool.
@officialsaweetie
As she is the creator behind the viral TikTok song "Tap In," it's only fair that Saweetie's own page is included on this list. Saweetie's TikToks have the same energy as an all-girls pregame before a big night out. We recommend scrolling through her page when you need a dose of that kind of fun chaos you only get from belting "Best Friend."
@Seaarose
If you only follow one person on this list, it should be @Seaarose. Dasia's TikTok shows you what her life is like as a Native American Sugpiaq living on an island of 41 people in Alaska.
@stacythiru
Known best for her videos where she impersonates her parents, @stacythiru's TikToks are reminiscent of the stuff you'd see on Vine.
@taylorquitara
Taylor Quitara is the definition of an Instagram cool girl. However, instead of posing for photos and not tagging out outfits, Taylor posts styling TikToks and outfit-inspiration videos so you can be just as trendy as she is.
@thatsrocky
Raquel is the type of DJ you'd actually want to hear at the club, like her recent NO SCRUBS X DROP IT LIKE IT'S HOT mash-up.
@thejarr
After her family's "snack jar" went viral on the app (trust me, just Google it), Eli Rallo now makes hilarious daily vlogs and offers hot takes on the astrological signs.
@themontanaexperiencee


Montana is the cool older sister we all wish we had. In addition to her fashion content, Montana also offers makeup and beauty advice. She has truly nailed the wearable Euphoria eye-shadow look.
@tiffbaira
Get ready to hear "Hey, girls, it's Tiff" every day when you follow Tiff Baria for her dating advice, NYC vlogs, and behind-the-scenes secrets about modeling.
@Washyourpillowcases
The combination of Kat Wellington's dry sense of humor and honest commentary about being in your 20s makes @Washyourpillowcases one of the most relatable accounts for anyone around her age. I mean, she has an entire TikTok dedicated to how invested she is in the relationships of random couples she follows on Instagram.