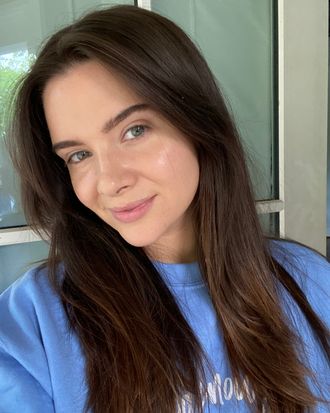 Photo: Courtesy of Katie Stevens
Filming the fifth and final season of The Bold Type, which premieres Wednesday on Freeform, looked a little different for Katie Stevens than it did in the past. The actress, who plays writer and yoni-egg tester Jane Sloan, and her fellow cast and crew members had to abide by strict COVID-19 protocols — except for the moments she was having her makeup done or actively filming a scene, Stevens had to wear a face mask and a face shield at all times. And while she was happy to wear them for everyone's safety, she says anxiety over her skin was constant.
"We would have to put the masks back on after we had all of our makeup on, and the makeup artists were having to touch us up more because we were taking off the mask and then putting the mask back on," she says. "It was a lot of contact with our skin — my mom taught me to stop touching my face early on, but we're definitely becoming more conscious of what our hands are doing and touching, and that if you touch your face, you're putting all of that bacteria on your skin."
Throughout it all, Stevens counts herself lucky to not have experienced maskne, but she credits being extra-diligent with her skin-care routine as the reason why. SkinCeuticals Silymarin CF serum was especially important in keeping her skin "stable" over the past year, she says.
Stevens wants to make it clear that a breakout isn't the end of the world — "Everyone gets them, it's reality!" — but having grown up with acne, she knows it can take an emotional toll. "When I did Faking It, I would get painful cystic acne and beg the director of photography to make a note that I had a pimple for them to be aware of in post[production]," she remembers. "I was just so embarrassed; there's so much pressure to be perfect when you're behind the camera." At the time, Stevens was just starting to learn about skin care, so she turned to Maegan Griffin, her friend and founder of skin-care company SkinPharm, for help to sort out a routine.
Below, Stevens breaks down the products she now relies on, including the exfoliating pads that don't dry out her skin, the hyaluronic acid she uses when her skin looks dull, and the face oil that goes a long way.
The Cleanser
The Toning Pads
The Serum
The Face Oil
The Gua Sha
The Sunscreen