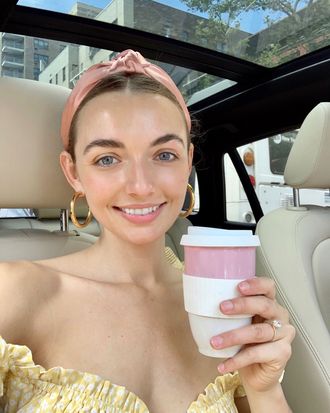 Photo: Courtesy of Jasmine Garnsworthy
Want more skin care? Join The Beauty Group.
As a teen, Jasmine Garnsworthy fought an intense battle with painful, severe acne. It didn't help that her main source of skin-care advice was Proactiv commercials. "I almost exclusively used products that dried out my skin because I thought it would cure my acne," she says regretfully. "In the early '00s, I truly would have put anything on my face if I thought it would result in a single day with clear skin."
Garnsworthy is now a writer and the founder of The Buff, a clean beauty brand that tailors oils to your skin type. Clearly, she's moved on from drying products. She became a fan of oils after moving from Australia to New York City in her early 20s. Her hormonal acne had lessened with time, but now she found herself breaking out again. "I managed to clear things up by focusing on diet, supplements, and exercise, while paring back my skin care to jojoba oil and not much else," she remembers.
Slowly, she introduced more products into her routine to brighten and hydrate, while being careful to test only one new product at a time so she could easily pinpoint what ingredients triggered a breakout. And unlike in the old days, Garnsworthy is now careful to minimize drying agents like alcohols and sodium lauryl sulphate (SLS), which is used to make products foam.
There's one area where Garnsworthy is willing to splurge. "I'll always spend money on a good serum without reservation. It's the first step post-cleansing and has the most contact with your skin," she says. Cleansers, makeup removers, and face masks are where she's more willing to compromise.
Below, Garnsworthy shares her full morning and night routines, the DIY treatment for cystic acne she found on an internet forum, and why she trusts Australian sunscreens more than any others.
Morning
The Vitamin C
"My biggest splurge item is the Skinceuticals CE Ferulic Acid serum, which is worth every cent and then some. This is the first thing I use on my skin every morning, spreading it across my face, neck, décolletage, and occasionally even my sun-damaged shoulders. Other beauty writers raved about this product to me for years, but I only started using it in 2018 (she's pricey!). Within a couple of weeks, I noticed my acne marks were fading. My skin became visibly smoother and brighter, so I just keep forking over the $160 every few months. I have tried dupes, but they don't compare. When I run out of the SkinCeutical serum, my skin just doesn't look as good."
The Moisturizer
"Australian beauty editor and author Zoë Foster Blake created Go-To Skincare in 2014. The line is cruelty-free and clean (important) and fairly priced. I see a lot of the same ingredients listed in both luxe and budget moisturizers, so don't splurge on this category. Instead, I use something that's mid-priced but also ticks the clean and cruelty-free boxes. This is a pretty standard moisturizer that absorbs quickly, doesn't have a strong scent, and hasn't caused me to break out yet. Amla berry extract, an antioxidant powerhouse, is also a key ingredient."
The Sunscreens
"I nicked a tube of Dermalogica's Skin Recovery SPF 50 from my mum about a decade ago and have been a fan ever since. Given my history with acne, thick moisturizers and sunscreens make me nervous, and I was drawn to this lightweight hybrid. I use it every morning in winter — after serum and before makeup — but prefer to apply a stand-alone SPF in summer."
"I often follow moisturizer with the Mecca Cosmetica To Save Face SPF50+ Superscreen for SPF coverage. During the warmer months or when I'm spending more time outside, I trust Australian products for SPF protection. Australia has a thin ozone layer and one of the highest rates of skin cancer in the world, causing the government to regulate SPF products very strictly. This means that Australia has some of the most trustworthy sunscreen products in the world. The Mecca SPF50+ gives create coverage, is light enough to wear on humid days, and won't cause foundation to slide off your face. Mecca Cosmetica is well known back home — it's Australia's answer to Sephora and houses incredible local beauty products as well as is its own eponymous skin-care line."
"While I'd love to remember to reapply sunscreen throughout the day, I don't. Instead, I use the Supergoop! SPF mist on my face and décolletage for a top-up over makeup in the afternoon. Sometimes it lives on my desk and gets used before I go outside, but I try to remember to throw it in my handbag and apply more regularly."
The Mist
"I face mist regularly throughout the day to refresh when I feel tired or unmotivated. This formula is literally just water, but does give my skin a dewy hit — albeit a short-term one. I have a 300ml bottle on my desk!"
Nighttime
The Cleansing Balm
"I normally like to remove my makeup with straight-up jojoba oil on a cotton pad, but have recently been testing the Versed Day Dissolve Cleansing Balm and love it. I wear waterproof mascara most days, so a one-step cleansing routine just doesn't cut it. The texture is a true balm: It's a little creamy and oily (ingredients include jojoba oil and avocado oil, among other botanical oils), scentless, and dissolves makeup in just a few satisfying swipes. I work it a little harder around my nose (where I wear concealer to cover redness) and over eye makeup, and it never causes any irritation."
The Jelly Cleanser
"I double-cleanse most days — even if I don't wear makeup. New York is dirty, my skin is acne-prone, and I like a thorough clean. Using a light gel cleanser as the second step helps remove the jojoba oil or cleansing balm used to remove makeup. Both of these products are quite occlusive and need to be washed off well so that my expensive serum can absorb into clean skin. This is a light cleanser and my daily go-to unless my skin's looking congested. Clogged pores call for something a little more heavy duty."
The Anti-Acne Cleanser
"I'm prone to blackheads and the occasional breakout and like to use a more powerful cleanser when my skin feels and looks congested. Ingredients include LHA (beta-lipohydroxy acid), glycolic and salicylic acid, all of which are lightly exfoliating and work to decongest clogged pores, making this more active than a standard gel cleanser. It's also more expensive than other cleansers, but a little goes a long way and I only need a pea-sized amount (or less!) for each cleanse."
The Facial Device
"Microcurrent treatments at TakeCare NYC have completely changed my skin for the better. I notice way fewer breakouts, more even skin tone, and much-more-plump skin. I now top-up professional facials by using a NuFace, a handheld microcurrent machine, once or twice a week for five-minutes at home. The device set me back around $200 but has allowed professional treatments to be further spaced and their effects prolonged.
Microcurrent was originally used in a medical environment for pain relief and to treat muscle atrophy in facial paralysis conditions, like Bell's palsy, and is now a popular cosmetic therapy. The device comes with a conductive water-based gel, which I've since restocked with a cheaper aloe vera gel. This step is important — use too little gel and your face will get a painful zap!"
The Exfoliating Pads
"I could quite easily see myself becoming addicted to chemical exfoliation — it makes skin look so fresh and glow-y and seems to help with the blackheads around my nose almost instantly. Instead, I've limited myself to using these glycolic acid wipes once or twice a week, to avoid over-exfoliating."
The Spot Treatment
"I respond to a cystic pimple with a mixture of apple cider vinegar, water, and charcoal powder. I empty edible charcoal capsules from Whole Foods or use the May Lindstrom Skin Problem Solver. I scoop a little with my pinky and add just a drop of the apple cider vinegar to form a paste. The combination dries out the pimple and brings it to the surface. It's a weird, homemade spot treatment that I found on a random internet forum many years ago, but I swear that it helps."
The Serum
"New York winters dry my skin out, but using a serum with hyaluronic acid seems to help. I've tried a couple of dupes for this product, but they tend to leave a sticky residue, so I keep coming back to the SkinCeuticals version."
The Moisturizer
"This ultralightweight moisturizer is gentle, scent-free, and absorbs in seconds. I use face oil after my moisturizer, so I prefer to use a moisturizer that is quite light. Caudalíe is also vegan, nontoxic, and cruelty-free."
The Face Oil
"My skin changes throughout the seasons, so I have a few different custom blends on the go. Right now I'm using a blend with jojoba oil, rose-hip oil, and blue tansy to lock in my serum and keep my skin hydrated overnight. It's a blue-green color and doesn't leave my face feeling greasy. Jojoba oil and rose-hip oil are two of the lightest oils and suit my breakout-prone skin perfectly. I always wake up with the glow-iest, plumpest skin in the morning when I use this combination."
I started The Buff simply because skin always looks better when I regularly use a face oil, but I found some ingredients really worked, while others caused my skin to break out (hi, coconut oil!). I learned more about this and other natural skincare ingredients while studying for a Diploma in Organic Skincare Formulation and blending formulas for my friends with complexions that are wildly different—both from each other, and at different times of the year. The Buff helps people work out exactly which ingredients are best for their face oil and delivers it in cute, monogrammed bottles."