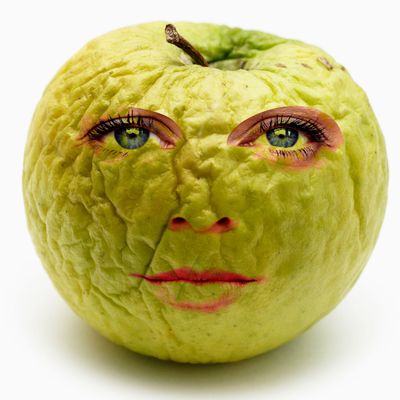 Facts, by definition, are immutable. That is, unless you're talking about skin care online. Every time an influencer whispers, "I know a lot of you have been asking me about my beauty routine," a dermatologist loses her wings.
For example, where should oil go in your skin-care routine? According to science, it should go last. This is not a subject that is up for debate. Except that every day in beauty forums and on Instagram, people are debating it. The idea that your products should go on "thinnest to thickest" needs to go home, it's drunk. Yes, oils are the most occlusive ingredients (thickest) in your routine, and hyaluronic acid is the thinnest (a humectant), but what non-chemist or doctor consumer is going to be able to cut through the BS of a face oil claiming to be a lightweight serum? Or understand that their creamy moisturizer containing hyaluronic acid is in fact thinner, molecularly speaking, than their runny rosehip oil? Repeat after me; oils will never be serums and oils should always be last.
Using oil earlier in your routine definitely isn't the worst thing you can do to your face — not when you can find at-home filler tutorials on YouTube — but the fact is if you put oil on first, you're cock-blocking the rest of your routine.
Before we dive in, I should note that I use oil on my face every day. I have dry and dehydrated skin. Dry skin is when you don't have enough oil on your face; dehydrated skin is when you don't have enough water in your skin despite chugging water during waking hours. Oils thrive on the top layers of your skin; water thrives inside your skin — where it's trapped by those oils. That's what your moisture barrier is: an oil-infused barrier to reduce trans-epidermal water loss (read evaporation of precious skin juices).
As you get older, your skin and its functions (your entire body, really) start to deteriorate, impacting both hydration and oil. To combat that deterioration, you'll need both water and oil, because they do different things. There's a common misconception that you can use oil to hydrate, but would you ever reach for a glass of ice-cold coconut oil on a hot summer day? Same principle. If your skin is dehydrated, she'd like a sip of water, not a shot of marula.
So you need water-based products for hydration … but water evaporates. Which is another reason oil should go last. Have you ever showered and noticed the tub's dry an hour later? Go dump the equivalent of a shower's worth of oil in your tub and try not to experience an adult slip-and-slide weeks later. Why would you put something that evaporates on top of something that won't? The chemistry of oils isn't my opinion. It's not a vendetta against the oil community. It's just a fact, like how carbon emissions are man-made and J.Lo was robbed of an Oscar for her performance in Hustlers.
Oil is impermeable, a.k.a. not easily penetrated. Water is repelled by it. Putting on rosehip oil before using a hyaluronic acid or water-based serum is like pulling a condom over your head before using a sheet mask. Whenever someone tells me they like "locking their oil in" with moisturizer, I twitch. Moisturizers are a mix of oil and water. If you use pure oil first, you're Gor-texing your face — just skip the moisturizer. Better idea: Use the moisturizer, then pat on your oil. It'll let the water melt into your skin and not evaporate.
The most important reason oil goes last: It'll eventually sink into your skin, reinforcing your moisture barrier no matter the order. That squalene you love because it mimics your natural oils and never breaks you out — it will still protect and nourish you even if it comes last. Think of water molecules as New Yorkers: volatile, in a hurry, and always about to ghost. Oil is a slow-walking tourist; it blocks things. It's in the way of water and needs to stand clear of the closing doors. Let the water and water-based products get where they're going first, and trust that the oil molecules will get there eventually — they're not pressed.
If you're reading this and thinking "Well, I only use oil and my skin is great," I'd like to point out that would make it the last step in your routine. Congratulations on having naturally hydrated skin; "oil last" prevails.
You will now wonder about the most important product in your medicine cabinet, SPF. Put it on after oil, especially if it's a physical sunscreen. It'll give you the added bonus of blurring out the oil you just slicked onto your face. Moisturizers with SPF are not enough; you're going to need the real shit. Bonus points if you reapply mineral-powder sunscreen throughout the day — this is how dermatologists regain their wings.
This article has been corrected to clarify why the "thinnest to thickest" rubric isn't helpful in layering skincare.