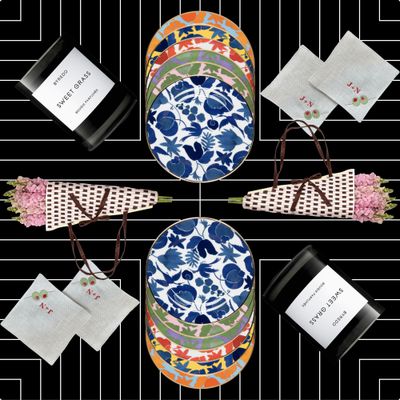 Photo: by The Cut; Photos: Retailers
For more of the Cut's favorite fashion, beauty, and home finds, sign up for the weekly Cut Shop Newsletter.
As editors, part of our job is to stay up-to-date with new launches and test products ourselves to see which ones are actually worth the hype. That means when the holiday shopping season rolls around, we know exactly what to gift our loved ones (and what to add to our wish lists). From genius stocking-stuffer ideas to gifts for Dad and everything in between, these are the goodies Cut editors have their eye on this year. Read on if you're in desperate need of some gift-giving inspiration.
If you're shopping for a holiday hostess — or a loved one who just moved — these vintage-inspired dessert plates make for the perfect housewarming gift. Even though they're crafted from ultrafine Italian porcelain, they're still dishwasher safe for easy cleanup. —Lindsay Peoples, editor-in-chief
Who wouldn't want a designer candle? This one from Loewe has fresh and earthy notes that evoke the scent of a botanical garden, plus it has a burn time of 30 hours. —L.P.
This Senteurs d'Orient body oil has been on my gift list for years because it soothes my skin and I smell like a bouquet of flowers every time I lather it on. It includes 14 plant-based oils like safflower seed, macadamia, jojoba, and olive oil, and it smells like bergamot, jasmine, and orange blossom. —Joanna Nikas, deputy style editor
The real fun is shopping for my nieces and nephews. The 2-year-old is getting The Nutshell Library boxed set by Maurice Sendak; for the 4-year-old who loves making up stories, the "Create a Story: Mystery in the Forest" cards; and for the 8-year-old, the Melissa and Doug Suspend Family Game. For the two not-yet-a-year-old babies, I just ask their parents to let me know what would be most useful — diapers, onesies, whatever they need. —Rachel Bashein, managing editor
My mom is always complaining about the sun and how she needs to protect her skin. Rightfully so. She has a few sun hats that she wears while gardening or when she walks the dog, but I love how comically large this sun hat from Baggu is. It's cute and will guarantee a nice laugh. Plus, it's packable, so she'll be able to take it on her next trip back home to Puerto Rico. —Bianca Nieves, senior shopping editor
I love compiling a gift bag full of affordable items, stocking stuffers, small trinkets, or miniature beauty products. Each bag feel customized and thoughtful, plus my friends and family feel spoiled when they get to open several small presents instead of one big one. This year, I'm throwing this ultra-conditioning mask from Redken into the mix. It featuring the brand's signature Conditioning Care Complex, which provides deep hydration and helps repair damage for all hair types and textures in just five minutes.—Hanna Flanagan, shopping writer and editor
Gift this to the tomato girl in your life. And you might be thinking that a surface cleaner is kind of a weird gift. But it will add a bit of luxury to doing everyday tasks. This one smells like a fresh tomato garden, brought to you by our friends in Los Angeles at Flamingo Estate. —J.N.
This over-the-shoulder flower bag collaboration between Laila Gohar and designer Rym Beydoun of Super Yaya is the perfect gift, because it's something someone would use frequently but might not buy for themself. Each carrier is handwoven in Beirut from bazin, which is a 100 percent woven cotton, and hand-dyed on the Ivory Coast with natural dyes. —J.N.
The weather is already getting chilly, so give the gift of luxury with this lip balm. It's made with cacao-seed butter, jojoba oil, and shea butter to help heal any chapped lips. Founder Neada Deters grew up in Australia, where taking care of your skin is a necessity, so she put her knowledge into a thoughtful all-organic line. It also comes in this recyclable tube, which will make any giftee happy. —J.N.
This membership is less than $100 a year, but giving the gift of a good film education is truly priceless — especially when streamers are constantly removing content and killing off any chance of people getting into some really good old movies. If you see something you really like on the channel, members sometimes receive discounts for purchasing from the Criterion shop, which means DVDs and Blu-rays galore. You don't have to worry about not getting to watch your favorite Wong Kar Wai movie on a loop if you snag one of those hard copies. —Brooke Marine, deputy culture editor
Christy Cham created the perfect basic: It's comfy and flattering and pairs with a long skirt for an easy buildable set.—J.N.
A gift to go with the Criterion Collection subscription. You know what they say: Give a man a TV, he will be happy for a year; give him a projector, he will be happy for life. Or at least until another gadget comes out. This Dolby one makes you feel like you are in a movie theater: It automatically adjusts to any surface or screen you project it on and has Dual Light technology — which is a fancy way of saying it has both laser and LED — making it incredibly bright and accurate. It can also be easily taken outside to make your garden (or any NYC stoop) an outdoor theater. —J.N
I've been in a reading funk these last couple of months, but Big Swiss, by Jen Beagin, really switched that up. I know a few of my friends are in the same boat as I am, so I'm gifting this as a stocking stuffer. —B.N.
Getting my boyfriend a Nintendo Switch — we've been a Playstation 5 house up until now — will be a gift for both of us. For weeks now, this man has not stopped talking about how "cool" and "crazy" and "oh my God" the new Super Mario Bros. Wonder game is, and it's enough already. This two-part gift should keep him busy. Plus, um, I want to play now too. You can turn Mario into an elephant! —Jen Ortiz, deputy editor
Everyone loves a Carhartt beanie, and for good reason: They're warm, they're minimal, they have street cred. Luckily for me, they're also a stocking stuffer that won't break the bank. The jade green is a nice muted color that I'll have trouble giving away rather than keeping for myself. —Catherine Thompson, features editor
Since my dad, who has become a voracious nonfiction reader since retiring, won't listen to me and get a damn library card, I'm getting him a gift card from Bookshop.org this Christmas. That way he can get whatever organized crime histories and classic rock memoirs his heart desires shipped right to him from independent booksellers. —C.T.
Although I wish I could be as generous as Oprah Winfrey was during her talk-show days, I'm all about practical gifts that will legitimately enhance a loved one's life. Insert the Jolie Filtered Showerhead, which removes chlorine, heavy metals, and other potentially harmful ingredients from your water. The results? The smoothest skin and softest hair ever. Guests who stay at my apartment quickly become believers after noticing how much better their skin and hair feels, not stripped or dry. I'm gifting one to my sister this year. —Maya Allen, beauty director-at-large
There's just something about a Byredo candle that everyone loves, whether it's for the man in your life or a tasteful friend. You truly can't go wrong with the chic, minimal design and intoxicating scents that fill every room. The latest launch to its iconic scent family, Sweet Grass, smells like the fanciest garden you'll want to spend all day in. Laced with notes of musk, sage, and palo santo, the soothing aroma is a crowd-pleaser. —M.A.
Two things happened this year: (1) I successfully kept a houseplant alive for the first time, and (2) many of my family members moved into new homes and desperately need greenery to fill them. So I'm making cuttings of my very hardy, fast-growing pothos to pot and send in the mail. (Google tells me it's easy: Just stick your tiny pot in a Ziploc bag and pray your package gets there quickly.) These drainable pots come with trays for catching any runoff after watering, and most important, they're inexpensive, so my siblings can easily replace them with bigger pots as their plants grow. I know this sounds cheap, but if all goes according to plan, my family spread all over the country will have the same beautiful, unkillable plant that I do. — Jordan Larson, features editor
A hill I will die on? There is nothing wrong with gifting the holiday basics (mugs, socks, flowers, etc.) as long as they are somewhat special and unique. Take this mug, for example. I'm confident that any coffee or tea drinker in my life would love to add this graphic, handcrafted option with a sculptural handle to their collection.—H.F.
I've fallen in love with Khoi's unique jewelry pieces this year. They're the ultimate statement-making accessories, and I can't wait to see the look on my friend's faces when they open them because these are not your average bangles.—Asia Milia Ware, fashion and beauty writer
I'm huge on journaling, and even though all of my friends don't necessarily enjoy it, I'm always pushing them to write their thoughts out. This journal completely changed my life with the thought-provoking prompts that are rooted in healing. I will be putting one in everyone's holiday bag.—A.M.W.
I'm gifting this to my fiancée, which will in turn benefit me since we live together … life hack! I've tried every sleep-aid treatment on the market — from totally legitimate to gimmicky — but nothing has truly made a difference. The cult-favorite Hatch is my last hope. It acts as a smart light, sound machine, sunrise alarm, meditation device, and alarm clock all in one, creating a personalized routine that will (hopefully) help both of us fall asleep easier and wake up feeling well-rested.—H.F.
Abbode is my go-to for personalized gifts that aren't corny as hell. These embroidered coasters are so chic yet functional. For that reason, I'm gifting them to the hostesses in my life who pride themselves on having stylish decor.—H.F.
My friend Ashley Brown started a candle brand, and the scents are beautiful. The ceremony candle smells like amber, sandalwood, and patchouli, making it a perfect way to set intentions for the new year.—J.N.
Shiny new luggage is a luxurious gift for the friend or family member who has a big trip coming up or travels often. Not only is this July carry-on equipped with all the bells and whistles — including TSA-approved locks, an ejectable battery, a hidden laundry bag, space-efficient compression straps, and 360-degree spinner wheels — it's also available in this festive and on-trend cherry-red colorway.—H.F.
I am beyond addicted to the comfort and style of New Balance's 9060 sneakers. I do everything in them from workouts to hot girl walks to chill girls nights or date nights. All of my friends and family constantly comment on them — this year, I'm gifting them so they can understand my obsession. These are the sneakers that just work for everything, and the colorways are so stylish.—A.M.W.
All of my younger family members are obsessed with Rihanna (and same), meaning they love all things Fenty Beauty. I love watching them run through their gloss bombs year round. For the holidays, I want to elevate their routine just a bit so I'll be gifting them the Fenty Parfum Body Cream. The second I tell them it'll have them smelling and glowing like Rihanna, they'll be in love.—A.M.W.
I have been on a quest to find a perfect pair of sweatpants: lounge-y, loose but not utterly shapeless, soft, cushioned, warm yet breathable. Friends, we've come close. The straight-leg fleece sweatpants from Madhappy are extremely good. They're incredibly comfortable and nearly, dare I say, flattering. I'm grabbing these as a gift for every single person in my life that also likes to take part in my favorite activity: curling up on the couch, getting up for an occasional bodega run, then returning to the couch.—Danya Issawi, fashion writer
During the holidays, I always gift my personal favorite beauty products. I brag about this peel all the time because it instantly smooths the texture of my skin and gives me a brighter complexion. While I could easily book my friends a facial appointment, gifting this set is the equivalent of gifting eight at-home facials so it's a much better deal.—A.M.W.
This is the one fragrance my friends do not put down when they come visit me. They instantly fall in love. It's an expensive gift, but one that I know will be worth the splurge.—A.M.W.