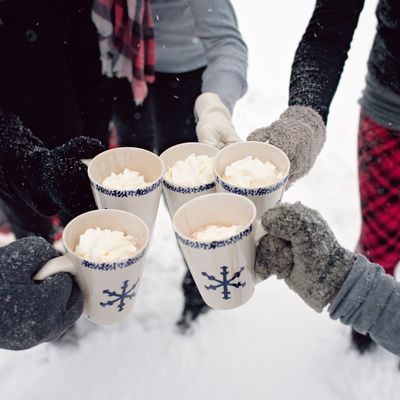 Photo: Getty Images/Cavan Images RF
When I attempted, in early July, to catch up with friends in Seattle about their upcoming baby, I instead received updates about their upcoming patio heater. They were also shopping for a "party tent" — the kind I associate with lavish college tailgates — to transform their yard into an all-weather queer gathering ground, no matter the season. "They're smart early birds," my boo later sighed over my shoulder as we hunted the internet for our own patio heater; they seemed to be actively selling out as we refreshed webpages.
A few days later, as I lounged (at a distance) with a friend on a city lawn, enjoying a pile of Ethiopian takeout, I imagined dirty snow flung around our flimsy picnic blankets. Why was I not already gathering waterproof tarps for future dinners? Would I even have a life without a party tent in my yard? Winter socializing has always felt like a cat-and-mouse dance of wooing people to where you are coziest (often your couch, not theirs). This winter — when isolating will probably be encouraged and when entering each other's homes will probably remain risky — meeting up is going to be a tough, tough sell. Social decisions might revert to simple childhood dynamics: Whose backyard has more fun stuff? Who shelled out for the party tent? Who secured a fire pit before they sold out?
"Demand is going to be extremely strong," Kyle Kromidas, from the outdoor-heater manufacturer Firesense, told me over the phone. Kromidas had the tone of a government scientist doing exposition in an alien movie — the rules have been flipped, he has the numbers, but he can't believe it. "Typically, there's a pretty big dip in purchases in June, July, and August," he says. "Then by the end of September, you see a big spike." There wasn't really a dip at all this year, Kromidas told me. They can no longer make an unwanted heater — no fire pit, umbrella-shaped patio heater, or fireplace-on-wheels was left to linger. "As soon as we get four hundred of the old, slow-selling items," Kromidas says, "they're gone in a couple weeks."
The planners of this world, clearly, spent the sticky overheated nights of this past summer stockpiling gear to ensure a warm winter. "There's a massive uptick in the fire pits in particular," says Jonathan Cedar at Biolite, a sustainable camp-stove and portable-energy company. "People want the cowboy culture feeling at home." Cedar was also floored by their sales this summer. "We can barely keep them in stock. A new shipment comes in, they're gonna be gone in an instant. We've scrambled to increase production, but there's only so much you can turn the knob on your supply chain."
It's growing more fervent, this instinct to warm your own small pocket of the great, frigid outdoors. Blanket sales, I also learned from Pendleton, have been overwhelming throughout the summer months. "This coming winter season is going to be exceptional," Linda Parker at Pendleton predicted to me over the phone, with well-layered confidence. Kammok, a company that sells high-performance alternatives to sleeping bags (like hammocks and trail quilts), shifted their design quickly when quarantine started. "We converted trail quilts into wearable pieces. The blanket can now wrap around in poncho mode, so you can keep it on with a cocktail in your hand," says Kammok's Emily Tan. "It's like a technical Snuggie." This blanket poncho might not be that different than a puffer coat, but sitting on someone's steps in a puffer coat feels like a prelude to going home; lounging on a porch in a pseudo–sleeping bag feels like fun.
Last week, I heard about a magical table that warms up your legs but somehow doesn't overheat its glass top. And then, of course, there's always a big, spendy installation like a hot tub. (My partner's parents were on the verge of getting rid of theirs, until the pandemic hit; it is now a prized possession, newly upgraded, ready for cold nights).
If you, like me, weren't quick enough on the jump to outfit your winter-wonder patio, another option still remains for you. Something intangible, something je ne sais quois: the trickery of lights and sparkle. "People are starting to look at homes differently because they're not going anywhere," says Alexandra Gater, who makes YouTube videos about arranging cozy dinner-party-friendly patios. "The question about outside spaces is: How can I make this feel really warm and inviting, and not like it's the only option?" Gater's answers included: "good string lights," "blankets on the chairs," and "candles on the ground, so they can melt. It looks so beautiful."
"Serve whiskey," suggested Emilee Sutherland, a party planner who I called to ask how she keeps fussy people comfortable at winter events. "My sister calls it 'the free heat.' You want to do three things: keep people warm, keep people busy, and keep people distanced," she says, with a comfortingly militaristic tone, about hosting friends in a chilly back yard. Hot nonalcoholic drinks work — as do hearty bowls of warming food, says Kia Marie, a Chicago-based wedding planner with years of winter wedding experience. And be generous with the HotHands, she said: "If you're smart, you'll put them in your socks."
Here, I find a surprising reminder: A shivery winter night can be amazing. While vaguely (and tensely) wondering about the mechanics of future holiday gatherings, I heard from someone who brought their annual Christmas party outside for the first time last year. To invite guests to appreciate the blustery, star-spangled Oregon night, they opened their doors to their patio and yard. The family set up two large heaters, built an outdoor fire, and draped blankets everywhere. And had a lot of drinks. "It's just kind of surreal," the host told me, "when there's snow on the ground, to be outside and have a coat on, with drinks, lots of lanterns, and lots of lights." This year, gathering outside may be the only option, but it can can also be a dreamy one. Distracting lights, free heat whiskey, friendly friends' faces — they don't fix the problem, but they make it a bit more bearable.