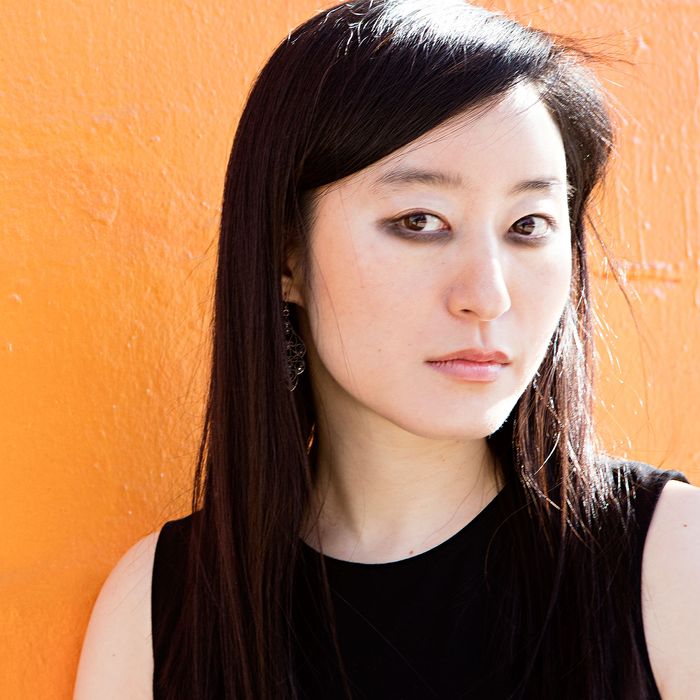 Photo: Smeeta Mahanti/Courtesy of R.O. Kwon and Penguin Random House
Want more skin care? Join our Facebook Group, the Beauty of It All.
When her favorite sunblock was discontinued, R.O. Kwon was worried she'd never leave her apartment again. "I was thinking, Oh, no, I've lost my true love," she says. "Of course, I did have to leave my apartment, so I researched the hell out of sun protection." The novelist eventually found a replacement and an even bigger love: skin care. "I find it endlessly satisfying to learn about the ingredients, the science," she explains. Cue a lot of experimentation, and eventually, a multistep routine.
Kwon realized her skin was reactive and finicky in high school, but it wasn't until college that she began taking Accutane to help with her acne. She says, "Even so, it's still temperamental. I break out easily, so I'm careful about what I use. I patch-test any new products slowly, starting with just a quarter-sized portion of my face." To her dismay, she's learned to avoid pure face oils ("Oils can be so nourishing!"), but her routine does include Stratia Liquid Gold, which includes rose hip oil and sea buckthorn oil, among others.
Kwon is the author of The Incendiaries, which is available in paperback today. The novel wrestles with issues of faith, a subject that's personal for Kwon. "I was raised deeply Christian, and I left the faith when I was 17. What this means is that, until I was 17, I thought I was going to live forever, along with everyone I loved, and I'm still appalled by the idea that we're going to have to die. I think that, with my beauty routine, to some extent, I'm engaged in the impossible, absurdist task of trying to halt time."
Read on for a look at the beauty water she describes as "sorcery," her go-to aloe gel, and the serum that smells like the "ghost of a lemon." And rest assured, Kwon believes in maintaining a reasonable skin-care budget: "Have I mentioned I'm a writer?"
The Cleanser
"I waited a long time before trying this one, I think partly because of its name. I mean, beauty water, what the hell — why am I paying for glorified water? But so very many people recommended this to me, and it turns out to be a lot more than water: It cleanses and tones, and even exfoliates a little. It's sorcery. What finally convinced me was the writer Nicole Cliffe's enthusiasm for it — she has a fantastic newsletter about, among other things, skin care. I've read that it helps my other products absorb more deeply, and I believe it. For one thing, ever since I started using the beauty water, I break out significantly less than I used to. I'll probably use this until I die."
The Toner
"This is so hydrating. My skin can get really dry, and doubling down on toner helps keep desiccation away. In addition to being hydrating, toners help any other future products absorb more effectively. Whenever people who have dry skin ask for skin-care tips, especially if they only want to add one thing to their regimen, I usually first point them toward toners or essences. Day or night, I never skip this step."
The Serum
"I won't go out into daylight without applying this serum. Vitamin C is great for skin on its own. For one thing, it fights free radicals and other skin ghouls. In addition, I've read that it helps prevent sun damage. This serum is inexpensive and straightforward, and I use it every day. Some people think vitamin C serums smell like hot dogs, but I've never noticed this phenomenon! Maybe my nose just isn't picking up on it? The Timeless serum just smells faintly, pleasantly citric, like the ghost of a lemon."
The Moisturizers
"In general, I try to progress from thinnest to thickest products, but I often break the rules a bit by using Liquid Gold earlier in the sequence. Liquid Gold is packed deliciously full of ceramides and oils, and it's so nourishing that sometimes I want it that much closer to my skin. I buy several bottles of this at a time, never wanting to run out. Everyone I know who's tried Liquid Gold loves it. I first learned about this indie godsend on an Asian skin-care forum on Reddit.
It's so soothing, especially if my skin's irritated. The actives I used are pretty aggressive, and the Liquid Gold helps nourish my skin so that I don't over-exfoliate. (Over-exfoliation is a real risk with actives, so much so that, whenever friends start getting into actives, I strongly encourage them to move very, very slowly.)"
"I realize this regimen is probably starting to seem, uh, long, but it doesn't take that long. Also, I use just a little product with each step, so everything lasts a while.
This was another recommendation in Nicole Cliffe's newsletter, and I love that it cuts down on shine while moisturizing. Taken together, the previous steps make my skin very shiny. I love glow, but I don't want to look as though I just got out of a rainstorm. The Original Skin dials down some of the glow.
The Soothing Gel
"This aloe vera gel is particularly useful if my skin is irritated or otherwise breaking out. I love that it's 99 percent aloe vera, too — it's so concentrated. I'll sometimes skip this step if my skin's not acting up."
The Face Masks
"CosRx is one of my favorite skin-care companies. It's a Korean brand, and their products are both top-notch and cheap. I get a dollop of the spa mask — which is essentially a midweight moisturizer — and a smaller dollop of the Cerave Healing Ointment, and I swirl them together in the palm of my hand. Then, I put it all on my face. The Cerave is occlusive, and I find that this mixture helps seal in the previous steps; otherwise, my skin tends to dry out by the end of the day."
The SPF
"This, for me, is the perfect face sunscreen. It never breaks me out. It combines a physical and a chemical sunscreen, which, according to my research, provides the most wide-ranging protection against the sun. It plays well with my makeup. I hope to god no one ever discontinues this."
"I use this when I want to reapply sunscreen. Sunscreen brands all say to reapply during the course of a day, but I wear makeup! This spray goes over makeup, hallelujah. Bioré is a Japanese brand, and this spray's not available in the U.S., so I buy it on eBay."