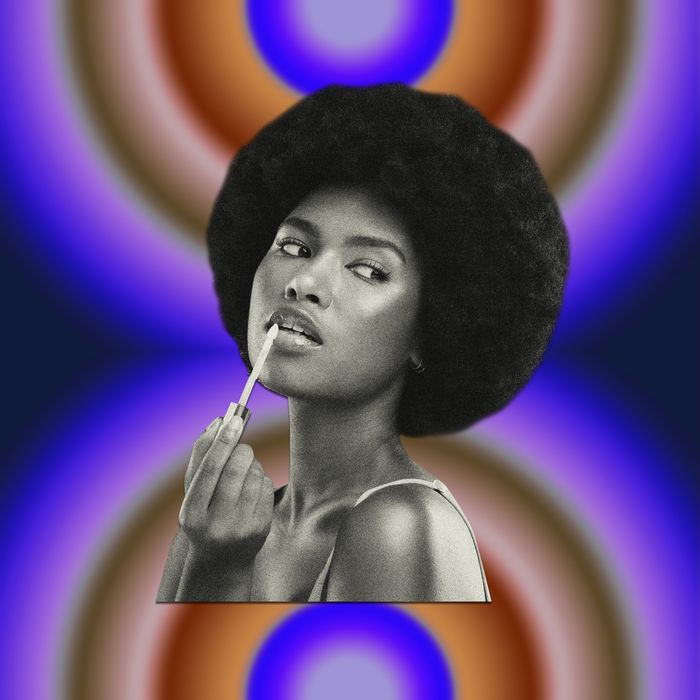 Photo-Illustration: by The Cut; Photo: Getty Images
According to the internet, there are lip glosses that last all day. But if we learned anything from last week's mascara scandal, it's that the internet cannot be trusted. That's why we go to the pros. I surveyed makeup artists on the topic of gloss longevity, and the consensus was that the longest a lip gloss will last without reapplication is two to three hours. (Makeup artist Criss Scortezz says his record is four hours but even he admits that it was a red-carpet situation where his client wasn't eating or drinking.) In general, the experts concur that thick formulas tend to last longer than thin, slippery ones, but they also say how you apply your gloss is more important than what you apply.
If longevity is your goal, choose a high-viscosity (i.e., less drippy) formula that's "very thick," says Scortezz. MAC's clear Lipglass is the perfect example — and a long-lasting recommendation that came up frequently during my informal survey of the pros. The other gloss I heard about repeatedly (and one I personally love) is Fenty Beauty Gloss Bomb. "I use this 99 percent of the time I'm doing a glossy lip," says Scortezz.
And don't limit yourself to products labeled gloss. Makeup artist Katie Jane Hughes says the Rhode Peptide Lip Treatment delivers long-lasting shine. "It has this crazy long-wear, emollient nature that I love," she says. Since the key to staying glossy is reapplying often, she also appreciates the Rhode treatment's squeeze tube, which makes reapplication more sanitary because you're not putting an applicator (or your finger) back into a tube or pot.
What you probably don't want is lip oil. Those moisturizing formulas may feel amazing, but they're typically not designed for longevity. "Lip oils are meant to be hydrating," says makeup artist Delina Medhin. "They may look glossy, but it's not the same as a lip gloss and it doesn't last because it's not meant to." (I tend to agree, but I've also found that the marketing vocabulary is not consistent between brands, so some lip oils—the Dior Addict Lip Glow Oil comes to mind—perform more like glosses. You'll have to test them out to see what works for you.)
Regardless of the gloss you choose, the way you apply it will impact the performance. "Dry or chapped lips interfere with longevity," says Medhin. The smoother your canvas, the longer the gloss lasts. She suggests exfoliating gently (that can be as simple as buffing flaky spots with a warm, wet washcloth), then applying a hydrating balm or moisturizer and letting it sink in. "Put it on before you start your makeup, as part of skin prep," she says. "By the time you get to applying gloss, most of it should be absorbed. Whatever hasn't been absorbed, blot off with a tissue."
If you really want staying power, use a waxy lip liner before you apply your gloss, says Scortezz. "Nowadays, everyone wants a super creamy, easy-glide liner," he says, but you need the grippiness of those harder waxes to prevent the gloss from migrating outside your lip line and disappearing. (Pencils with a matte finish that can be sharpened to a point, like NYX Professional Makeup Slim Lip Pencil and Ben Nye Lip Pencils, tend to be waxier than the cream- or gel-formula liners that come in a twist-up format.)
Another tip to keep your lip gloss from sliding into the ether? Pair it with face makeup that's less dewy. "You want the skin to be more matte," says Hughes. For extra insurance, "take some powder and apply that around your lips, almost creating a seal that prevents the gloss from moving," she says. An added bonus of this technique is that the juxtaposed textures (matte skin next to glossy lips) makes the shine appear more reflective.
Finally, don't feel the need to cover your entire lip area. "If you're strategic, you can get a fully glossed look that won't migrate as much because there's not as much product," Hughes says. Just dot gloss on those protruding spots makeup artists like to call "high points" — you know, the ones that stick out more, like your cupid's bow and the pouty center of your bottom lip. (If you're a visual learner, this video from Scortezz's TikTok account is an excellent tutorial.)
The beauty business may be all about hyperbole, but it's not just the cosmetics companies that are guilty of bombastic language. Often, your friends and the nonexperts in your social media feeds are just as guilty. So next time someone says they've found a lip gloss that lasts "forever" or "all day," just know that they probably mean three hours. Or, with the tips above, maybe four.
Lip Glosses That Last Forever*
* i.e., longer than most
Makeup artists love this slightly-shimmery gloss for its longevity. "The color of the original version [Universal Lip Luminizer] is perfect on every skin tone, lasts for a long time, and wears beautifully," says makeup artist Delina Medhin.
You'd be hard-pressed to find a pro makeup artist who doesn't have this thick, high-shine formula in their kit. "It lasts so long, especially the colored versions," says Medhin.
While technically not a gloss, this clear treatment is makeup artist Katie Jane Hughes's favorite product for a long-wear glossy lip. Go with the unscented version so you're less tempted to lick it off.
This balm-like multitasker delivers the same shine as a gloss, according to the pros. "It's especially great during the winter because it also soothes dryness, so it's like a two-in-one," says makeup artist Criss Scortezz.
Jennifer Sullivan answers all your beauty-related questions with practical advice and zero judgment. Send your questions to AskABeautyEditor@nymag.com. (By emailing, you agree to the terms here.)