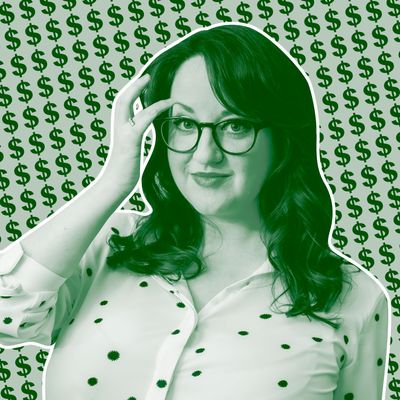 Photo-Illustration: by The Cut; Photo: Khristel Stecher.
Claire AH has worked as a matchmaker in the greater Toronto area since 2016 and took over her company, Friend of a Friend Matchmaking, in early 2020. During the pandemic, she made her business fully remote, which allowed her to take on more clients; today, she supports hundreds of people in different countries with both online and in-person dating. Here, she talks about the resurgence of interest in matchmaking, how she prices her services, and the role of money in the matches that she makes.
How did you get started in matchmaking?
In my previous career, I worked as a sex educator. I spoke at schools and universities and eventually became a VP at the sex-education company where I worked. Then, when I was 28, I had three strokes caused by a neck injury. I had to relearn how to walk, swallow, and use my hands. It was a hard reset.
A few months before the strokes, I had moved in with the person who is now my husband. We had started dating that year, so it was still a newish relationship. Going through a complicated recovery process with the love and support of my partner truly reframed for me what relationships could be. Once I got better, I started speaking about love, sex, and disability. I co-wrote an article in the American Journal of Occupational Therapy about my experience of navigating sexuality in the health-care space. Then I went back to school to study psychology, looking at the intersection of romantic relationships and disability.
Parallel to that, I saw that the matchmaker whose company I now own was hiring. I had actually worked with her briefly, as a client, before I met my husband. So in 2016 I started working for her, just part time at first. I was particularly interested in helping people with disabilities navigate the dating space, so I focused on that in the beginning. A few years later, the owner decided that she wanted to spend more time working on other projects, so I took over the company. The ink dried on the transition papers on February 14, 2020.
How did you deal with the pandemic as a business that's predicated on in-person contact?
That was definitely a bad time for traditional matchmaking. And a little nerve-wracking for me, because I was just ramping up as the new owner of the company. I had spent a good amount of money on rebranding and working on the website. I had gotten thousands of new business cards made. So I had to pivot. Especially in the early days, when people did not want to go out at all, I focused on coaching and helping people with online dating. Dating coaching is basically talking to people about their experiences with dating, identifying patterns that are unhelpful, and exploring different options to see what could work better. I'm not a therapist; sometimes we'll discuss sexuality and past relationships, but it's a forward-facing modality. We create a goal, which is not necessarily "finding a partner" — though it could be. Often it's something more like, "I want to feel better about dating" or "I want to be confident in online dating."
Ultimately, pivoting from more traditional matchmaking to coaching and helping people with online dating wound up being a much better business model. That also brought in a lot of new clients from all over the place, whereas more traditional matchmaking is pretty location-specific. The business bounced back pretty quickly.
How do you do pricing?
I have always offered a sliding scale for people for whom cost is a barrier. I work with lawyers, doctors, professors, and lots and lots of people for whom cost is not an issue, but I also work with students, seniors, and artists. I work with a lot of people who have disabilities. Some of them make tons of money, and some of them don't.
As a dating coach, my rates are on the lower end of the spectrum, but in the realm of normal. That's $100 an hour. And compared to a lot of matchmakers, I am very affordable. Currently, my matchmaking package is $749 a year in Canadian dollars [about $558 USD], and that includes access to a certain amount of coaching and support with online dating as well.
For online-dating support, I offer a few different packages. The most basic one is a 45-minute session that's $49 Canadian [$36 USD]. I also offer five sessions for $399 [$297 USD], where it's a longer process. That's good for people who maybe haven't tried online dating before or who have had very bad experiences with it.
Then I offer online matchmaking, which is really just collaborative swiping. Essentially, my client shares their screen with me, and as we swipe or think about how to respond to messages, we talk about them. I'll ask things like, "Okay, if we swipe on this person, do you think that serves you?" Or, "Why do you think this person is not a good match?" It's actively questioning why they're doing what they're doing, which is fun, but it also brings in an element of accountability. Everybody has areas where they need hand holding. It's sort of like having a personal trainer, but for dating.
What made you decide to keep your prices on the lower end?
I like the idea of being accessible. I'm not going to say dating coaching is a human right and everyone should get it no matter what, but it seems unfair to me that you can only get support if you have a substantial amount of money. I was a client before I was a matchmaker, and if the person I had worked with had charged $10,000, which is a pretty normal rate, I would never have considered it.
I want to work with all sorts of people, not just wealthy ones. And I think that I attract a certain type of client for that reason. I have some clients who certainly could afford a much more expensive matchmaker, but they want to work with me because it's a better fit, and they're interested in meeting the other types of people that I work with.
At any given time, I'm usually working with a couple hundred clients. I want to make enough money that I can live a comfortable life, but my husband and I keep our expenses pretty low. I make about $60,000 a year in Canadian dollars.
It seems to me like there is a shift away from online dating and apps these days. People are tired of them and they want more of a human touch. Are you seeing this?
A few years ago, there was this notion that Tinder was killing the matchmaking business, because online dating was so ubiquitous and easy. But there has been a shift back. I met my husband on OkCupid; I think online dating is great, but it's also hard, it's time consuming, and for a lot of people, it's uncomfortable.
I think the biggest value in what I do is helping people learn more about themselves, the type of person they're looking for, and, most importantly, the type of relationship they're looking for. And then how to actually move forward with that. Because even if I give someone their ideal match on a silver platter, if they don't know how to be present, kind, interesting, and interested, they're going to go on one date and that's it.
Do you screen your clients?
Yes. Before I take on any client, I always do a screening call with them, which I do not charge for. I don't take every client. It's important to me that we're a good fit, and that I can help them with what they need.
Sometimes people are just not a good fit for the type of work I do. I'm not a headhunter. I'm not going to fancy places, trying to pick up only multimillionaires and supermodels to match my clients with. I try to be very clear about that. As a matchmaker, I can get to know you, get to know other people, and do my very best to connect the many, many axes of what makes a good match. Ultimately, at the end of the day, chemistry is outside of anyone's control, so there's a limit to what I can do.
I'm also looking to work with people who are open-minded to a certain degree. I'm not saying if you're 20, I want to match you with an 80-year-old. But I do want people to open themselves up to dating people who might fall outside of the "types" they've been socialized to date. Race is a big one. Sometimes people want to date within their culture, and certainly some people of color have had bad experiences dating white people; those are different discussions. But for people who say, "I only want to date a white person," I'll talk to them about where that comes from, and if they'd be open to exploring it. If they are not, then they're not the people I should work with, and they're probably not the people that my other clients would want to date. They're just not a good fit.
Another thing that can pose problems is if someone has a very narrow aesthetic of the type of person they want to date. Like, "I'm only interested in someone under five-foot-two, and they have to be blonde." But on the whole, I'm a straightforward and communicative person, and I'm a good judge of character. I think that how I present myself and my business attracts a certain type of open-mindedness. So I haven't had a ton of issues.
Is there a concierge element to what you do?
That's where I differ from some of the more high-end, VIP, luxury services. I can help you plan a date, or talk about first-date outfits, things like that. I do not have an explicit concierge package because frankly, a lot of people want to go on a walk for their first date. In the earlier days of the pandemic, when people were doing video dates, I would do mock video dates with clients. I have had to tell people, "You need to wear pants, even if you're only going to be shown from the waist up; trust me."
I can also offer advice around photos that people use for their online dating profiles. I'll say, "Give me every photo from the past three to five years, even the ones you hate." We talk about which ones work and which ones don't, what order to put them in, which types of things should show up in various photos. I encourage people to have at least one photo, which I refer to as the "wedding day" photo, which is where you're dressed up. But you want to mostly show photos of yourself as you are day-to-day, and maybe as you are traveling, as you are playing sports, or as you are in a social setting.
What do you consider your "success rate" to be with matchmaking?
In terms of matches, I have a good handful of marriages and kids under my belt. And then lots more cohabitating couples, in happy ongoing relationships. But my type of service is not ideal for someone who is exclusively results driven. A lot of people think relationships have to go in one direction and that's the goal. But not every relationship is forever. That doesn't mean that it wasn't valuable, or that they didn't learn things and have great moments together.
What do you find is the thing people most need help with?
I think because society is geared to romantic love, a lot of people feel like there's something wrong with them if they don't have the innate ability to be a good dater. And by a "good dater," I mean confident and comfortable, knowing how to use apps, knowing how to meet people, knowing how to flirt. And those are skills that many people can learn, but they're not things that many people are innately good at. We don't say that about things like financial literacy. A lot of people need support. And we have embraced support and structure in other areas of our lives — like, people will sign up for a meal-subscription service or get an accountant or a therapist. The way I see it, this is just another area of support.
The Cut's financial advice columnist Charlotte Cowles answers readers' personal questions about personal finance. Email your money conundrums to mytwocents@nymag.com.