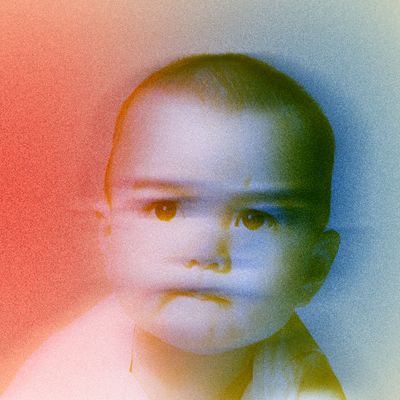 Photo-Illustration: The Cut; Photo Getty Images
Two years after Naomi gave birth to her second child, she felt ready to unpause her career and return to the fashion industry, where she'd worked as a buyer for 15 years. But her children were young— 2 and 3 years old—and Naomi, then 36, didn't want to commute daily from her home north of Manhattan. She craved a flexible, part-time role, and soon enough, she happened upon a seemingly perfect fit. The gig was at a trendy women's fashion brand, and the contract stipulated that she work in the office on Mondays and Tuesdays and from home on Wednesdays and Thursdays. Naomi liked that arrangement. On the work-from-home days, she could get things done around the house and glimpse her children as they popped in and out with their nanny.
She knew that the flexible schedule would be a trade-off: She wouldn't be eligible for health-care benefits, paid family leave (if she ever needed it), and a number of other perks, including retirement planning. But she was still excited about the opportunity. The company was on the rise and would be a boon to her résumé, and the money was solid — enough to justify the cost of the nanny. Plus Naomi's husband had a full-time job, so she and the kids could stay on the health-care coverage they had through him.
Naomi and her new manager agreed on an hourly rate, then Naomi signed a contract with no end date. "Overall," Naomi says, "the job was great." But there were a few red flags. Ten months after her start date, her manager — a woman — left, and Naomi began to report directly to the CEO. The company's leaders were mostly male, and the CEO's idea of kidding around was showing his female employees lewd photos of barely-clad women on his phone. "There was an air about them, this frat-boy attitude," says Naomi. "The CEO was kind of like, 'I rule this place. I'm the boss. I can say what I want.'" 
Around the time her first boss left, Naomi became pregnant with her third child. When she reached the 20-week mark, she told the CEO her happy news. As an hourly wage earner, Naomi wanted to earn as much as she could ahead of her due date. She told him she'd keep working until she went into labor and then take six weeks off — unpaid — after the baby arrived. She says her boss approved these terms without issue. At one point, however, he emailed her to say that he had met someone while traveling and was going to hire him to help out while she was gone. "The guy was based in another state and was going to fly up once a week and do the rest of the job remotely," Naomi says. "So the CEO started asking me questions about my job, saying he wants to get this guy set up. He asked me to send him a job description of my job for him to send to this guy. I thought that was a little bit weird."
Then, just one week from her due date, the company's CFO called Naomi into his office. She assumed he wanted to talk through a few minor details surrounding her leave — whether her invoices were up-to-date, when her official return date would be. Instead, he told Naomi that the CEO had decided to terminate her employment, effective immediately. 
Naomi shares the emotional turmoil and heated litigation that ensued. 
On the day she was fired
It was a Monday afternoon when the CFO called me in. It was around 3 p.m., and I was wrapping up for the day. On the days I worked in the city, I tried to make a 4:45 p.m. train home.
He goes, "I don't know why [the CEO] is doing this. I'm just the messenger. But this is your last day. [The CEO] thinks you're going to be too busy with the baby and you're going to be distracted. You probably don't have to work, anyway. Your husband probably makes enough. Go enjoy the baby. "
I was so caught off guard. I'm like, "Wait a minute — what?" And he just keeps talking: "I'm so sorry, I think you're great, but we've hired someone to do your job and this is your last day."
I was really distraught. I'm crying and feeling cramps in my abdomen, and the CFO is talking about how the CEO hired the guy I'd sent the job description for. I was raging.
So I told him: "This is not okay. I'm contacting a lawyer." Up to that point, he'd been apologetic. But when I said that, his tune changed, into like, Oh, shit. This isn't going right. 
"Oh, let me call you a car service," he says, all flustered. And I'm like, "No, thanks. I don't need your fucking car service."
I went back to my desk right after that meeting and sent all my emails to myself — anything that had any praise in it about my performance, anything related to the dirty, inappropriate stuff that happened at work. I didn't know when they were going to cut my email off.
It was quiet in the office that day, kind of empty. But my co-workers who saw me were like, "What the heck is going on?" They could see I was upset. I cleaned out my desk, grabbed my stuff, walked out, and never went back.
It was pretty brutal. Here I am, nine months pregnant, with two little kids, about to have my third child. I should've been thinking about having the baby. Instead, I'm thinking, Were there any signs? I had no indication that they didn't like me.
On hiring a lawyer before she delivered
I know someone who works with a lawyer who specializes in employment law, and we got connected right away. The next morning, I called them and told them what happened. Right away, they said that I had a case. They said it was illegal under federal law for the company to fire me while I was pregnant and that it was discrimination. And that's how they filed: The claims were unlawful termination and discrimination. They said it didn't matter that I was a contractor because, apart from the way I was being paid, I worked like a staff employee. I had a company email, a company computer, and I wasn't working for anyone else — just the company. I was doing the same job as the full-time employee I'd replaced.
All of this was happening when I was one week out from delivering. So the lawyers heard me, but then we stopped talking for a while. They were like: "Don't stress. Have the baby, and we'll touch base after."
On having the baby and bringing him home
My son was born in early June. And the day he was born, I couldn't stop thinking about the lawsuit. Finally, my husband was like, "Okay, you can't think about this right now. Just focus." But even when the baby came home, I had this awful cloud hanging over my head. I was out of a job; it wasn't like I had been given notice and severance. I was like, What is my plan? How am I going to keep paying for my nanny with me out of work? I didn't want to just let her go; I knew I needed to give her time to find a new job.
It was also scary to think about what could happen to us financially if we didn't win. My lawyers were giving me a discount on their fees because I knew them personally. If we won, I'd have to pay them 15 percent of what we got, rather than 30 percent, which is closer to what most people pay. I didn't have to pay them until after the process was over. But if we didn't win, we'd have to come up with their fees out of our own pockets, and it would be tens of thousands of dollars.
I signed a letter formalizing my engagement with my lawyers in late June. The first thing they said we had to do was file a discrimination complaint with the Equal Employment Opportunity Commission. The EEOC looks at these cases, and it doesn't take all of them. My lawyers said that wasn't a big deal and that we could sue in federal court if the EEOC decided not to act on my complaint.
Everything seemed to be moving pretty quickly. My lawyer would call me randomly, pretty much every day. When the baby was really little, he slept a lot, which allowed me to take the calls. Or I'd be nursing and be on the phone with the phone on speaker. In September, we decided to part ways with our nanny and things got harder. I'd be feeding the baby and dealing with the kids and talking to the lawyers. They watched a lot of shows. Sometimes I'd lock myself in the bathroom. The calls ran long, sometimes for hours. It was extremely stressful. I remember being in the car, driving the kids to wherever, and the baby would be crying in the back. The lawyers would be trying to talk to me while I was driving, and I'd be reaching into the back, trying to shove a binky in his mouth to keep him quiet.
We ended up filing the complaint in October, and the EEOC didn't take the case. After that, we formally sued in federal court.
On the most harrowing parts of the lawsuit
The company executives had to hand over their computers so my lawyers could go through everything. It was pretty clear they didn't have anything to stand on. At one point, my lawyer found an email between the CEO and my former boss; the CEO wanted to get me to work more hours but for the same amount I was already getting paid. That didn't look good for them.
They tried to paint me as a bad person and a bad employee — which was exactly what my lawyer said they'd try to do. "They're going to try to destroy you so you drop the lawsuit," he told me.
I was pissed. I was like, This motherfucker. I'm not letting him win, because I know who he is and he knows who I am. I had just had a baby; no one was going to hire me. In fact, I had to demonstrate that — I had to show that I was looking for jobs and couldn't get them. And that was true. We were still in the middle of the suit in 2020 when the pandemic started. Fashion and retail took a huge dive, and there was a ton of economic uncertainty, which made it even harder to find a job, let alone something part time.
The CEO's lawyers kept trying to drum something up against me. One time they brought up this personal email I'd sent from my work-email address to my husband; it had to do with our nanny. I think they were trying to paint us as bad parents or something.
Then they approached my sister and one of my friends to try to call them as witnesses. The CEO's lawyers had emailed me, asking me to confirm my sister's address. They threatened to go to her house and hand her some papers to get her to talk. I wrote back: "You can't contact me without cc'ing my lawyer."
They also approached my friend. She called me afterward, upset and angry. Someone had come to her house with papers, and she was scared. She was like, "Why is my name in this? I need to pay for a lawyer now? I need to go into the city?" I felt really bad. I never meant to hurt anyone.
My lawyer was pissed. He was like, "This is out of control." He's this older guy who doesn't take shit. "Don't worry about this, we'll handle it," he said. "They're using scare tactics, messing with your family and friends, to get you to back out." Everything ended up being fine; my lawyer filed a statement on my friend's behalf. But it sucked that it happened.
On winning the lawsuit
We went into mediation; everything was virtual. During the mediation sessions, it was me, my lawyer, and the CEO and his lawyer. The mediator would ask us questions and we'd go back and forth.
Ultimately the mediator was like, "Okay, if this suit ends up going to court, all of this is going to be public." We're talking about a women's clothing brand; if women know you treat your female employees like this, they're not going to want to buy your shit. And the CEO's name would have been blown up, and all of his investments in his other business ventures would have, too. The investors he worked with kept pushing for him to settle.
About a year into the whole thing, the mediator decided it was in the CEO's best interest to settle too. We'd asked for $115,000, which amounted to one year of my pay. My lawyers wanted me to compromise on a lower number, but I wouldn't. I was like, This guy is a fucking asshole. Fuck that. The amount of time I put into this — probably hundreds of hours at that point, between phone calls and emails and all the hours of sleep I lost — he cannot get away with this.
So I kept pushing. Then one day my lawyer called. I'll never forget it: I was driving to pick up the kids at school. My lawyer goes, "We got it! They settled!" And I screamed. My husband was working from home that day, so when I got home, I ran upstairs to tell him. I was so excited. It was like, "Oh my gosh, we did it." After taxes and paying my lawyer's fees, I got about $65,000. It felt so, so good.
On the long-term impact of the lawsuit
For a long time after I was fired, it was still so raw. I kept thinking, Is everything we're going through worth it? A couple of months after the suit was over, I went for a job. They were about to hire me — it was great, part time, a good fit. Then one day they called me and asked me if I had worked for the brand that I was suing. I was like, "Yeah, I did, why?" I never heard from them again. So I do think I was a little bit blacklisted.
When my industry started to bounce back in 2021, I started looking for another job. Then I got pregnant with my fourth child. He was born in July 2022. At that point, I sort of accepted being a stay-at-home mom for a while. My husband had taken a really demanding job that required him to travel a lot; he travels 22 days out of every month. At this point, we'd have to really rearrange our lives for me to go back to work.
On her future career
I think next year I'll start looking again. I miss it. I'm a creative person. I'm in the PTA, and I'm a room parent for my kids' school, but I like working. It's hard not having that outlet. I'd love to own my own shop someday or go back to work as a part-time consultant. I know I have a gap on my résumé. But COVID did that for a lot of people.
Would I have done everything I did all over again? Would I have sued? Yeah, I think so. For me, it was worth it. But I understand why other women in similar positions wouldn't do what I did. I knew that if we lost, we were going to be out of a lot of money, but we weren't going to go bankrupt. My husband had a good job, and we would've recovered. And my lawyer and his team worked their asses off. It worked out. I was lucky.
The subject's name has been changed to protect her identity.