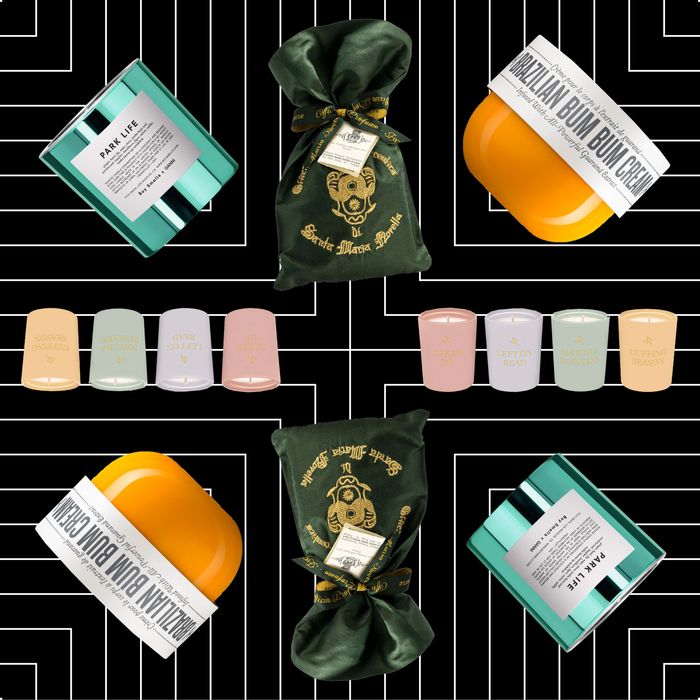 Photo-Illustration: The Cut; Photos: Retailers
Gifting someone else a fragrance can be hard, but it doesn't have to be. To keep you from wandering the aisles, wafting in the different scents until you're light-headed, we have here 17 good-smelling gifts (and not just candles, though yes, candles too). Isn't the highest compliment being told you smell good?
For the Hygge Expert
For the Green Thumb
This isn't just any lemon tree, it's a Meyer lemon tree, whose citrus is said to have a more floral, even slightly spicy aroma compared to regular old lemons.
For the Person Who Has Everything
This sachet filled with a mixture of buds, leaves, and flower petals typical of the Tuscan hills is the sort of luxury we'd never buy for ourselves but would love to get as a gift. Santa Maria Novella is an apothecary in Florence, Italy, and the oldest pharmacy in the world. The proprietors have been making potpourri for three centuries — they know what they're doing.
For the Candle Devotee
These candles from Jackie Aina lean toward the sweeter side with notes of caramel musk and vanilla. There are a variety of scents in this set, so you can leave one in each corner of your home, and even if you don't light them, you'll get a whiff of the warm notes.
For Your Most Sophisticated Friend
A diffuser is a good way to scent your space safely (no fire hazard) and naturally. This one is attractive enough that you can leave it out as decor, too.
For Mom
Perfect for an at-home spa day, or every day. Mom get super-soft skin, plus the aroma of warm almonds and vanilla. If she likes it, you can buy her the refill (with 78 percent less packaging) next time.
For the Minimalist
Chic enough that you might never want to light it, Ceremony features notes of citrus, cedarwood, and Palo Santo. The concept brand from Afro-Latina artist Dawn Marie West features ethically sourced essential oils and apricot and coconut blend wax.
For the Man in Your Life
Ralph's Club, the new men's fragrance from Ralph Lauren, is a sensual, woody scent crafted exclusively from the highest-quality natural ingredients. Sleek, sophisticated, and stylish.
For the Beach-Bound
Cut beauty director Kathleen Hou deemed this the best-smelling lotion in the world: "It smells like something you would want to eat — a creamy, warm dessert made from scratch and like a mix of pistachio, buttery caramel, and nuts, with the key word being delicious (unless you have a nut allergy)."
For Your Fashion-Forward Roommate
For a scent that looks and smells pricier than it is, look no further than this Ganni collab. Park Life smells outdoorsy and fresh, but still has notes of vanilla and sandalwood.
For the Friend Who Took Up Baking During the Pandemic
Send a person cookies, and you feed them for a day. Send them an assortment of frozen cookie dough, though, and you fill their home with the smell of freshly baked cookies any day.
For Your Favorite Co-worker
It doesn't have to be expensive to be great. Ashlea Halpern over at the Strategist describes the scent: "Delicate but powerful. Not in a nose-singeing, throat-scratching, dorm-room patchouli kind of way, but more like I'd stumbled into a dewy meadow or sun-dappled timberland and inhaled with all my might."
For the Hard-to-Buy-For
Simple and minimal, this candle has subtle notes of orange, bergamot, and cardamom. Keep this earthy and woody candle lit or leave it as a centerpiece on a coffee table.
For Your S.O.
This is like a gift for you too — your partner will smell better than they ever have before. And nothing says "I think you're a grown-up with long-term relationship potential" like fancy detergent.
For the Holiday Host
With notes of winter rose, sugar plums, and sandalwood, this candle smells like opening gifts and watching Elf for the hundredth time.
For the Sleep-Deprived New Parent
This lovely little pillow is billed as a relaxation aid for yoga and meditation, but we're in favor of just using it while lying on the couch too. It offers lightweight pressure and the subtle scent of lavender.
For Pretty Much Everyone
Get into the holiday spirit with a festive scent. Spruce is earthy with notes of citrus, spiced pumpkin rivals your PSL, and vanilla ghost pepper features cinnamon and violet. Gift one to everyone on your list.