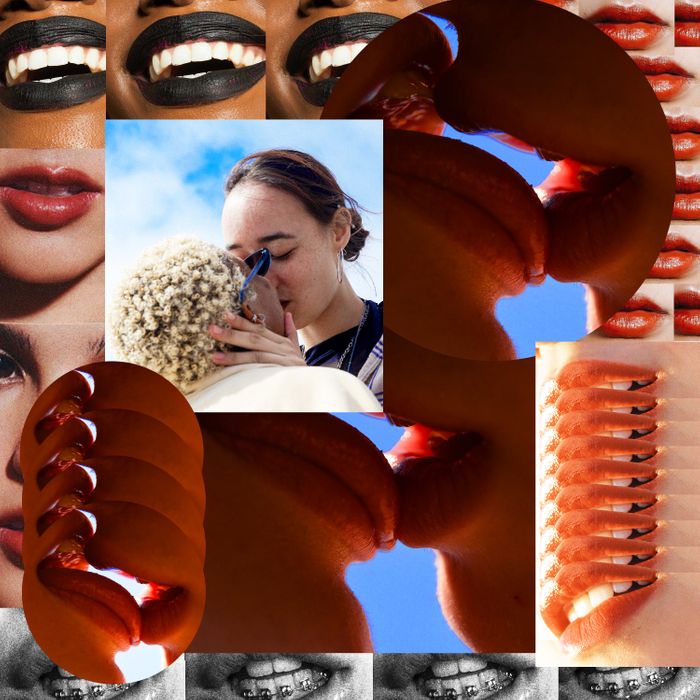 Illustration: by Marylu E. Herrera
This week, a woman tries to have a tough conversation with her boyfriend and wonders whether he's really getting what he wants in bed: 25, in a relationship, Queens.
DAY ONE
6:30 a.m. I'm a teacher, so I'm used to an early wake-up. My boyfriend, B, starts much later than me (he works in tech), so I always feel guilty that my alarm wakes him up so early. He basically plays dead this morning when I roll myself toward him. I'm a little horny and would have loved a quick fuck, but I guess he's not in the mood … I'm getting used to that.
7:30 a.m. Get to my school. I teach at an elementary school, and I love it. It's very rewarding.
2 p.m. I get a text from my most sexually awakened friend, K, who's helping me figure out a problem with B. When we first started dating, we had consistently hot sex for the first few months. But lately his sex drive seems to be dwindling. I suspect he's interested in kinkier sex but won't actually express it to me; when I was blowing him recently, I licked his asshole, and he totally lost his mind. He was screaming with delight. I know most men like that, but it seemed to unlock something in him. The same thing happened when I pinched his nipples while having sex. He told me to "pinch harder" but then seemed shy that it came out of his mouth.
K says it's all about communication. No kidding! But easier said than done. We've only been dating for six months after meeting online. He just moved in only a few weeks ago, and that's because it was economical and also technically temporary (he might be relocating for work in a few months and didn't want a full-year lease). The point is it feels as if we're not solid enough yet for a really tough conversation. I say "tough" because he doesn't seem ready to go there. I've tried, and he's changed the subject out of discomfort.
4 p.m. I walk home while listening to an audiobook. I pick up some wine on the way.
9 p.m. My boyfriend comes home from work. He takes a shower, has some leftover dinner, and tells me he wants to finish CODA on his laptop. He's sweet, not rude or anything, but it's not the right night to address our sex life. We haven't had sex in two weeks — did I mention that?
DAY TWO
6:30 a.m. When I wake up today, I curl up into B — he's hard. He wraps his arms around me, but when I start kissing him, he mumbles something about both of us having morning breath. More rejection …
3 p.m. After school, I tell K that I'll meet her for a beer. She's in theater and seems to be free all the time. K has met B only once — COVID times, remember — but she thinks we should all go out this week so she can assess things better. She is queer and fluid and very comfortable with her sexuality, but she also understands that we are a bit more traditional, and I know she doesn't judge. I text B for a good night, and he suggests tomorrow. We finalize the plan!
6 p.m. Drinking a glass of wine. B texts about bringing home sushi for dinner.
7 p.m. Over sushi and more wine, I tell B that I'm "missing" him. I know he knows what I mean. I've always been a horny person, and with him, I'd be happy having sex every night. I love his body and his penis, and I always get off from our sex. Oh, another weird thing is he doesn't really go down on me. I think he just knows how much I love "sex-sex," so he gets right to it. He's not wrong.
9 p.m. I'm pretty aggressive as we're getting ready for bed, like caressing him and stuff. I lead him to the bed, and we get into it. It's pretty standard, vanilla sex, but we both get off. Maybe there's no issue? Perhaps it's a libido situation, and his is lower than mine. I just have a feeling there is something else going on with him and his desires, though.
DAY THREE
10 a.m. It must be a full moon because my students are all acting out. Today will require a lot of patience. I try to focus on how excited I am to hang with B and K tonight.
12 p.m. I sneak away from work for a quick manicure. There's barely any time to do things like this, but today there is. I go with black nails … kind of goth. Let's see if B responds to them in an interesting way?
4 p.m. I walk home and feel happy that I get home before B so I can try on outfits and work on looking my hottest tonight — without him knowing it took any effort.
6 p.m. Take the train to the bar in midtown. It's near where B works and where K has a meeting.
7 p.m. Show up just on time. K is there, saving us a table. B arrives shortly after. We immediately start taking shots.
K spends most of the time talking about her lovers while B and I listen. He's laughing and being super-nice to her, but it's not too revealing regarding us. When I talk to K in the bathroom later, she says she likes him but doesn't necessarily have more insight into his sexual preferences. The conversation has been so focused on her!
11 p.m. Get an Uber home (thanks to B's work account). We're holding hands and kissing a little, but we feel a little on edge.
11:45 p.m. We go to sleep. Since we had sex last night, I know we won't tonight, so I don't even try.
DAY FOUR
11 a.m. Teaching with a hangover is a painful experience. But I get through it. I love my kids and can't wait to have kids of my own. Children always make me happy, and I'm grateful for them.
4 p.m. As I walk home from work, I call my sister and tell her I think B might have (or want) secret desires and needs he's not telling me about. She says I'm creating problems where problems don't exist. "You're happy. You're not fighting. No one is cheating. He's nice. He's doing great at work. Stop being a drama addict." I am not addicted to drama! At least not more than any other 25-year-old.
8 p.m. B comes home, and I ask him to talk. I tell him I feel we're a little off lately. He looks at me genuinely and says that as far as he's concerned, we are fine! He seems to mean it. I hate that I sound so insecure. I also hate that my mind must be playing games with me — because I'm still not convinced.
10 p.m. We end up having sex. It's pretty hot, I have to say. It's passionate and slightly rough — he pulled my hair a little and also just held my breasts harder. Was B just trying to prove something to me and himself? Or are we, perhaps, back on track … ?
DAY FIVE
8 a.m. All teachers love Friday.
4 p.m. On my walk home, I call K and tell her I think B and I are back on track. She jokes around, but it genuinely feels as if we've turned a corner.
7 p.m. B and I decide to go out for dinner. We get Mexican food at a local place. We're drinking margaritas and just talking about bullshit. It's nice.
9 p.m. While on the couch watching another Oscar contender (we're trying to watch as many as we can before the awards), I ask B if he's happy with our sex life.
"Yes! Very happy," he says, kissing me on the head.
10 p.m. We both fall asleep on the couch.
DAY SIX
3 a.m. I move myself from the couch to the bed.
10 a.m. We're still in our pajamas. I love the weekends.
3 p.m. While cleaning the apartment together, B tells me he wants to talk to me about his job situation. It sounds as though it's up to him whether he moves to another office (on the other side of the country) or not. The other office comes with more money and more clout, but he can stay here and keep doing what he's doing. He tells me he thinks we should make the decision together. That means a lot to me.
9 p.m. We're watching another movie in our bed, and I feel very, very close to him. We even talked about the possibility of me moving across the country with him.
10 p.m. Tonight feels like we evolved in a good way. It's not all about sex.
DAY SEVEN
9 a.m. We decide to go on a long walk to talk through all his job stuff.
10 a.m. Holding hands while walking through Prospect Park, I feel extremely close to him. It strikes me that this is the perfect time to mention our sex life, so I do.
I ask him, without any drama or judgment, if there's anything he'd like to explore more together. I try to sound as lighthearted as possible. He thinks for a moment …
"Yeah, I mean, it would be cool to try new things together. Right? You know, keep it spicy."
I know I can ask for specifics, but I decide to leave it there for now. He seems happy and is kind of laughing at how cute we are.
4 p.m. We go to the market for some groceries and to buy some items for a fish dish we're attempting tonight. Neither of us is a naturally good cook, but COVID demanded we get somewhat into it.
9 p.m. We're getting ready for bed, and I blurt out, "Hey, what kind of porn are you into?" He deflects by asking, "What kind of porn are you into?"
In this moment, he seems kind of immature. It annoys me a little, but then I remind myself that I'm pretty immature about this stuff, too. I can't be a total hypocrite. Neither of us answers the question. But hopefully we will when we're ready.
Want to submit a sex diary? Email sexdiaries@nymag.com and tell us a little about yourself (and read our submission terms here.)