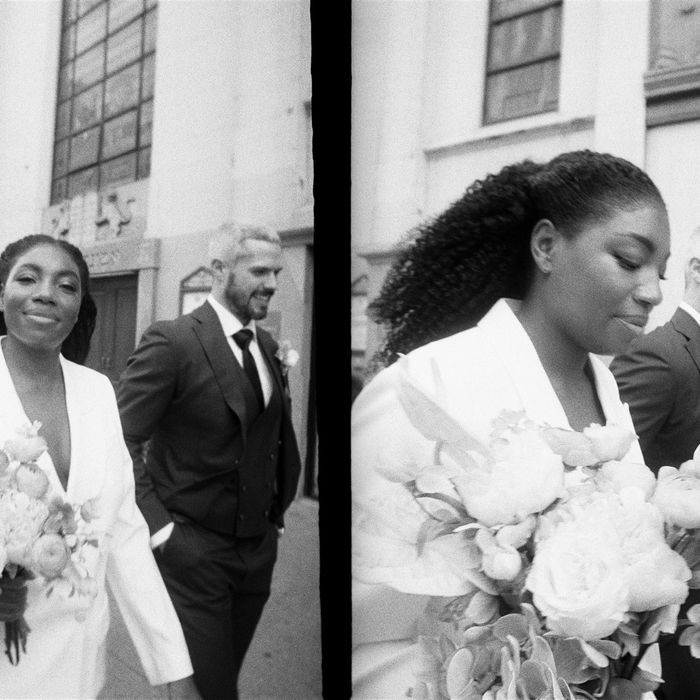 Photo: Chellise Michael Photography/Chellise Michael Photography
When we ask newlyweds to think back on what they wanted most for their big day — and we've interviewed hundreds of them over the years — the most common response is "For it not to feel like a wedding!" Gathering with old friends and eating mini–grilled cheeses in formalwear to celebrate love feels more special these days than ever, even downright miraculous. And the betrothed have never been less attached to the old wedding handbook — or the need to please their great-aunt. So in a flurry of pampas grass and perfectly mismatched-to-match bridesmaid dresses, how do you pull off a non-cookie-cutter affair? For the answers, we decided to interrogate the cool couples whose weddings we would actually want to steal, right down to the tiger-shaped cake toppers.
Here, we spoke with LeAnn Richardson, a creative strategist at Pinterest, and Kevin Bucaccio, who works in art handling at UOVO. After getting engaged in 2022, they set out to have the most low-key, non-wedding wedding possible; they even considered skipping the ceremony altogether. Ultimately, though, they said "I do" this past May in front of 60 guests in the garden at Bottino in Chelsea. The restaurant venue allowed them to skip décor and focus instead on their meticulously tailored suits. The celebration continued at a colorful cocktail bar, where another 20 guests joined and things got silly.
LeAnn: I'm very type A, detail oriented. He's more laid-back and casual, which I need. Otherwise I would stress myself to death, as I kind of did with this wedding. (Yes, even though it was super–pared back and simple.) Anything that's happening in New York, you need to have eight contingency plans. I pretty much creative-directed the entire thing, which was really fun for me because I usually use my design skills at work to make an ad for Cheerios.
Kevin: I met LeAnn at a Memorial Day barbecue. I'd been riding my bike, and I showed up all sweaty and wild and LeAnn was the first person I saw when I walked in the door. I made a plate and sat with her, and I remember thinking, I have to leave with her.
LeAnn: We've been together since that day.
Kevin: Our first trip together was to Puerto Rico, and that's where I proposed in February 2022. We were looking for sea glass on the beach, and I said, "Oh, what's that piece over there?" When she turned around, I was on one knee. We knew we wanted a simple wedding, stripped down.
LeAnn: Really just family and close friends. I didn't even want flowers. We did it at a restaurant because I didn't want to build out a space. With a restaurant wedding, everything you need is right there.
Kevin: We ended up [deciding] between Locanda Verde and Bottino. Those were the two places where the food was delicious, they had a lot of really good reviews, and they got back to us quickly.
LeAnn: I created a scorecard, and we gave points toward each and everything we tried, then added it up to see which restaurant ranked higher. We whipped it out at dinner, and I had to tell the waiter, "We're not being weird. We might get married here! Don't mind our scorecard."
Kevin: Bottino has a semi-outdoor space — a covered patio in the back with some greenery — and that was a big bonus.
LeAnn: The restaurant itself is really beautiful, so we didn't decorate at all. They even put flowers at all the tables, so that was great — saved a buck. But I designed the invitations and all the signage myself. The inspiration was Matisse cutouts. Because I didn't have "wedding colors," I wanted just one color that would work with Bottino's vibe. It was a pale blue against off-white.
Kevin: I knew that I wanted a dark-green suit, a pine-green color. I got a full, custom three-piece one from Suitsupply, but a huge shout-out to Sam Leung Bespoke Tailoring and the associate there named Daniel. He did a phenomenal job pinning the suit and making the jacket feel like it was my own.
LeAnn: I got my suit tailored there too, and that man is an artist. I've always had an appreciation for fine tailoring because I'm a Project Runway addict, but to see it in real life? I decided on a suit because I really wanted something I wouldn't feel self-conscious in at any point, like, Oh, is my bra strap showing? I didn't want to deal with anything like that. I bought four. It was a lot of trips to UPS for returns. The fourth worked, the Tatum blazer and trousers from the British brand Reiss. I loved that it was so clean and simple.
Kevin: I'd seen Travis Kelce in a GQ article years ago wearing a suit with Chelsea boots, and that's what I wanted for shoes.
LeAnn: A guy came up to Kevin when we were taking photos on the street and said, "Her suit's better than yours."
Kevin: We got a suite at the Hotel Chelsea so LeAnn could have the girls in there and get ready. I got dressed in my parents' room.
LeAnn: I knew I wanted to do natural hair. My hairstylist, Daryce Tolliver at SBR Hair, specializes in Black brides with natural hair. She feels that Black brides are often told "Here's what you can do; here's what you can't do." And she's like, "A Black bride can do her hair however she wants — bone straight or a big Afro." My makeup was by Caroline Baribeau, who I found through our photographer, Chellise Michael. I chose her because I had white and Black people in my bridal party, and her portfolio showed makeup on people with different skin tones. She was such a calming presence on that day.
Kevin: She was out on the balcony when I went in, so that's how Chellise did the "reveal." Honestly, I was a nervous wreck the whole day until I saw my wife.
LeAnn: Seeing him was very calming because I was a nervous wreck. I was so on edge! I was really nervous about everything coming together and everyone having a good time. Just a ball of stress the whole time.
Kevin: We knew we wanted to keep the ceremony very short and very straightforward, but heartfelt.
LeAnn: At first, we weren't even going to do a ceremony because it felt too weddingish. It didn't feel like me. Then my friend Anne got married, and she was the same — very anti-tradition — but she told me the ceremony was her favorite part. And Kevin's sister got married, and the ceremony was beautiful. I left that saying, "Okay, I want to have a ceremony … but not more than ten minutes long."
Kevin: It was an easy choice to have LeAnn's sister, Nikita, officiate. She's one of our best friends and certainly knows us the best.
LeAnn: We are the three musketeers. We do everything together, a little New York family. Plus she's a great public speaker and she's hilarious. We had three readings: His mom read "Blessing of the Hands," by Daniel L. Harris, and his sister did "The Orange," by Wendy Cope.
Kevin: My sister's was the cutest thing I'd ever heard. I was in tears. Everyone was in tears. I'm a big crier.
LeAnn: I knew Kevin would cry. He is very emotional. But she read "The Orange" and I was bawling. Oh my God, it was such a beautiful poem. I need to get it framed. And my best friend, Collyn, did a reading from One Tree Hill. I told people they could pick whatever they wanted!
Kevin: Then we had a little cocktail hour with passed apps. I remember eating a ton of bread at that point — there were two types of crostini and a focaccia with prosciutto — and I know there was a whiskey drink.
LeAnn: I did not eat any food on my wedding day.
Kevin: I made playlists for the cocktail hour and dinner on Spotify — Justin Townes Earle, Lana Del Rey, a little Adele.
LeAnn: It was a mix of chill tones, just laid-back music. Dinner was four courses, served family style with a plated entrée. There was a market salad, and the fried artichokes —
Kevin: Everyone raved about the fried artichokes.
LeAnn: And then for entrées, there was a choice of cavatelli alla norma, cacio e pepe, branzino, or a New York strip steak. There were two speeches: Nikita spoke and Kevin's brother, Matt. They were both phenomenal. I was blown away. My sister is media-trained, so I wasn't surprised that she crushed it. But it was really beautiful.
Kevin: Matt talked about how we are around his son, Everett, and LeAnn and I think about having kids in the future, so hearing your brother talk about you that way is always going to bring tears.
LeAnn: We're obsessed with Everett. We forwent a cake because there were desserts included in the package and I didn't want a cake to go to waste after a multicourse Italian dinner. We had tiramisu, a pecan tart, and mixed berries with zabaglione or sorbet.
Kevin: The after-party was at a place called Jungle Bird, where we rented out the Canopy Room.
LeAnn: We went back to the Hotel Chelsea to change. I knew I couldn't dance in my suit, so I wore a sparkly dress with insane glasses from my friend Kerin Rose Gold of A-Morir Studio, who makes the most incredible crystallized accessories. She's made stuff for Beyoncé and Lady Gaga and let me borrow three pairs. Kevin wore these very rare Nike sneakers, Strawberry Dunks, that he got as a gift from his brother.
Kevin: A guy stopped me on the street on our way to the party — he was really excited about the shoes. We were introduced to the party with the Sopranos theme song, then had our first dance to "This Heart of Mine."
LeAnn: We wanted the party to be nonstop dancing. The drinks were amazing — like their signature, the Jungle Bird. I probably had too many of those.
Kevin: Our DJ was Kevin Lim. He was amazing. That party was raucous.
LeAnn: Just a ridiculous, silly dance party. So many of our friends are really silly people. Everyone was dancing like a lunatic, and it was the best time ever.