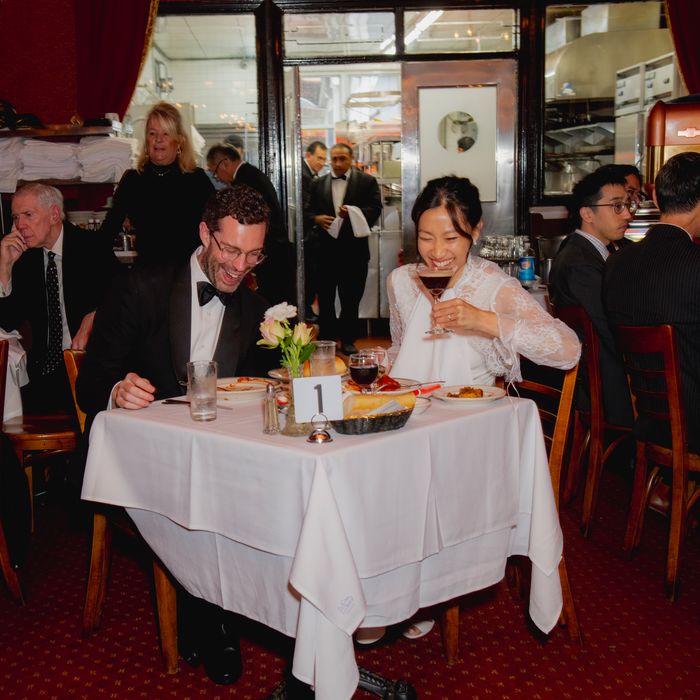 When we ask newlyweds to think back on what they wanted most for their big day — and we've interviewed hundreds of them over the years — the most common response is "For it not to feel like a wedding!" Gathering with old friends and eating mini grilled cheeses in formalwear to celebrate love feels more special these days than ever, even downright miraculous. And the betrothed have never been less attached to the old wedding handbook — or the need to please their great-aunt. So in a flurry of pampas grass and perfectly mismatched-to-match bridesmaid dresses, how do you pull off a non-cookie-cutter affair? For the answers, we decided to interrogate the cool couples whose weddings we would actually want to steal, right down to the tiger-shaped cake toppers.
Here we spoke with restaurant publicist Phoebe Ng, who has worked with Le Bernardin, Cosme, Jean-Georges, and many more, and Chase Sinzer, co-owner of the beloved restaurant and wine bar Claud and former wine director at Momofuku Ko and Chef's Table at Brooklyn Fare. Their myriad connections across New York's hospitality industry helped bring their September 2023 wedding together, though they did have to call on Sinzer's mother (for whom Claud is named) to book the main event. The celebration included just over 100 guests spanning City Hall to Bamonte's to a studio space and warehouse, culminating in one unforgettable dessert line-up.
Chase: I have more fun with Phoebe than anyone else. And the way that I had fun — especially six years ago when we met — was strictly defined as going out to restaurants.
Phoebe: We definitely shared a very serious love for restaurants.
Chase: I never had more fun going out to restaurants with anyone than I did, and continue to do, with Phoebe.
Phoebe: Being from L.A., I've always had this love for doing what I think are essential New York things, and tea at the Plaza felt like a silly rite of passage.
Chase: As someone who grew up here, I'd never wanted to do that in my life. But I thought it would be cute.
Phoebe: We got all dressed up one Sunday, and as we're walking up the steps of the hotel, he gets down on one knee. I basically blacked out, and strangers were clapping.
Chase: We had tea, and then I rented out the private room at Estela and we had dinner there, just the two of us.
Phoebe: I wanted to elope.
Chase: We were not going to elope. She's much more introverted. The hardest thing for me is having enough people somewhere, and the hardest thing for Phoebe is: Why do all these people have to be here?
Phoebe: His job is planning a party every night, and he loves it. As a publicist, I love going to dinners and other fun parts of the job, but I didn't know if I wanted to also plan this personal event. It felt too much like work.
Chase: We weren't going to have a traditional ceremony with fireworks and some stupid shit, but maybe we could do something in the middle?
Phoebe: The middle was around a hundred people, so we started looking at venues. We were going to go with another restaurant in Brooklyn, but then they were under construction in September, and I thought of Bamonte's. We'd had a really fun dinner there once.
Chase: My mom and dad are from Bay Ridge, and my mom is a red-sauce woman. Bamonte's only does buyouts for Saturday lunch, and you need to call at 2:15 p.m. on Wednesdays to have this discussion.
Phoebe: For about a month, we played phone tag. Before we nearly gave up, we decided to deploy Chase's mom. On her first try calling, she of course got a hold of Lisa Bamonte directly.
Chase: She's now best friends with Lisa Bamonte.
Phoebe: They're on a text basis now, obviously.
Chase: We decided to have a civil ceremony, lunch, and then a party. That just felt organic to us. The party was at SOS Atelier. The company owns a shop in Alphabet City, makes spice blends, and has a big warehouse in Brooklyn. When I was at Brooklyn Fare we used them a lot, and Phoebe's done events there.
Phoebe: It has such a cool layout, and it felt fun to keep it in the hospitality world. We didn't bring any extensive décor into either space; Bamonte's is epic, with old-school phone booths, a cigarette machine, and a cash register from another era. I love the very simple votives they use for regular service, so I got these single-stem bud roses and dahlias from Whole Foods and dropped them off earlier in the week. For SOS Atelier, I worked with Rabab of Studio Hayat to do three larger floral arrangements, one of them as a hanging installation, which helped fill out the space.
Chase: I love suits, as lame as that sounds. I sold most of mine after leaving Brooklyn Fare, so for the civil ceremony I got a one-button, all-linen suit from this brand Stòffa. They do crazy-cool tailoring, very light. You wear it with a T-shirt, which I did.
Phoebe: I wore a Madewell white linen blazer and shorts with a very cute white beaded Susan Alexandra purse Chase got me for Christmas years ago, and a bouquet from Shu's Flowers. That was my little ensemble for City Hall.
Chase: My sister works in the fashion industry, and for the lunch and party  I was lucky enough to get, as a gift, a Ralph Lauren Purple Label custom, straight-up classic tuxedo.
Phoebe: I was randomly in Bloomingdale's and found this slip dress that I loved the silhouette of, and I was like, Honestly, if I found this in off-white, it would be my wedding dress. I asked my fashion friends, who ultimately connected me with a tailor, Joshua Schwartz, who created a pattern from the Bloomingdale's dress. Chase's mom kindly offered to buy me a wedding shawl or wrap as a present, and I found this lace bolero from Anthropologie that I loved.
Chase: Our nuclear families came to the City Hall wedding on Friday, but due to some COVID stuff you can only have four witnesses, so our sisters waited outside.
Phoebe: It's supposed to be this big, very serious moment, and there's a wedding officiant in a T-shirt and Nikes shuttling in between two chapels. He pronounced my name Pee-bee. Chase muttered under his breath, "This is an SNL skit," and I lost it. I started laughing, then crying.
Chase: The ten of us then walked over to Hop Lee for a Chinese banquet feast.
Phoebe: We did a bunch of family-style dishes. Salt-and-pepper pork chops were my favorite on the table, and they brought out these big bodega bottles of Coke and Sprite, which I thought was really tender. After Hop Lee, we took a car back to the Bowery Hotel, where we were all staying, and our families had cake together from Veniero's, whipped strawberries and cream, this cascading, collapsing cake. Just perfect.
Chase: We did Bamonte's at 1:30 p.m. the next day. The menu was as classic as you would imagine: an assortment of antipasti, some stuffed eggplant, stuffed mushrooms. Then we had baked ziti and a choice of veal marsala, chicken or eggplant Parmesan, or chicken francese.
Phoebe: And if you wanted fish, there was salmon oreganata. I got the chicken Parm. It was the most glorious portion — two full chicken breasts on a platter. Could have fed a lot of people.
Chase: Phoebe and I had a sweetheart table in the middle of the room, and it was so much fucking fun. My dad gave a speech at the beginning; he's a powerful public speaker, and it was really special.
Phoebe: The Bamonte's team was so nice. Every time they were about to drop the next course, they came over to make sure Chase and I were eating. It felt very homey. After we had this big wedding lunch, we proceeded to SOS Atelier for dessert, which is my favorite thing in the world.
Chase: We had six desserts in a big line in the middle of the room. That's Phoebe's domain, so I was extremely happy for her to have that.
Phoebe: This was calling in favors and the kindness of friends and magic of pastry people and restaurateurs. Obviously Claud's devil's-food cake made an appearance. There were rainbow cookies from Vic's, and then we somehow convinced Caroline Schiff, the pastry chef at Gage and Tollner, to make a sheet cake of her coconut layer cake with lime curd. Petee's banana cream pie, because we live very close to the Petee's on the Lower East Side, and that's our go-to late-night dessert. Frenchette made us a croquembouche, and then as a gift our friend James tapped Abby Swain from A&C Super to make a Basque cheesecake. I'm endlessly grateful.
Chase: Outside of the restaurant, I work with a group of private clients through the fine- and rare-wine sales department of Crush Wines & Spirits, so a bunch of them brought a lot of wine. We had tons of beer and a spritz cocktail.
Phoebe: Chase and I were supposed to say our mini-vows to each other, but in a day-of decision we decided not to because I'd laugh/cried through the civil ceremony. Who knew what I would get up to at the reception? We had our cake-cutting moment. SOS Atelier has a cool layout with an upper level where you can take in the scene below, and there's seating everywhere.
Chase: I gave a speech, and I'd made a playlist. Phoebe has extremely top-40 taste in music. I don't say that disparagingly. Maybe a wink of disparagement. I do all the playlists for Claud, and my whole team was like, "Please God do not play any songs from the restaurant playlists at your wedding." Which is really hard, by the way!
Phoebe: Some people danced. I was just bouncing around, talking to people, seeing if my family was having fun. Little pockets of things were happening: The wine people doing their wine thing, Chase's college friends were catching up. We also had Deluxe Green Bo do a drop-off in the middle of the party, so people were snacking on dumplings, wontons, and scallion pancakes.
Chase: Phoebe and I left the party around 9:45. I know there were a few stragglers who went to the dive bars of our past, like Union Pool.
Phoebe: Typically my social battery runs out way quicker than everyone else's, but I could have hung out and danced and eaten chicken Parm for many more hours and would've enjoyed it a lot.