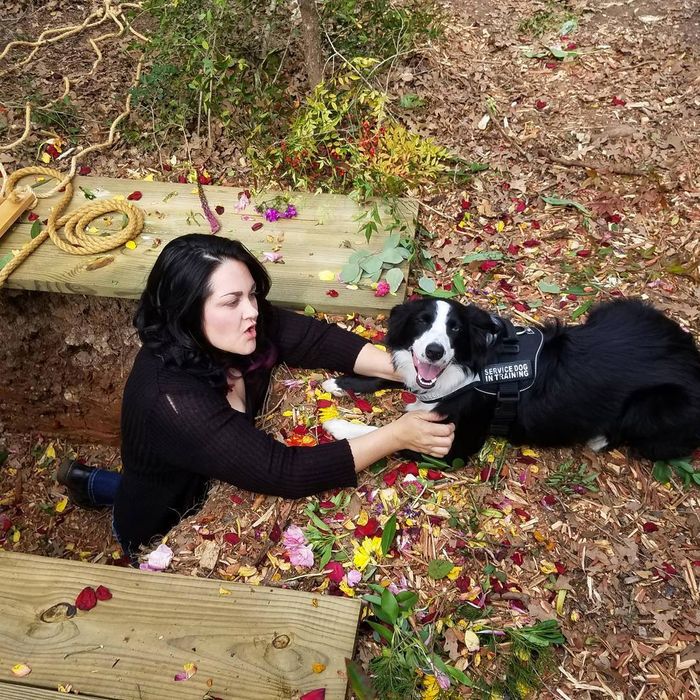 Kermit with his owner, Melissa Unfred.
Photo: Courtesy of Melissa Unfred
Kermit — full name Widdle Kermit Ambrosius von Przygodski — is a border collie and Australian shepherd mix with mismatched blue and brown eyes, and if you want to cry into his fur — well, he'll stand there calmly and let you. After all, that's what he's here for.
"From the minute I met him, he seemed way too chill for a puppy," says Melissa Unfred, Kermit's owner and a funeral director in Austin. "That temperament has been one of the main distinguishing traits of Kermit ever since." The two have been training to become a dog-therapy team; as of May 20, Unfred and Kermit are the first certified owner–therapy-dog pair handling funeral services in Texas.
Serving families at the Affordable Burial and Cremation Service, as well as helping them plan green burials and pet after-care, is emotionally challenging work. When Unfred originally went to pick up Kermit from Fuzzy Friends Rescue in Waco, Texas, she was hoping for a pet to help her manage the stress of the job. Research going back to the 1980s describes the many health perks of having a companion animal, from lowered blood pressure to heightened self-esteem; newer studies are also investigating the therapeutic effects of animals in the workplace, which could be particularly beneficial to those in the caring fields.
And when Kermit began accompanying Unfred to Affordable Burial, she realized just how important his contribution to her life could be. "From the minute I adopted him, I had Kermit with me 24/7," Unfred recalls. As soon as the pair returned from the shelter, the pup was immersed in her funeral service work: "I had a three-hour visitation that night at the funeral home, and he was there for the whole thing." Kermit remained at Unfred's side as she went in and out of the funeral home, attending graveside services and going on hospice calls.
But soon enough, she realized that Kermit's ability to comfort went far beyond his owner. One afternoon when Robert Falcon, the owner of the Affordable Burial and Cremation Service, was meeting with a family in the crematory's main office, Kermit walked into the meeting, headed directly toward the widow of the deceased, and placed his head in her lap. "He just moves himself into the position where he's closest to the primary griever," Falcon later told local news station KVUE. That, Unfred says, was one of the defining points of Kermit's budding career: As the widow began to pet the dog, "the tears subsided for the moment and she was able to complete the arrangement for her husband's services."
With the advance permission of facilities and hospitals, Kermit began to attend meetings as a calming presence, soothing both the families and the caregivers employed at those facilities. A toy-driven goofball when he's off the clock, Kermit can be all business when necessary. "He just has a knack for knowing how to interact," Unfred says. "When we are at a funeral, he is on point."
To take his natural grief-therapy skills up a notch, Unfred recently had Kermit certified as a therapy dog through the Austin Dog Alliance. This two-month training is available to dogs at least one year old — Kermit just had his first birthday — and ensures that the canine in question can be trusted in multiple scenarios, from interacting with children to being around loud machinery to staying calm in unpredictable situations. There isn't currently a certification just for grief therapy, but Unfred sees this in a positive light. "Certifying to serve the community outside the funeral home walls was important to me too," she says; down the road, she hopes to take Kermit to therapy reading programs, hospices and nursing homes, and Austin's Dell Children's hospital.
"He was born to do pet therapy," says dog trainer Carolyn Honish, the pet-therapy director of the the Austin Dog Alliance, where Kermit completed his training. "That was evident the first time I met him." The Austin Dog Alliance believes that success as a therapy dog depends on a mix of nature and nurture, but that nature comes first. "Therapy dogs show people love and affection — it is evident that they love everyone they interact with, and they accept and forgive the differences in how people react and behave with them," Honish explains. "We tell people that we can teach excellent obedience skills. We can't teach a dog to enjoy being hugged by complete strangers."
Kermit's presence may be most helpful for the youngest mourners at Affordable Burial and Cremation — children and teens, in particular, may find a therapy dog comforting in a confusing, emotionally charged situation. "Today, dogs are not just our loving companions but also our helpers," psychologist Marilyn Mendoza, who specializes in bereavement, wrote in an article about understanding grief for Psychology Today. "Adolescents in particular will talk to the dogs and feel free to express their emotions without fear of judgment."
Ashley Blankenship, who recently saw Kermit in action when she attended a service at Affordable Burial and Cremation, agrees. "I think having a dog at a service is very beneficial to children who may not otherwise have a firm understanding of what's going on," she told me over email. "It gives them something to relate to." Blankenship said that Kermit offered a calm presence during the service that felt both supportive and empathetic. "He seems able to sense who he should approach," she says. "Like you can tell he knows you are hurting. "
"When Kermit arrived he ran straight to me even though people were calling his name and trying to get his attention," says Holli Jackson, who met Kermit at a social gathering in March. Though the pup was technically off duty, his skill for sensing sorrow was not: Jackson had just suffered a miscarriage. "[I] was grieving for sure," she told me. Only when Jackson seemed sufficiently comforted did Kermit leave to greet the other dozen or so people in attendance.
And as Kermit continues to bring his skills to the funeral home, his owner is tacking on new projects: Unfred, who was recently invited to speak at the Texas Cemetery Association Convention, is currently working on a nonprofit conservation-burial project with the goal of helping families in the central Texas area have a more hands-on approach in their death care. "I focus on educating people on home funerals and green burial options for people and pets," she says. "I want families to know they have so many options." She's also thinking about adding a new member to the team … a grief-therapy guinea pig.