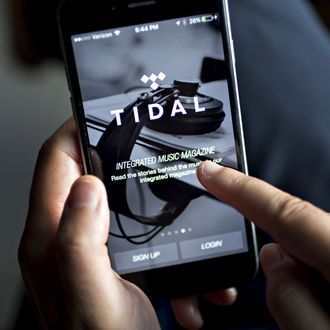 Photo: Andrew Harrer/Bloomberg via Getty Images
Tidal, the music-streaming service most popularly associated with Beyoncé and Jay-Z, will soon be filled with beauty tutorials. Today, the app announced it will start streaming beauty content along with its current music-related shows like Car Test and Finesse. The first new beauty-themed series is called Get the Look and is just like your standard YouTube tutorial, but with an entertainment-first angle.
The first episode, which was done by bubbly beauty vlogger Rosita Applebum, is all about getting Nicki Minaj's "Chun Li" space buns and makeup. It also includes a lot of Rosita rapping along with Minaj. You can watch a preview of the series here, but if you want to see more, you'll actually have to make the plunge and subscribe to Tidal or make another fake email account for a free trial.
Since it's a recurring series, you might find your new Tidal subscription or trial worth it. Each week, viewers will be treated to a new tutorial that will teach them how to channel the island vibes of Rihanna from the "Wild Thoughts" video (maybe using Fenty Beauty) or the luxe glam of Kim Kardashian at the Met Gala. Other vloggers you can expect to see include Nathalie Muñoz and Jackie Aina with her usual no-holds-barred commentary.
Now if only Tidal would make a tutorial of how to do a crown braid like Beyoncé's in the "Formation" video — they do have insider access after all.