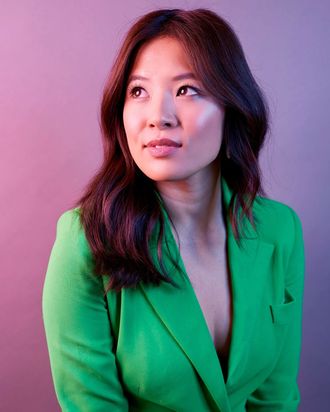 Want more skin care? Join the Beauty Group on Facebook.
Christine Ko will be one of the many reasons you ugly-cry while watching Tigertail, the directorial debut by Master of None's Alan Yang. Ko moved to Los Angeles eight years ago to pursue an acting career. For years, she worked as a waitress and an Uber driver, but then she landed her big break on CBS's The Half of It. That's when she became interested in skin care.
"We wear makeup for such long hours, and while I didn't have bad skin before, I started breaking out for the first time as an adult because my pores couldn't breathe," she remembers. She learned what products were best for her skin through trial and error — and a lot of Sephora samples. She also turned to Sharlena Hassani, aesthetician and owner of Artisan of Skin BH, for help. "[Hassani] has the most flawless skin. It looks airbrushed without any makeup," Ko says. "I follow her account, and her transformations are incredible."
Ko's main skin concern, she says, is hyperpigmentation — when she has a blemish, the scarring can linger for a month or two. "Asian skin tends to develop sun spots easier, so I feel like my entire adult life has been trying to both lighten my current spots and prevent any more from happening," she says. "I've tried everything from serums to lasers to micro-needling. I've noticed that lasers don't work well for my skin, but the combo of lightening serums and micro-needling has had really lasting effects."
Below, a look at the serum that gave her "drastic results" after just two weeks, the expensive essence that she thinks is worth every penny, and the $15 eye cream she keeps in stock.
The Cleanser
Photo: Courtesy the vendor/KARIN DAILEY
"I love this gentle, anti-inflammatory cleanser because it leaves my face feeling so soft and smooth, and it does a really good job washing away all the dirt on my face. I love that [Josh Rosebrook] uses plants and herb extracts to make his green products."
The Essence
"SK-II's essence is a fabulous skin conditioner that has no scent and feels like water. It gives you added hydration, and it's a great base before your serums. A couple of drops go a long way, and although it's an expensive product, it lasts for a long time. I noticed a lot of women in Asia use SK-II, and I've always followed a lot of Asian actors so I wanted to see if it would work for me. Of course, it worked beautifully, and I felt like it was worth the investment. Essence isn't a mandatory product, but my one bottle has lasted me over three months."
The Serums
Photo: Courtesy the vendor
"I feel like I've seen the most drastic results after using this serum for just two weeks. It really helps with the texture of my skin and lightens the sun spots on my face. I like the milky consistency — it adds moisture without it feeling heavy. It's also great to have a serum that's a booster so it enhances all the effects of the products you put on after it by allowing your skin to absorb them better."
Photo: Courtesy the vendor
"This is great for brightening and focuses on hyperpigmentation. I really try to reduce the hyperpigmentation on my face so I don't have to wear too much makeup. I like to allow my freckles to breathe while also lightening sun spots. This helps with the overall complexion and redness of my skin. If I get really fancy, I use both this and the Le Meiux (above). Since the Le Mieux serum is more for hydration and regeneration, I use that one on a daily basis and Glo Skin every other day. I feel like this serum is a bonus. "
The Face Cream
Photo: Courtesy the vendor
"I think the most important product to have in all of your skin care is your moisturizer. That's really the lasting component in your kit. If you forget everything else and you have your moisturizer, you're good.
This is a lightweight moisturizer without a heavy fragrance that gives me the moisture I need. It also goes well under makeup and doesn't create a cakey feeling. I like it because of all the luxury moisturizers, it has a really clean and light consistency. Other moisturizers I've tried in this price point feel really oily and heavy. I also like the R.N.A. ("radical new age") complex part of it because I think it's important to use preventative skin care for aging."
The Eye Cream
Photo: Courtesy the vendor
"This eye cream has a wonderful price point, and I love that it's also a green product. It plumps up the skin under my eyes. It smells like coffee but it's not too strong at all. It's very refreshing, and it's a nice way to wake up."
The Sunscreen
"This is a broad spectrum sunscreen with SPF 45 that feels like a primer. It goes on smooth without a white finish and works really well with makeup. The key factor is that it's a mineral sunscreen so it prevents hyperpigmentation and future sun spots. It's also water-resistant, so it's great for running outside or swimming in the ocean."
The Lip Mask
"This is an ultrahydrating mask that makes your lips feel silky smooth. Other lip masks feel too waxy and cause my lips to peel. This one feels like a smooth protectant barrier that keeps them moist overnight. You can also wear it throughout the day as a lip balm. It has a sweet, berry smell."