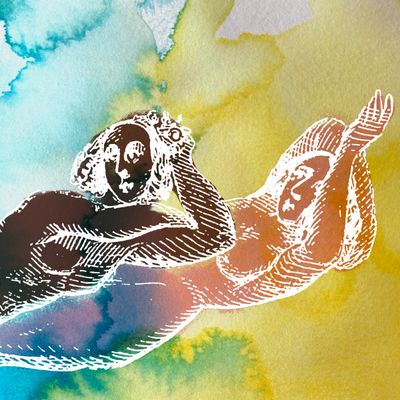 Illustration: By Stevie Remsberg
So you have mastered the art of nude-taking and also that of sexting and flirting over text. While ordinarily the next step might be an actual date or a steamy hookup, such in-person dalliances are off the table right now. Luckily, we still have the next best thing: phone sex.
Now you might be wondering, How do you have phone sex? How do you move from saying sexy things over text to saying sexy things aloud? How do you turn a solo activity into one that involves another person? And what happens when you do? Before you get too in your head, know that phone sex can seem intimidating, but it doesn't have to be. And, if all goes well, you might even have a great orgasm. Below, our best phone-sex advice and tips, for the experienced, the rookies, and the interminably bored.
Setting the stage
Here are some ways to prepare yourself and your partner for a phone-sex session, and methods for leading into it in a way that's comfortable for both of you.
Dress the part. Before we get started, think about your setting. Demeter deLune, a writer and former phone-sex operator, suggests dressing up for your phone-sex session. "Even though your partner can't see you, it helps you get in the mood for the sexy talk ahead. Take the time to put on something that puts you in the mind-set for what's to come. This can mean slipping into your most sultry pair of underwear or even getting extra comfortable in sweats. It's up to you and what makes things right in your mind."
Get in the mind-set. Erin Taylor, a writer who also does sex work, notes that the key to good phone sex is "an open mind grounded in fantasy." deLune agrees: "You can talk about things you've been dreaming about, because hey, you're just talking, right?"
DeLune adds that staying relaxed is also important: "It's normal to be nervous about trying anything new. Try to remember the person on the other end of the line wants to hear what you have to say."
Gauge your partner's interest. Sending nudes, sexting, and flirting over text are all good ways to gauge your partner's interest in having phone sex and prepping you both for what's ahead. These things act kind of like foreplay, in that you're not going from zero to 100; after setting the stage with a sexy text or photo, you can ask them if they'd be interested in having phone sex.
Call your partner. Or you could start by calling them and take things from there. You can steer the conversation toward phone sex by first asking about their surroundings ("Where are you right now?"). That way, you can also confirm that it's a good time for them to talk. Then you can adjust the conversation by asking questions about how they look and feel ("What are you wearing?" "Are you in bed right now?" "I wish I was there with you," etc.) So much of phone sex is describing things, so starting out simply is a good way to begin.
So, what do I say?
First and foremost, know that you don't have to adopt some kind of alternate "sex personality" to have phone sex. You can — Taylor notes that phone sex is "a good way to play with sex, shame, and kink in a way that is very safe and fun" — but there's no pressure to change the usual sexual dynamic you have with your partner. For instance, if you tend to be more submissive, you can ask them to give you instructions; vice versa if you're usually dominant. If you have a more romantic rapport, you don't need to start talking dirty if you're not into it.
Describe what's happening. Phone sex is all about descriptions. Talk about what you're wearing, what you look like, what you smell like, and exactly how you're touching yourself. Be detailed about it, says deLune, and really get into the moment: "Once you've begun, there's no need to be shy," she says. "Be as vocal as you want to be. No one can see or hear you other than your partner. This is all about the two of you."
Describe a memory. If describing how you feel now doesn't feel like enough material, defer to your memories. If you're comfortable, talk about a time you had sex with your partner, and describe in detail what you did as if they were in the room watching. If that feels good, you can move into what-ifs ("What if I had done [X]?" "What would you have done if I did [X]?" "Next time I want to do [X]").
Dip into your "fantasy bank." Speaking of what-ifs, deLune notes that phone sex is also "a wonderful time to break out the fantasy bank." You can describe stuff that turns you on but that maybe you wouldn't want to do in real life. Some ideas: public sex, like in a park or a library. Or sex in a car, an airplane, or a fancy-restaurant bathroom. In addition to settings, you can describe sexual scenarios, like role play, group sex, or BDSM.
Give instructions. Or ask your partner to tell you what to do. Dictating how, where, and when they can touch themselves is a way to make things interactive for both of you. It also just helps with the flow of the conversation and introduces a dominant/submissive dynamic that can be fun for both of you.
This still sounds complicated!
"Some people will find themselves unable to participate in dirty talk or phone sex, period," says deLune, and that's okay. But, if you're really into trying phone sex, there are easier ways to get into it that don't involve waxing poetic about your genitals.
Just ask them to listen. Maybe you're not ready to talk just yet but still want to try phone sex. "If you're really into trying this with your partner, ask if they would like to listen to you masturbate," deLune suggests. "This is a great way to introduce your partner to the sensuality phone sex can bring to a relationship, without the pressure of performance on their end."
Defer to your partner completely. "Hand things over to them," deLune suggests. "Ask them what they want to do! Sometimes all it takes is a little push in the right direction to get your creative (and other) juices flowing."
What if I'm not feeling it?
"The end goal of phone sex is getting off (for everyone involved), but it's also important to know your own boundaries and feeling comfortable stating them with your partner," Taylor notes. For instance, if you're describing fantasies, you should be clear to your partner that they're for phone sex only, if that's the case.
What if, all of a sudden, your partner starts saying things that make you uncomfortable or calling you names you don't like? If you still want to move forward, Cosmopolitan suggests you be clear about it without shutting things down: "It's important for both parties to understand that it's okay to call a 'detour' (detour is a word that can keep things moving, as opposed to stop). Agree that either can say, 'Not working, let's detour to you describing going down on me.' In this, both parties recognize that turn-ons aren't necessarily personality defects."
And if you feel like things are going too far or your partner won't stop doing something after you've asked them to, you can always hang up. And, like any kind of intimacy, you should make sure that the phone sex is consensual and you feel safe and trust your partner.
Other things to think about
Your voice. You're not giving a work presentation or trying to deliver information, so there's really no need to speak loudly or quickly. If it feels natural to you, drop the level of your voice and speak more slowly. The sound of breathing — not necessarily heavy, but noticeable — can be very erotic and make it clear to your partner that you're turned on.
Your language. "Calling your bits and pieces by their scientific name is all well and good, but let's get real: It isn't very sexy. There's nothing wrong with dirty talk, especially during phone sex," says deLune.
Using toys. Use a toy on yourself while you're talking. Even consider putting it near the phone, so your partner can hear exactly what you're using. Ava, who lives in New York but has a Parisian lover, has another method: She uses a vibrator that her partner can control from his iPhone as they talk.
Laughing. "Don't be afraid to laugh — sex can be awkward, especially on the phone," says deLune. "Being silly with one another is a sure sign of a good relationship, so let it flow. You can always bring it back around to the naughty bits once you've let out the guffaws."
Don't be afraid of silence. It's okay to lapse into silence. You can redirect the conversation just like you would any regular one: "You were talking about [X] earlier," "Tell me more about what you'd do if I did [X]," etc.
Final thoughts
DeLune says the bottom line of any good phone-sex session is an open mind and going in without expectations. "You may have the hottest, sexiest experience ever! Or you and your partner may end up in tears of laughter," she explains. "Either way, you've communicated and tried something new together and figured out if it's a situation you want to try again or pass on."