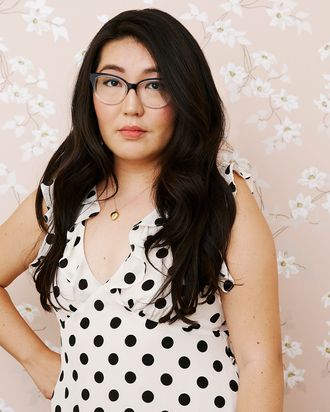 Photo: Janelle Bendycki / Courtesy of Jenny Han
Want more skin care? Join The Beauty Group on Facebook.
If you couldn't get enough of Netflix's streaming hit To All the Boys I've Loved Before, or the sequel, P.S. I Still Love You — or stars Lana Condor, Noah Centineo, and Jordan Fisher — then you have Jenny Han to thank. The author's teen rom-coms were inspired by her own youthful tendency to write love letters to work through her feelings.
Back then, Han says, her beauty routine was "extremely '90s." "I used St. Ives Apricot Scrub, the yellow Clinique lotion, and occasionally some Ten-O-Six toner," she says. "For my hair, I used Herbal Essences shampoo, and my signature scent was Bath & Body Works Sun-Ripened Raspberry or Victoria's Secret Freesia."
It was ultimately her trips to Korea that inspired her affinity for skin care. "My aunts would always buy me sets with essence and lotion in them. Those sets got me started on a multistep routine," she says. Those memories are also why she allows herself to splurge on her routine. "I see taking care of my skin as a luxurious ritual, so I make sure to choose products that feel a little decadent and make me want to do my skin-care routine."
Below, take a look at Han's tried-and-true beauty products, including the "workhorse" exfoliant she's used over for a decade, the essence that gave her sticker shock (but was ultimately worth it), and the serum that "really does" tighten her pores.
The Cleanser
"I didn't believe in cleansing milks until I tried this one. Oftentimes, cleansing milks feel like lotion resting on your skin because they don't foam up. They don't feel like they're really cleansing, but this one takes my makeup off completely."
The Exfoliants
"My skin is healthiest when I remember to exfoliate it, and this is my miracle product. I've tried all kinds of exfoliants, acids, and toners, but none of them have given me the results that P50 did the first time I used it. My skin was brighter, smoother, less patchy. I picked it up at Rescue Spa in NYC after a bio-lift facial, and since then, I've added several Biologique Recherche products to my routine. I'm not gonna lie: The smell is a little intense, but the scent evaporates pretty quickly and the results are worth it. It's gentle enough for me to use every day, and when I'm consistently exfoliating, my skin is brighter and more clear."
"This is a workhorse product I've been using for a decade to exfoliate and even out my skin. My skin is sensitive, but it never gets irritated by the Alpha Beta peel. Whenever my skin starts to get flaky or I have issues, it helps me reset."
The Essence
"This is definitely pricey — so pricey that the first time I bought it I asked if the label was correct — but it really works on my skin, and it's the one product I use every day, morning and night. When I use it, my skin looks brighter and feels healthier. I had a facialist once tell me that skin care is like food for our skin. This essence makes me feel like I'm feeding it well."
The Serums
"I use this once a week or so at night. The serum is strong, and my skin is sensitive, so I'm careful not to overdo it. I find my skin responds really well to consistent exfoliation. When I get lax about it, my skin goes dull, and products don't adhere as well."
"A serum-junkie friend of mine recommended this to me. This is what I use when I feel a breakout coming. It helps so much with my hormonal acne because of the niacinamide and zinc formula, but it's still really gentle."
"I can't seem to leave Rescue Spa without a new Biologique Recherche product or two. This is my latest acquisition. This is supposed to shrink your pores, and for me, it really does. It's made with Java-tea extract to even out your skin and tighten your pores."
"I've been using this lately for an extra winter hydration boost. I like to use a variety of products from different companies, but I have a special place in my heart for K-beauty. When I was a teenager, K-beauty taught me about essence and toning without stripping your skin. AHC is one of my favorite K-beauty brands."
"This is a collaboration between my friend Charlotte Cho, who founded Soko Glam, and Cosrx. It's my favorite vitamin-C serum I've ever tried. Vitamin C is an essential skin-care ingredient. It helps fade hyperpigmentation and scarring, and it also brightens your skin. A lot of them have a distinct hot-dog-water smell that I cannot abide by, but the scent on this one is very light."
The Moisturizers
"I love all the Tatcha creams. Other pieces of my routine switch in and out, but Tatcha Water Cream never does. This is best in the spring and summer for me, when I don't need too much moisture. I switch to their Dewy Skin Cream when I do."
"This is an 'eye cream' meant to be used on your whole face. It takes the anti-aging, vitamins, and peptides that are typical in an eye cream and puts them in a product meant for your face."
The Sunscreen
"This is one of my favorite sunscreens; I always make sure it's in my bag when I'm traveling to L.A. I love that it goes on clear and smooth, so you can reapply throughout the day without a white cast or smearing your makeup all over the place."
If you buy something through our links, New York may earn an affiliate commission.