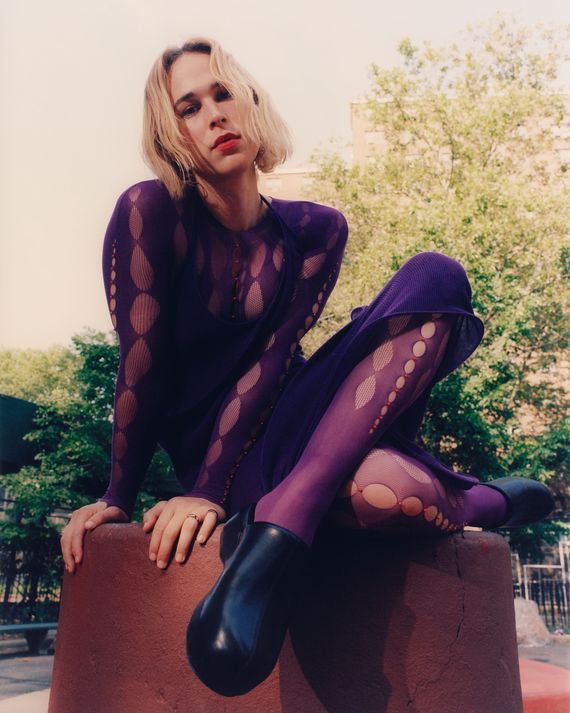 RUI
Spiral Halter Dress, Semi-Sheer Top, and Semi-Sheer Stockings in Violet,
available at ruiofficial.me/aw-2022
.
Simon Miller
Platform Bubble Clog,
available at simonmillerusa.com.
Bar Jewellery
Enfold Earrings,
available at barjewellery.com.
Photo: Alec Vierra
I get to sort of Build-A-Bear my life, and that's really fab," Tommy Dorfman tells me over lunch near her apartment in leafy, low-key brownstone Brooklyn. It's over 90 degrees, and she's feeling "hot, tired, and hormonal," none of which has lessened her appetite, apparently. Her blonde bangs are sticking to the side of her face while she picks at a plate heaping with eggs, veggies, and pita bread, which, when it arrived at the table, inspired her to blurt out, "Wow. Fuck me. Fuck." Then she moves on to a plate of compote-covered French toast. "As you can tell, I eat a lot, and I love sweet things."
Dorfman has always been hungry for more. Born in Atlanta, where she was raised with four older siblings by parents who, she says vaguely, "worked in the car industry," she was one of the breakout stars of the high-school-suicide series 13 Reasons Why, playing Ryan Shaver, the smizey "skinny faggot who writes poems" at Liberty High. It was just the kind of role — a secondary gay on a controversial Netflix series — that could, and did, boost her into the mainstream. Since the second season — her last as a featured character — dropped in 2018, she picked up roles in Jane the Virgin, the Lifetime series American Princess, and an episode of Love, Victor and made her stage debut in Jeremy O. Harris's Off Broadway play Daddy. The pandemic put other potential projects on hold, but she'd already been taken up by the fashion crowd as one of their own (not coincidentally, she was Kaia Gerber's roommate for a summer). Lockdown gave her the space to become herself at last: the "It" girl, whom everyone is talking about, or something close to it. And now she has a shoe collaboration, too.
Scroll her Instagram feed and you'll bear witness to not just thirst traps and pics of her dogs but also her fab life: There she is heading to the Met Gala last spring (in custom Christopher Kane), the Tribeca Film Festival (in Chanel), and Italy (twice this summer). She's with Charli XCX at a fashion show, with Jordan Roth at Into the Woods, at Julia Fox's birthday party at Lucien (the one with Kanye West as the special guest.) Her own 30th-birthday party, at Joyface on Avenue C back in May, was attended by Tessa Thompson and Zoë Kravitz — whom she's also posted with on a sofa in Connecticut. In other photos, she's posing with Emma Corrin, Anne Hathaway, and Florence Welch, wearing Coach, Valentino, and Second Daughter Ella Emhoff's knitwear. Everyone from Marc Jacobs and Michelle Pfeiffer to Real Housewife Sonja Morgan ("My favorite new follower") and the brand UGG is commenting. There's some spon-con, too, of course, for the Google Pixel Pro, Google Pixel Pro earbuds, regenerative wool from Reformation, vegan leather from H&M, and M.A.C Cosmetics. (Dorfman describes her page as "a space of community" or "trans Boyhood, if you will.") She's become a fixture in the New York Post, Daily Mail, TMZ, even USA Today. The paparazzi have tracked her movements with BFF Gerber and caught her cuddling up with Jacob Elordi and holding hands with Lucas Hedges (she's referred obliquely to a bad romance with an industry man last summer, leading her to snipe on actress Rachel Bilson's podcast, "Male actors are not well"). She also served as a bridesmaid in Lena Dunham's wedding, right next to Taylor Swift.
This has led the less generous — not to say haters exactly — to marvel at her ability to stay in the mix, wondering just what she has done to charm so many more conventionally accomplished celebrities and, in the process, thrust herself into our feeds. When I asked Dunham, she responded over email, "You just want to be in her orbit because you feel she's a force for good and a force for joy. I met her at a moment in my life when I really needed it, and as a friend and as a co-worker" — Dorfman makes a brief appearance as a Telfar-swinging bartender in Dunham's new film, Sharp Stick — "she has held it down."
July marks a year since Dorfman came out as trans, which is why we're sitting at lunch musing about "doll culture" and "what it means to be a woman," specifically what it means to be, or at least look like, the "reintroduced" Tommy Dorfman.
"It's this constant revelation of, like, There she is. There we are. There I am. This is me. I don't need to look like Laverne or Gigi or Hari or Hunter or Indya," she says, which she emphasizes she means with absolutely no disrespect. Coming out, in no small part, means coming to terms with how you want others to perceive you. For Dorfman, maybe there are some answers to be found in designer labels like the vintage Versace and brand-new Bode she wore to dinner last night or the outfit she put together for today: a puffy black Simone Rocha top she'd kept unworn in her closet for years, a black seersucker maxi skirt, and admittedly femme, but actually men's, Prada loafers. (She then takes a look under her waistband to volunteer more fashion credits: "The socks are Nike, the underwear is TomboyX, which is an annoying thing to wear as a trans woman, frankly, and the bag is Valentino.")
She is, like so many of us, a work in progress. She talks often about her "gender evolution" and "gender creativity" and achieving "gender euphoria." Her gender mood board is tasteful and well tailored, filled, she tells me with just a little pride in her refinement, with The Row and Philo-era Céline. But it's also aspirational in another way. "I'm inspired by cis women who have more structural faces, who, like, look trans," she says, giggling in a kind of put-on guilty way because she seems to think it's something she probably shouldn't say. "If we didn't know Cate Blanchett was a cis woman, I might pass her on the street and be like, Oh, a version of me at 40." She catches herself in case that seems conceited. "That's generous. Generous to me."
The trouble with defining Dorfman — for her and for the rest of us — is moving beyond what has defined her already. She doesn't want to be typecast; her ambitions are greater than that. "I think there are two things that are going to be pretty hard for me to ever escape in my career and life, and that is starring on a show like 13 Reasons Why and being trans," she says.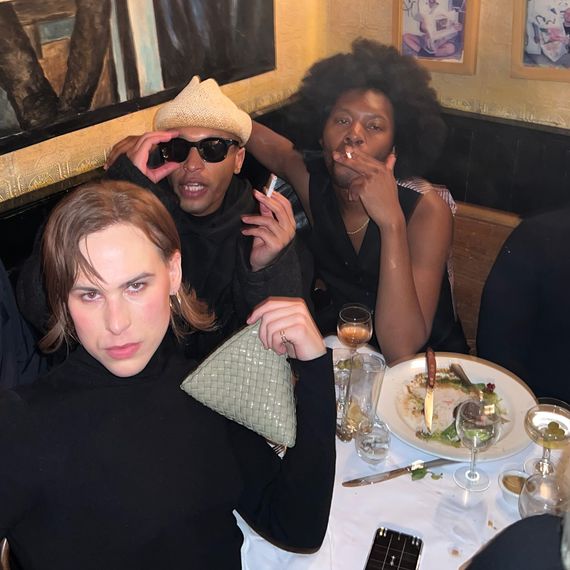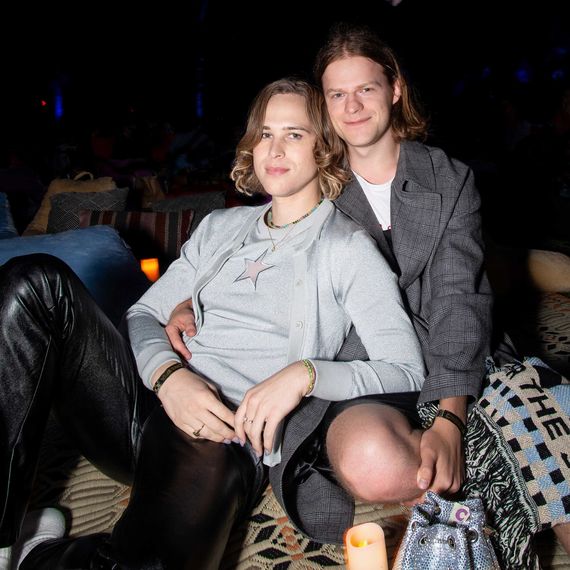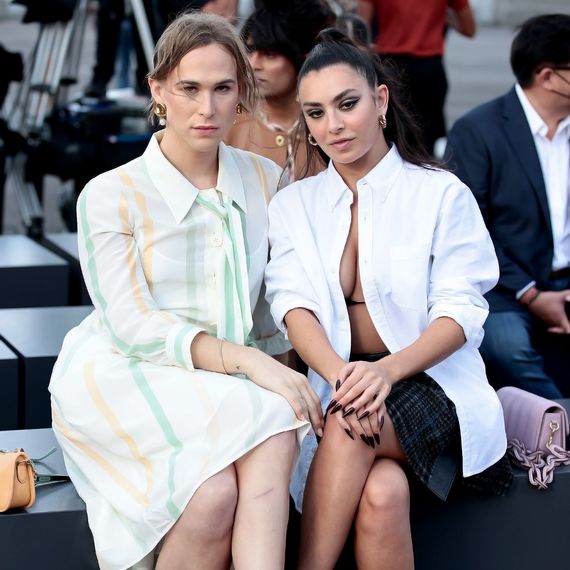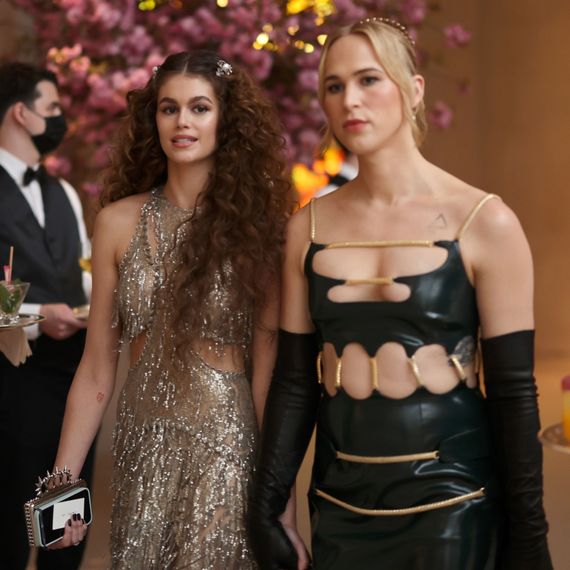 Growing up in the South, far from the world of opportunities for self-actualization she now occupies, Dorfman says she was "very much shaped by" having to confront "misogyny and homophobia and racism and xenophobia and antisemitism." Like so many other queer kids with painted nails in similar places, she watched Gossip Girl, Sex and the City, and Friends and imagined herself getting the hell out of Georgia and becoming, say, Tom Ford or Chloë Sevigny or Edie Sedgwick. "I think in high school I was a pretty delusional teenager," Dorfman says.
After a brief stint at Columbia College in Chicago (for years, she admits, she implied to people that she went to the Ivy of the same name in Manhattan), Dorfman moved to New York to attend the drama program at Fordham in 2011.
Once here, she started partying. "I think New York felt like a place where I could do a lot of drugs," she says. "I moved in the middle of a blizzard, and I was on a seven-day coke bender and rolled up to my first classes half-drunk, which basically painted a picture for the next three years." She recalls that period as a time spent staying up late at Electric Room, Boom Boom Room, and Avenue with older friends with similarly concerning relationships to drugs and alcohol. She ended up getting sober at 21, but looking back, she can't help acknowledging, in between licks of tahini off her fingers, "I had so much fun … sometimes … So much fun."
With sobriety came gigs at Dover Street Market, Balenciaga, and Baz Bagel. In 2016, she married Peter Zurkhulen, a real-estate broker at the time, whom she'd met four years earlier. She had her doubts about acting as a stable career path — she'd been turned down by some graduate programs, for one thing. But then, also in 2016, she was cast in 13 Reasons Why (after first auditioning for one of the two main characters, Clay Jensen). The second season of the show is the eighth-most-popular English-language series on Netflix, not so far behind a couple of seasons of Stranger Things and Bridgerton.
"I feel an immense amount of gratitude," she says, politely. "It kind of baffles me that I could play a small role in a show that was really popular and over the course of six years maintain a career across different industries." Looking back today, she says, the stint on the show had its drawbacks. "I think one of the hardest things about sort of overnight sensational success — and I wouldn't say I feel successful, but from the outside, right? — is your brain and body need time to catch up, and it took me some time to catch up." If not for the show, she believes she would have transitioned sooner. But her relationships to celebrity and transitioning seem, to her, hard to extricate from each other, since they are so tied together in her own experience; you can't always control what it is that makes people know your name. "The realities of me being trans and being famous were one in the same. I couldn't separate the two," she says.
Quarantining at her then-home in Los Angeles provided the space to finally transition. As she told Time, "Some people moved houses during the pandemic, some people changed genders." Dorfman began the process privately in 2020, though photos in the press — with Hedges especially — began stirring up curiosity on the internet. "I felt like I was in a pressure cooker," she says. "I was being misgendered in tabloids and started to feel really stressed out by it."
She and Zurkhulen had also decided to separate. "I was in a nine-year relationship, in which I was thought of as a more male-bodied person, with a gay man. I love him so much, but we've been learning that as a trans woman, what I'm interested in is not necessarily reflected in a gay man," she told Time alongside ethereal high-fashion photos and a conversation with the author Torrey Peters. (Dorfman had just read Detransition, Baby, the queer book of the summer, and the two had become acquainted. "I was really early in my transition. It was nice to have another trans friend," Dorfman says.)
The placement in Time was admittedly calculated. Dorfman had a friend who was an editor there and figured it was a "left-leaning neutral space" with a mainstream audience to get the message out. It also happened to be where Elliot Page gave his first interview after coming out the year before and where Laverne Cox posed beside the headline "The Transgender Tipping Point" in 2014. But there wasn't a blueprint for doing this. "I didn't really have anyone to talk to. I wasn't going to call Caitlyn," she says, scoffing. "Not that I have her number."
So what's a girl to do next? She's still trying things on for size. In September, Dorfman will release a shoe collaboration with Simon Miller. It's a line of sickly pink and furry sandals, boots, and the L.A. company's popular "bubble clogs," going up to a European size 45, which women's-shoe designers don't often produce. Its aesthetic has something to do with the type of femininity she's hoping to put on show. Billy Porter did a larger-size collab with Jimmy Choo, and the queer-owned brand Syro has a cult following in Brooklyn, but her shoes, she says, are for a slightly lower-key lady. "I just want a cute fluffy platform clog to walk my dog in autumn," she says, joking that she is a "basic white woman from Georgia." Oh, and Bella Hadid wears them.
Also in the works is a trans-inclusive lingerie line and Club Curran, a "fashion and community space" to support it. Then there are her non-fashion endeavors: a play she's workshopping with friends, a film adaptation of I Wish You All the Best, a young-adult novel about a nonbinary teen, and a memoir she sold last year called The High Priestess she admits she hasn't started writing yet.
"I like to hold a lot of plates, but I also am really cognizant of putting things down before they break," she says of her aspiring multi-hyphenate-ness. "I know no other way to be, frankly. I just don't." (Her friends are pulling for her: Dunham wrote me, "I hope that people with the power to green-light give her everything she needs to make her art, because it's pouring out of her.")
These days, she says she's spending her time at home with her two dogs, Fiona and Blossom, and an as-yet-unnamed new partner, who, she recently revealed, again on Bilson's podcast — without saying much more, which will only keep the the rest of us talking — is "a gay girl" to whom she is, she said, engaged.
As she put it on TikTok a couple of months ago, "Can someone tell me how I went from being a straight boy to a gay boy to a nonbinary person to a trans straight woman, I thought, to — I guess I'm a trans lesbian." With her breakout role increasingly far behind her and the confidence of feeling like she's "living on planet Earth, in the right body, wearing the right-size clothes, for the first time," she believes it's just a matter of time before a few more things fall into place. Give her another year. Then, she tells me, she'll be ready for this magazine's cover.
More From the 2022 fall fashion issue
See All