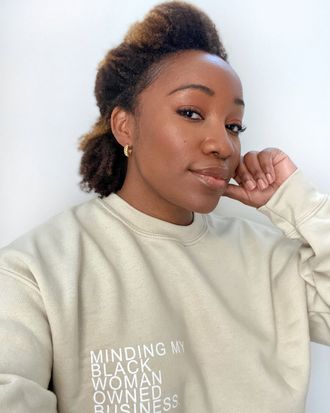 Photo: Courtesy of Dr. Caroline Robinson
Want more skin care? Join the Beauty Group on Facebook.
Roughly three percent of all United States dermatologists are Black, according to a 2016 report published in the Journal of the American Academy of Dermatology. Coupled with the fact that most medical textbooks almost exclusively demonstrate conditions like rosacea and hyperpigmentation on white skin, it is clear that patients with darker skin tones are at a severe disadvantage when seeking dermatological help. (The often high cost of dermatology access is another concern entirely.)
It's these issues that Dr. Caroline Robinson, M.D. F.A.A.D. points to when explaining why she chose to study dermatology and later founded her own Chicago-based practice, Tone Dermatology. Beyond the annoyance of spending an inordinate amount of time finding the proper care, she says, "This problem affects our everyday life and our quality of life."
"I'm sure you've heard the phrase 'Black don't crack,'" says Dr. Robinson. "With it, there's the misconception that we are immune to sun, and therefore, a lot of people don't wear sunscreen." The consequences can include life-threatening forms of skin cancer. As a June 2021 article from the Cut points out, "The risk of developing melanoma is lower in people of color than it is for those with lighter skin tones. But it is more likely to be fatal when it does occur, usually because it goes undetected until it is too late to treat."
The misconception about Black skin being "tough" runs deep even when it comes to aesthetic medicine, says Dr. Robinson. When she posted a video of herself injecting Botox around her eye area in November of 2020 on Instagram, the dermatologist wrote a call to action: "Normalize Black women getting Botox." When it went viral in July through Allure magazine, "A lot of people were viscerally offended because they were like, 'No, that's wrong. We [Black people] aren't supposed to need Botox. Somebody tell her,'" Dr. Robinson remembers. "People also commented, 'If you're a Black woman, and you're getting injectables like Botox or filler, that means that you don't love yourself.'" Ultimately, it started a conversation. "I've seen my colleagues post literally the same video, and the comments and responses that I got, my colleagues did not get."
A big part of Dr. Robinson's job is education. "Every day, we're bombarded with information about new products and treatments and what we should or shouldn't be doing, and I can sense from my patients that they get a lot of anxiety about it," she says. But Robinson stresses: A skin-care routine can be as simple and as short as you want it to be. "If you're already putting an effort into caring for your skin and protecting it from the sun and some damage, you're already doing an amazing job."
Below, Dr. Robinson shares how she cares for her own combination skin, which is prone to both acne and hyperpigmentation. Read on for the gentle cleanser that lightly exfoliates but never strips the skin, the moisturizer she uses after her retinoid, and the $6 balm she loves for her body.
Morning
The Cleanser
Photo: Courtesy of the Retailer
"You should alway wash your face with lukewarm water, but most people take hot showers so I recommend cleansing before hopping in the shower for better temperature control. I always wash my face with my hands, no tools, and I never dry my face with a towel. This cleanser is really gentle even though it lightly exfoliates with a blend of AHAs, BHAs and PHAs, as well as vitamin C. In the morning, I don't want anything that's too harsh on my skin; I just want something that gives me enough suds to cleanse and restart, and this one lathers up really nicely."
The Hydrating Serum
Photo: Courtesy of the Retailer
"While my face is still damp after my cleanser, and before I hop in the shower, I apply this serum — a light-weight, oil-free gel. It has hyaluronic acid, which attracts water, so it's essentially marinating on my skin as I'm showering, and even when I leave the shower, my face is still pretty damp. It also has fruit extracts, antioxidants, and a peptide to hydrate the skin while reducing the appearance of fine lines over time."
The Brightening Serum
Photo: Courtesy of the Retailer
"When I get out of the shower, I apply my antioxidant step using Revision C+ Correcting Complex to help repair and even out skin tone. This moisturizer-serum has been a part of my routine for years. I love that it's formulated with 30% pure tetrahexyldecyl ascorbate (vitamin C) and also contains patent-pending MelaPATH technology, making it one of the most advanced vitamin C products on the market."
The Sunscreen
Photo: Courtesy of the Retailer
"I love that this sunscreen is lightweight. Its 100 percent mineral formula also features a green tint that is helpful for masking redness from acne and acne marks. A tip: I'm a huge proponent of moisturizing under your sunscreen, especially if you have darker skin because that glide allows you to work your sunscreen in better so that it doesn't leave a cast."
The Body Duo
Photo: Courtesy of the Retailer
"This both hydrates and heals dry skin without ever leaving it feeling greasy. Then I follow it up with the Vaseline All Over Body Balm [below] overtop."
Photo: Courtesy of the Retailer
"This is the same concept as the recent slugging trend, but my family has been doing it for generations. The petrolatum jelly on top of a moisturizer works to decrease transepidermal water loss and improve skin hydration. The Body Balm Stick makes it easy to apply quickly and is non-greasy.
Regarding the recent debate around petrolatum, it is honestly one of the most tried-and-true ingredients in dermatology. We use it for everything because the risk of it creating an allergic reaction is nearly zero. We use it on sensitive-skin patients, on lips, on cuts, on wounds, on everything. And people should note that the petrolatum used in skincare is purified, and in Vaseline, it's triple-purified, so it's truly FDA-grade with clinical and efficacy studies behind it."
Nighttime
The Double Cleanse
Photo: Courtesy of the Retailer
"This is the first step in my double cleanse routine. It is a unique formula that lathers into a foam and helps me to break up makeup, sunscreen, and oil that accumulates throughout the day on my skin."
Photo: Courtesy of the Retailer
"This gel cleanser, which incorporates 2 percent polyhydroxy acids (PHAs), is great for my skin because the properties of PHAs allow for gentle exfoliation while still hydrating and leaving my skin soft."
The Eye Cream
Photo: Courtesy of the Retailer
"I'm very particular about eye creams, but this one has been in rotation in my routine for quite some time. It is clinically proven and is one of the most comprehensive eye creams available today. It addresses hyperpigmentation, fine lines, redness, hooding, and bags by specifically targeting the signs of aging with multiple actives including peptides and vitamin C."
The Retinoid
"I use a small amount of this Aklief Cream on my face and upper back to control breakouts. It's a pearlescent, lightweight cream formulated with the retinoid trifarotene, which is actually the first retinoid molecule FDA approved for the treatment of acne in over 20 years. I love that this particular retinoid is effective in the treatment of acne not just on the face but also on the chest, shoulders, and back. And listen: I'm a retinoid pro so I didn't experience any 'retinol uglies' with this, but people should understand that you should expect some irritation during the first two to three weeks no matter which retinoid you choose."
The Moisturizer
Photo: Courtesy of the Retailer
"I always moisturize with something rich after I apply my retinoid. Lately, I've been loving this one from First Aid Beauty, which contains a blend of niacinamide, peptides, and collagen to support collagen production and protect existing collagen from deteriorating. Niacinamide in particular does a great job at off-setting any irritation that retinoid use might cause."