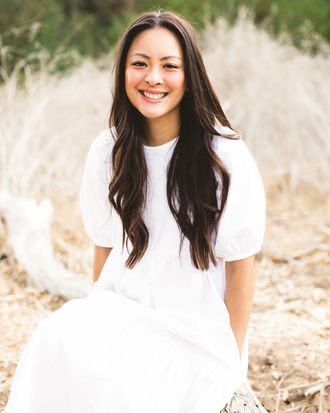 Photo: Pauline Funiciello
Want more skin care? Join The Beauty Group on Facebook.
"I used to really hate my skin, to be honest," admits Amy Liu. "I felt like it was betraying me, and I couldn't count on it." The founder and CEO of vegan and nontoxic makeup brand Tower 28 suffers from "pretty severe" eczema. "There was a time I wouldn't even wear anything above the knee because my eczema would dry into scars that looked like bruises, and strangers would ask me if I was okay," she remembers. "But you can't cover up your face … except with makeup, and that made me feel guilty that I was making it worse." So she turned to skin care.
After spending tons of time in skin-care forums, Liu decided she not only wanted to get rid of her prescription products, but she also wanted to invest in products that were nonirritating and nontoxic. Ultimately, finding the right ones was easier said than done. "I didn't know how loosely regulated the industry is."
She's since learned to look for calming ingredients and to avoid fragrances and certain essential oils like cinnamon, mint, and citrus. And she knows a lot more about product formulation now that she's founded her own brand. Tower 28 formulates according to California Prop 65, Credo Beauty Standards, and the National Eczema Association's guidelines to ensure that the products include zero potentially irritating ingredients.
Addressing issues besides eczema in her routine, Liu says, is a luxury. "Once your skin barrier is in a good place, then you can add things like ceramides and hyaluronic acid to keep things moisturized," she explains. "Over the years, I've inherited new problems, like sun spots and wrinkles, that I didn't have before, but now that I have more knowledge about how to keep my skin balanced and consistently eczema free, I can shift my focus to those issues."
Below, a detailed look at Liu's morning and nighttime skin-care routines, including the hero ingredient that stops her eczema flare-ups in their tracks, the moisturizer she's been using for two and a half years, and the eye cream that's made a "noticeable difference" in her fine lines.
Morning
The Toner
"Before I created our SOS Daily Rescue Facial Spray, I was relying heavily on topical and oral steroids to manage my eczema — for longer than I care to admit. It's named SOS because it literally did save my skin! I use it religiously in the a.m./p.m.
I don't use a cleanser in the morning because I don't want to strip away any important oils. My sensitive skin is dry enough as is, so I try to treat it gently. Instead, in the morning, SOS is the first thing I spray on my face and anywhere else I'm prone to getting eczema, which includes hands, neck, and other parts of my body at times.
Through my research for Tower 28, I learned about an incredible ingredient called hypochlorous acid, which is actually a naturally occurring part of your body's immune system. It's traditionally used in the health-care field for its antibacterial properties, but I was excited to apply its healing, anti-inflammatory powers to a skin-care formula. Eczema is an issue of inflammation to start, but what makes the situation worse, like so many skin issues, is bacteria. Historically used by hospitals to help treat wounds, hypochlorous acid works by activating your immune system's response to help fight bacteria and activate healing. I worked with an incredible team of chemists to make a formula that would stabilize it, which is the tricky part. They accomplished this by using only two other ingredients, salt and water, and balanced its pH to 4.5. It helps to keep my skin soothed and my skin barrier intact while making skin texture softer, too.
Since using it every day, I no longer have to take steroids to keep my skin under control. My eczema still flares up from time to time, but SOS stops it in its tracks."
The Moisturizer
"I love that Drunk Elephant follows a similar no-no list to ours, which includes sensitizing ingredients like fragrance, essential oils, and chemical sunscreens. Generally speaking, sensitive skin is reactive skin, which could include any of the following: redness, dryness, flakiness, and tenderness. It's a sign of your skin barrier being compromised. Since I'm dry, I'm always looking for more ways to bring water to my skin. I discovered Protini through talking to a Sephora beauty adviser, and then, of course, reading the reviews and looking at the ingredient deck. I have been using it for two and a half years."
The Eye Cream
"Alpyn Beauty makes really beautiful clean products, and I love that the brand is female founded! This eye balm is everything. It's packed with antioxidants and really nourishing ingredients like hyaluronic acid, squalane, and ceramides. I pat this on around my eyes in the morning and at night. The formula is fast absorbing, and I notice an instant brightening immediately after applying. For the long term, it's made a noticeable difference in reducing my fine lines."
The Face Oil
"After bringing water to the skin, it's important to lock it in with a nourishing face oil, especially because as you age your skin loses the ability to hold water in. I love this product, but also love that I get to support other female founders and indie brands by using it. I've been using it for over a year, and I've found that my skin drinks it up and tends to retain moisture longer since using it. The bergamot in this oil, which has a lovely, light citrusy profile, comes through the most, I would say.
Now that my skin is more consistently and reliably healthy, I also alternate and use the Mara Algae Retinol Oil. I'm getting older, and I find this really helps soften lines and wrinkles, too. The retinol uglies are especially hard for me because I'm a picker, and I can't help but pull the skin off, which obviously is bad for your skin. Luckily, our SOS spray is so great at healing skin at any time, and particularly post-treatment."
The Sunscreen
"I'm actually in the process of testing different lab samples for our own SPF that's in development. It's something I've wanted to create for a long time, but it's notoriously difficult to make a universally appealing formula. We've been through quite a few iterations, and I think we're getting close. In the meantime, an option I love is Green Defense from Farmacy. It's a really great mineral option that doesn't leave a white cast, which is hard to accomplish — trust me! I love it because its scent is very light, it never feels greasy, and it works as a nice base for any makeup."
Night
The Cleansing Balm
"As a dry, sensitive, and eczematic person, I am always making sure I don't strip my skin, which is also why I don't use a cleanser that lathers (usually a sign of stripping the skin of oils). I want to keep all the natural oils I can, so I also only cleanse my skin in the p.m. I use the heat of my fingers to melt it a little before applying to my face, including around my eyes. I think it does a great job. Then I splash water to remove it and dry off with a towel."
The Serum
"When my skin is pretty consistently eczema free, I'll use the Furtuna serum. I am just careful not to use them every day, in case it's too active.
Furtuna serum is such an indulgence for me and makes my skin brighter and glowier. I'd describe it as a vitamin boost that helps with depuffing and overall skin health. I love it, and use it sparingly because it's so expensive. I've also found that, even though it's packed with active plant botanicals, it's not irritating to my sensitive skin."
The Night Cream
"I use this on my body and all over because I'm so dry. It's really important to keep my skin barrier healthy, because if I don't, I'm more susceptible to my eczema acting up. The two go hand in hand. I love that this has the National Eczema Association clean seal of approval (just like Tower 28!), because I really trust that they vet ingredients. Also, it has ingredients like hyaluronic acid and ceramides, which are critical to holding water in the skin."