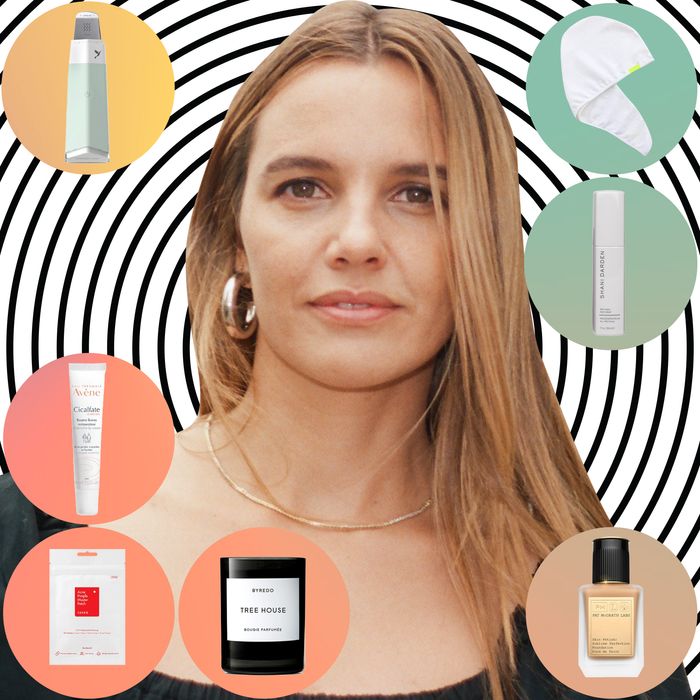 Photo-Illustration: by The Cut; Photos: Courtesy of Tracy Dubb, Retailers
On the Beauty Group, a Facebook community co-founded by the Cut and the Strategist, people chat all day long about the products they love — the ones so good they'll make you hit that little "auto-refill" box at checkout. Below, we asked one of our favorite beauty pros to share her own selections.
As it often goes in the beauty industry, Tracy Dubb founded Isla Beauty in an attempt to find The One. Not romantically — she's happily in a relationship — but she was looking for a skin-care brand that offered both efficient products and transparency. By that point, Dubb had worked with enough brands and founders as a partner in venture-capital firm M3 Ventures to know what she wanted, and perhaps most important, what she didn't want, in a skin-care brand.
"I spent the majority of my beauty experience at M3 Ventures meeting 'clean' brands and found that while I agreed with the idea of ingredient integrity, what the brands were delivering was in many ways the opposite of what I wanted," she says. "Where was the product validation and expertise? Where was the actual data to support claims? Why was it so expensive if it was made of so many plants and natural ingredients? Why did so many of them look the same and say the same things?" As luck would have it, her would-be co-founder, Charlie Denton, was asking himself the same questions. The pair joined forces after an introduction from a mutual friend, and Isla was born.
The brand now uses a mix of synthetic and naturally derived ingredients to formulate their products, and they're not afraid to share the specific percentages behind each. Their latest Storm Serum, for example, is of 94 percent natural origin and 6 percent synthetic. "We do this in an effort of maximum transparency rather than to imply that one is better than the other," offers Dubb, adding that simply sticking a "clean" label on a brand is not enough. "I also think the marketing around clean living has been extremely effective, but the disconnect lies in a lot of the oversimplifications that have gone into creating this entire industry. It almost feels like people saw it working with food, and they just applied the same logic. The problem is that the science behind healthy eating and product chemistry are pretty divergent, and you don't need to be a chemist to understand that."
When it comes to the rest of the products on her vanity, whether it's skin care or makeup or hair care, Dubb wants them to cater to her combination and acne-, eczema-, perioral dermatitis–, and malassezia folliculitis–prone skin. Something as ordinary as toothpaste with fluoride could easily trigger her POD, so she's careful about every single product that goes on her body. "I have extremely sensitive skin, but not the traditional 'sensitive skin' type, because my skin still requires some heavy-duty products for the other issues — I am a big fan of exfoliation and acids in general."
Individual products shouldn't cost hundreds of dollars either. "If you're paying that, you should know that chances are you're paying a lot more than your product actually cost to make," she says. "Hyaluronic acid, while a great ingredient that I use and we formulate with, is often overpriced if it's the only thing in the serum, and I feel the same way about a lot of vitamin C serums. Those ingredients on their own are just not that expensive, so you have to ask yourself why they often cost so much." On the contrary, retinol, says Dubb, and especially prescription retinoids, are worth the splurge because they're backed by science and truly give results.
Below, Dubb breaks down 11 of her essentials, including pimple patches that "never" fail her, the "amazing" foundation worth every cent, and the towel that gave her strong, healthy, and smooth hair, and make sure to join The Beauty Group for exclusive discount codes to shop her picks.
The Serum
"My friends often come to me and say, 'I have X dollars to spend on a new beauty product. These are the issues I want to address. What should I buy?' Usually, a dozen products fly to my mind, and I never have one good answer. Storm Serum is our answer to that question. We jokingly call it 'One Serum to Rule them All' (shout-out to my Lord of the Rings fans out there) because we wanted to create one serum that addresses all of the skin concerns we hear about the most: dullness, dryness, protection, and redness. We packed this serum with as many active ingredients as possible (17 to be exact) — including centella extract, allantoin, and hyaluronic acid — and it's formulated with award-winning Swiss technology to make active ingredients penetrate deeper and longer. Months in from using this, my skin is brighter, firmer, and has more bounce."
The Foundation
"I absolutely hate the feeling and look of foundation, and unless I'm in black tie, I feel crazy when I have it on. I always feel like there's a very obvious, very thick layer of color sitting on my face, but I have to hand it to Pat McGrath. She made an amazing foundation. It's so smooth and light that you really forget you're wearing makeup, and for me, the shade blends perfectly. More often than not, I use this as a kind of spot concealer instead of all over my face, and I love how even it makes my skin look."
The Device
"If you, like me, are the kind of person that asks to see your extractions at facials, then this product is for you. It removes whiteheads from congested, harder-to-reach areas, specifically around the nose and chin. I could use it for hours, and I love that you can instantly see the results. It will not clear 100 percent of whiteheads, but it will definitely do a nice job cleaning up congested areas."
The Candle
"Just hands down the best smell on Earth. I've yet to meet a Byredo scent I don't absolutely love, but this one just does something to me."
The Pimple Patches
"These things never fail me. Not only do they beautifully cover up any pimple in real time, nine times out of ten they manage to remove pus and oil from even the most dug-in looking pimples. I can't keep enough of them stocked in my bathroom."
The 2-in-1 Toner and Essence
"The Tone Balance Elixir is the first product we ever developed. It's our best seller because it's gentle but effective, and smells like a citrus dream. Because a lot of people either don't have a toner in their routine or are used to something more astringent, this product is a total surprise to them. Customers love to tell us how much of a difference they see in their skin after a few uses. I use this twice daily after washing my face, and I have completely stopped struggling with dry, chapped skin."
The Hair Mist
"I think this is the perfect product for wavy hair that is just looking for a little something extra. It's light, nongreasy, and just disappears into your hair. I use it on my wet hair after I shower, and then I braid my hair for a few hours to dry it. It makes such a big difference in how my hair dries and holds its waves."
The 2-in-1 Lip Balm and Blush
"This product blends so nicely into lips and skin, and the colors are so good. I love two-in-one products, and this one really delivers. I love that it feels like a real lip color and a real cheek color, and sometimes I use it on my eyelids too because I'm a rule-breaker."
The Retinol
"I'm usually skeptical of a product that Instagram embraces a little too wholeheartedly, but at the urging of a few friends, I tried this by Shani Darden when I was looking for a new over-the-counter retinol, and I have to say, it's pretty great. It has great texture and packaging, and it leaves my skin in that perfect sweet spot with retinol where it's brighter and more even without feeling red and flaky.".
The Lip Cream
"In my lifelong quest for a great lip treatment, this is currently the front-runner. I like the straightforward ingredient list, the texture (it's not sticky at all), and the nice cool feeling it gives my chapped lips. And it's one of the only lip products I've ever tried that actually helps dry lips, instead of just coating them."
The Hair Towel
"I'm basically a sales person for Aquis at this point. I got this product after someone casually mentioned to me that it totally changed their hair, and I completely know what they mean. My experience with this towel is that you don't necessarily notice something right away, but after a few months, you suddenly have longer, healthier, smoother hair than ever before."