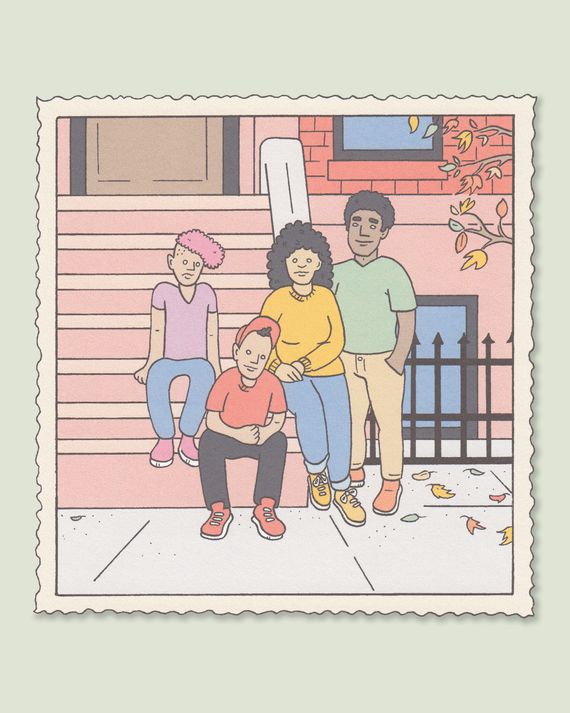 Illustration: Erin Nations
This article was featured in One Great Story, New York's reading recommendation newsletter. Sign up here to get it nightly.
You're walking to the bus stop, and your child tells you they want to wear a dress to school. Or they want a buzz cut. Or to paint their nails. Or maybe they tell you they're transgender, or gender-queer, or trying to figure out if they're a girl, a boy, or somewhere in between. There is plenty of rhetoric out there that might encourage a parent to question their child in this moment that's designed to scare them into inaction or, worse, outright rejection. There is less guidance for those who choose to believe their children. This is a handbook for the trans-affirming family; it presumes you love your child and want what's best for them. And while it's their journey alone, you have the opportunity, and obligation, to help them to become who they are.
So what does that look like? Supporting your child's transition might feel confusing, insurmountable even, full of high-stakes decisions and opaque systems to navigate. We'll start with the good news: In more than 100 conversations with transgender children and adults, their parents, and health-care providers, we found that many big-picture questions have pretty straightforward answers. That includes the hard stuff, too, like how they weighed medical decisions and dealt with bullying. Then came the practical tips: dozens of pieces of advice on what to read, where to shop, and how to find ways to connect as a family. Parents shared the texts they sent to classmates' parents, the talking points they used with well-intentioned but misinformed family members, and the ways they found welcoming spaces for their children. Some of them had never met a transgender person prior to their child's coming out; others are transgender and nonbinary parents themselves.
Many families we spoke with face lawmakers eager to punish them for providing their child with gender-affirming care. This guide takes those realities seriously. And while we made this for parents, because they're the ones talking to the principal, signing up for camp, and arranging doctors' appointments, we hope this guide can be read together as a family. Every transition is different, so not every piece of advice will apply to your family, nor will it substitute for the important roles of your doctors, lawyers, and mental-health professionals. These are personal stories, not rules. We invite you to cherry-pick from this trove of information. Think of this as a friendly group chat with dozens of members.
How to support your child's transition
➼ So They Just Came Out
➼ Telling People (When Your Child Is Ready)
➼ A Shopping Guide
➼ Dealing With the School
➼ Puberty Blockers and Hormones Don't Have to Be Scary
➼ When to Move (And When to Stay Put)