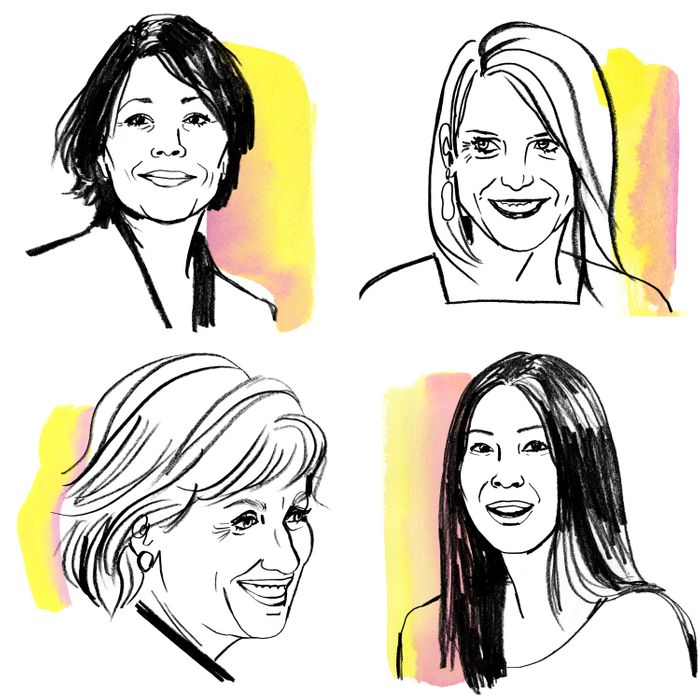 Clockwise, from top left: Ann Curry, Katie Couric, Lisa Ling, Tina Brown.
Illustration: Lauren Tamaki
Whether you're traveling across the country, out of the country, or away for the weekend with friends, we've assembled the best travel packing tips from women who often travel for work. Katie Couric, Janet Mock, Jane Goodall, and more share their favorite foods, versatile clothes, and travel essentials below, as told to the Cut for our How I Get It Done interview series.
1. Invest in a sturdy carry-on with organizers.
"I have packing down to a science at this point. I'm an extreme minimalist, and I always carry-on. I travel with a Rimowa multiwheel bag — they're indestructible, and miraculously, they're like the VW clown car in that it's amazing how much I can fit into the carry-on. I limit myself down to one pair of heels (if I need them), a flat, and a sneaker, and for clothes I usually pack in a palette. Where I get my most mileage is out of shirts, so I use a lot of thin, easy, silky shirts and blouses that pack very flat. I'm also okay with wearing the same thing over and over, with the exception of shirts and undergarments, so that's my secret."
—Pilar Guzmán, editor-in-chief of Condé Nast Traveler
"I don't check bags … I use Burton luggage — it's lightweight and you can get a lot into it. I have that Louis Vuitton stuff too, but it's heavy, man."
—Sally Hershberger, hairstylist and entrepreneur
"I have my Tumi roll-on and a bigger Tumi; I Iove Tumi and Rimowa. I have all my Muji containers, I'm obsessed. I love their tiny suitcase organizers. My smaller bag is always pre-packed with flip-flops, sunscreen, a bathing suit, eye mask, earplugs, extra reading glasses, and an extra pair of sunglasses. I can get packed in ten minutes if I have to. I have everything sorted. I love a label maker. Another small Muji is pre-packed with an international hair straightener that can also be a hair curler, or cosmetics, toothbrush, toothpaste, and two resistance bands I use when I'm on the road. In my other bag, I always throw a couple of velvet clothes hangers on the top so I have extra hangers."
—Melanie Brandman, founder and CEO of the Brandman Agency
2. Store your most important belongings in a Ziploc bag, and take it with you on the plane.
"What are my secrets for travel? I hate the logistics of travel. I've learned to get a few things right in the sense of traveling with a suit bag always with one outfit in it so I don't have to press something when I arrive. I take a Ziploc bag full of everything I think I might lose, like my passport, I.D., currency … it's the secret of the Ziploc bag."
—Tina Brown, former editor of Vanity Fair and The New Yorker, founder of The Daily Beast, and founder/CEO of Tina Brown Live Media
"I have to have everything on a piece of paper. Every single number, every single contact. I don't like anything left to chance. If I'm coming to the States, I have my little bag that's packed with all my things for the plane. I'm a creature of habit. I always go with my notebook, a lip gloss, fragrance."
—Jo Malone, British perfumer and the founder of fragrance brand Jo Loves
3. The best clothes to pack are wrinkle-free, all-black, uniform outfits.
"[I wear] denim, so I don't need to travel with hangers and things like that. It's literally my world. It's super low-fi and easy."
—Chloe Lonsdale, founder of M.i.h Jeans
"I have four or five pairs of the same cargo pants in khaki and army-green colors. I always wear denim jackets and similar neutral tones. They're easy to pack and, as a journalist, I don't really want to draw attention to what I look like that much."
—Lisa Ling, award-winning journalist, former co-host of The View, host of CNN's This Is Life
"I'm a really uniform-style type of person. I wear all black when I travel because it's just easier, everything always matches."
—Morgan DeBaun, co-founder and CEO of content platform Blavity
"I stick to one color when I travel and mix and match. I always bring a pair of Madewell jeans, a pair of flats that I can dress up like a pointy black satin flat, some shirts for meetings, a Blaze blazer — the pockets are very functional — two dresses for dinner and that's kind of it. I probably smell terrible on day four because I'm wearing the same thing over and over again."
—Brooklyn Decker, co-founder of Finery
"I always pack sneakers and shorts in case I have time for a workout. One time I was in Paris and I had time for a workout but I forgot to pack workout sneakers so I rode the exercise bike in the hotel slippers."
—Dr. Amy Wechsler, dermatologist
4. Bring cozy knits and fuzzy socks for freezing airplane cabins.
"The thing that keeps me sane on long flights are fuzzy socks — I wear them and a scarf. I always carry earplugs, and I always pack something super comfortable to relax in wherever I go."
—Ann Curry, award-winning journalist and former NBC New anchor and co-host of the Today Show
"I have this Lemlem shawl my friend Liya gave me that I'm in love with, and I have this soft Hermès scarf I love when I travel. I always have my computer, and hand cream — always have hand cream — it's mostly the same kind [as I have on my desk] or Weleda Sea Buckthorn."
—Samira Nasr, fashion director Elle Magazine
"I cannot leave home without my TravelPro carry-on, my Bose headsets, my Ralph Lauren camel knit sweater, my Chanel sneakers, and Mario Bedescu Rose Water facial spray. A huge bottle of Fiji Water is a must, too!"
—Janet Mock, writer and activist
5. Pack slippers for your hotel room.
"My No. 1 packing tip, and the thing I can't travel without, is a pair of slippers. I lived in Asia for many years, so I never wear shoes in the house. It's so disgusting to me now. As soon as I get on the plane, I take off my shoes and put on my slippers, and then I don't feel like I'm getting covered in disgusting plane germs. Hotel rooms are always filthy, too, so if I have my slippers, I feel a thousand times better. I don't have a particular kind that I use, but I always go for the tiniest little pull-on ones that you can shove into a bag."
—Nell McShane Wulfhart, professional travel writer and decision coach
6. If you travel a lot: try making a clothing index on your phone — or keep the same essentials in your suitcase at all times.
"On my iPhone, I have a wardrobe list for my New York apartment, so I can keep track of what's there in terms of clothing, accessories, and shoes. I love traveling without suitcases — that's why I call it a commute."
–Alina Roytberg, co-founder of natural-beauty brand Fresh
"I live out of my suitcase so much. I keep a set of things that I never unpack, like a set of makeup brushes, a set of cosmetics … I have a hard-sided suitcase that I use. I won't check anything, because things get lost so often. I have packing cubes, I have a whole methodology; I have to unpack everything a certain way, and I re-pack a certain way."
—Victoria Tsai, CEO of Tatcha Beauty
7. If you travel regularly with a co-worker, talk about your outfits.
"Before we travel, we tell each other what we're packing. On more than three occasions, we've shown up in the exact same outfit."
—Carly Zakin on traveling with with Danielle Weisberg, co-founders of theSkimm
8. Trying folding techniques to fit shoes into your suitcase.
"I roll all of my clothes. Thank God my big brother taught me to do that to maximize how many things can get in. It's really about shoes. I used to tease, 'Oh, I couldn't fit the running shoes in, so that's why I'm not working out.' … [but] Pure Barre socks will fit into anything. I can still be working out on the road. One pink suitcase and I'm off."
—Cindy Eckert, creator of "Female Viagra" and CEO of the Pink Ceiling
9. Pre-pack your makeup bag.
"No matter where I go, I always bring lavender spray. I'm a total spritzer. Whenever I ask anyone, 'Who wants a spritz?' everyone always says yes."
—Christene Barberich, global editor-in-chief and co-founder of Refinery29
"I have three different identical toiletry bags, and I rotate them so I don't have to think about it when I'm packing. They are all pre-packed and ready to go. … I also have three pre-made makeup bags that I rotate in and out. All of it helps me get my bags packed faster."
—Loni Love, comedian, actor, and co-host of The Real
"I travel with all of my makeup. I'm very light with the makeup, but I'm a huge proponent of skin care — the masks, serums, moisturizers, eye creams. Being on the airplane, and going through so many different climates, if you don't take good care of your skin, you pay for it. The only thing I have learned that I cannot live without is La Mer. It's my desert-island product. The body cream and the moisturizer keep my skin completely hydrated. If I've gotten three hours of sleep for five nights in a row and I've been on two planes for 13 hours, it saves my skin."
—Julia Haart, creative director at La Perla
10. Pack snacks for the plane.
"I travel with apples and hummus and carrots and celery. If you eat what's easy to eat, like a slice of pizza or a bagel, all of that stuff that's yummy and delicious, it's really hard to maintain long-term energy."
—Moj Mahdara, founder and CEO of Beautycon
"I always bring raw almonds and apricots as a snack."
—Tory Burch, CEO of the Tory Burch empire as well as the Tory Burch Foundation
11. Go for a small carbon footprint.
"I try to be self-sustaining and leave as small an ecological footprint as I can. If I must use a plastic bag, it's a bin liner that's in the room. But I try to take a big envelope and put my trash in there, as plastic goes into landfills and kills animals. I don't let maids into my room so that they don't throw anything away."
—Jane Goodall, primatologist
12. On the first and last day of your trip, repeat outfits.
"I'm trying to really discipline myself not to put every outfit I own in a suitcase when I pack. Now I think carry-on is key, and whatever I wear on the plane getting there, I'll wear on the plane coming back."
—Katie Couric, former longtime co-host of the Today Show, podcast co-host, and television producer