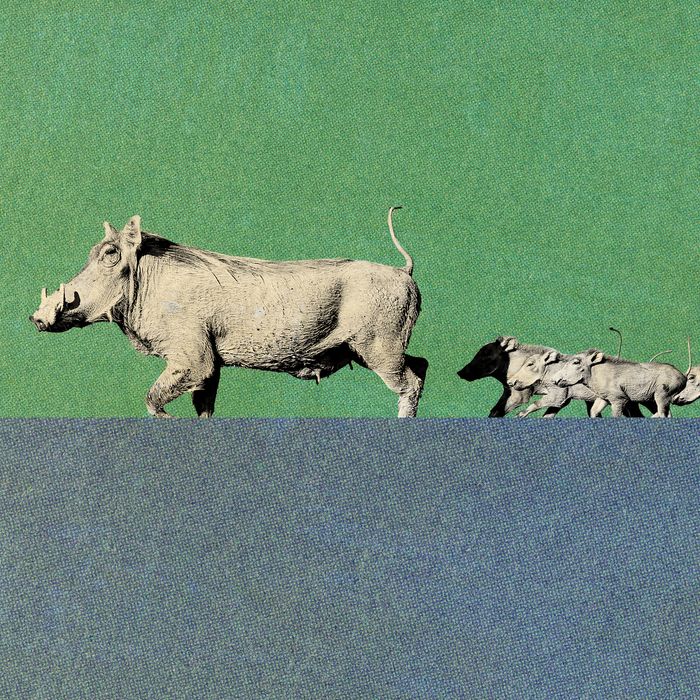 Photo-Illustration: the Cut; Photos Getty Images
The Hard Part is a monthly series of Amil Niazi's meditations on the highs and lows of parenting — and every feeling in between.
Before I had kids but was in the process of trying to have them, I fantasized about how fun it would be to travel as a family. I pictured lounging on a beach with my baby, the pair of us toddling around in the sand and bobbing in and out of the sea together. I dreamed about boisterous road trips, playing games, and listening to our favorite songs as we peacefully watched the scenery go by. I could so clearly envision a version of myself as a mom on vacation: tanned, relaxed, and serene. Balancing a baby on my Daisy Duke–d hip like some kind of modern-day Jane Birkin.
Ha!
I'm not saying that version of myself was entirely wrong: I have now traveled extensively with my two young kids from the time they were both infants. We've had plenty of beach time and driven many, many miles in our used Honda CR-V. But all those excursions — like those early long car rides during which we'd pull over every hour and a half so I could breastfeed at a truck stop or the side of the road, one boob perpetually in the wind — looked quite a bit different from the fantasy version.
Because of course — of course! — there is no such thing as a "vacation" with little kids. There is no downtime because your usual support system and reliable routines are gone. You and your brood are now at the mercy of the car-rental desk at the airport, and there are no friends, neighbors, or family to hold the crying baby for you while you root through your bag for ID. You are not, in fact, a bemused French beauty but rather a bedraggled North American parent surviving on coffee fumes and gas-station milk to get you through the next seven to ten days. This is something all parents of older kids know so deeply it feels all too obvious to point out, and yet remains a thing that all us parents of young kids must realize for ourselves.
You're merely parenting with scenery when you travel, and once I finally accepted that, I finally started enjoying myself.
Sure, a lot of those road trips we've done have been exclusively soundtracked by "Let It Go," but once you close your eyes and let the lyrics wash over you 40–50 times in a row, you realize that it's the ultimate car ballad. Giving in to my kids' playlists has meant family sing-alongs so spontaneous and free-spirited they felt as cathartic and fun as an all-night karaoke session with my closest adult friends. Beach trips with the kids where I haven't had a moment to even pull a book out of my sand-ridden bag have always turned into treasure hunts to find the rarest, prettiest seashell, rock, or sand dollar. Getting lost in the beauty of the beach, through the eyes of a 3- and 5-year old, allowed me to lose myself in the moment, many times over. Which is often all I want from a getaway in the first place.
There are ways of vacationing with kids that are designed to take some of the chaos out of traveling — all-inclusives and prepackaged excursions where things are more regimented and controlled. But part of what makes travel, summer travel especially, so pleasurable for me is the sense of chaos, the feeling of coloring way outside the lines for a couple of months. And every aspect of parenting becomes a lot easier when I relinquish control, or at least give in to the idea that there is only so much I can control. My partner does extensive snack prep for trips, with no berry left behind. I like organizing activities: stocking up on stickers, crayons, those water-paint books that are supposed to be mess-free, but whatever, at least it's just water. I also try to cover the basic bases — I don't want to be caught out on the road with one wipe and no diaps left — but that's it. I leave the rest up to the travel gods. It makes me feel prepared but open to spontaneity and leisure, two things often missing from my day-to-day parenting at home and that define the feeling of summer to me.
I love leaning into the messiness of this season, how loose and moody and joyful it is in its nature. Summers as a kid were all about chasing the sun into the shadows and shoring up that sensation of time being meaningless, abandoning the rigid confines of the seasons that come before and after for something a little softer, a little less controlled. Growing up, my parents would just throw stuff in our tiny car at the last minute and announce we were driving up north to get out of the city for a couple of days. My two sisters and I would cram into the backseat, fight for hours about the middle seat, and complain relentlessly about snacks. We swam in the chaos as a family, and a lot of those hectic trips are my favorite memories of childhood.
Now I like what traveling like this does for my kids. They're immersed in new experiences, but also very gently being pushed out of their comfort zone. They're given a chance to adapt their minds and bodies to new routines and perspectives and to stretch the boundaries of their otherwise tiny world. Their Popsicle-sticky faces are constantly in awe when we venture past our own city limits in a way that's exciting for them and for me.
These trips, however hectic, become a shared language, a collective memory we're creating together, something special and unique for our family to hold onto and build upon. And I promise it is genuinely getting easier too as my kids get older. Dips in the ocean have gotten longer, our playlists have been (moderately) diversified, and sometimes the peaceful scenery does just roll by in a blissful silence. And I'm sure I'll miss the tears when they're gone.